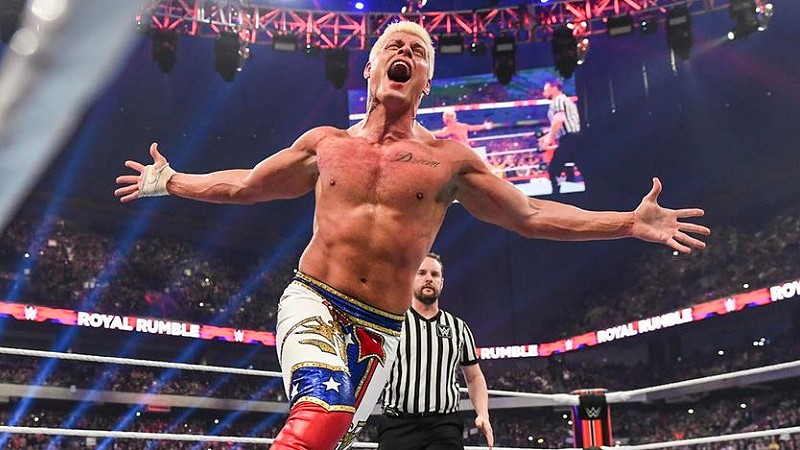 Cody Rhodes Talks Headlining WWE WrestleMania – The 2023 men's Royal Rumble winner appeared on Logan Paul's Impaulsive YouTube show on Tuesday. During the conversation, Rhodes spoke about being in the main event of WrestleMania after both he and his father spent years competing against WWE.
Rhodes said:
The irony of the potential of a Rhodes going on last when my dad spent eight years competing against WWE, I spent three and stirred up as much trouble as I could possibly stir up, the irony of the potential of going on last under the brightest lights, on the grandest stage is just why this place is so good.
If a guy or girl is the thing, if they're ready, if it's them, then they're moving it forward, that's what we're gonna push.
I don't want to end up like I'm TCU in the national title game, you know, where maybe I wasn't supposed to be there. I don't want to shrivel under the lights but I am very much just now letting it all sink in what we're doing.
Rhodes also spoke about tearing his pec before Hell in a Cell last year and the decision he made to still perform in the main event against Seth Rollins.
Rhodes said:
You're always supposed to be like, 'Oh, I've been in the end zone before.' I haven't. I've been close but I'm going to Hell in a Cell and the posters, this giant photo of me, it's the most Peacock new subscribers for this PLE, Premium Live Event, they all want to see this Hell in a Cell match with Seth and I.
I come out in the arena, it's just my face on the chairs and what I thought was, 'Yeah, maybe I don't have it.' Maybe I don't have what John [Cena] has…because he was my role model when I was here. Maybe there's a reason it didn't happen and that's why I was so adamant about we're not going to do some stupid thing backstage, which I'm not knocking, you should never wrestle injured but I wasn't going to have it any other way.
Rhodes also commented on what Vince McMahon told him before he wrestled Rollins that night.
I had a great conversation with him and he was really clear about, 'Hey man, if you're struggling out there, we gotta call it.' I said, 'alright,' well it's a struggle always when you're wrestling Seth, it's a struggle always when you're in Hell in a Cell but I did understand that and they let me finish. The referee in the ring, spider that's his nickname, he was talking to me the whole time because I was just on Planet Z.
I was really in shock still.
Earlier in the show, Rhodes spoke about wrestling having to evolve and legends who always want things to be done in the same way.
There's some guys in the industry, legends who are so judgmental on how we do wrestling because they made money, they did it, they were right, they drew interest, they got heat, they did it all right. They're committed to the idea that there's only one way to do it. What I found out is that however you do it, if the people are up, if they're reacting, if they're popping, or if they're on their feet, don't judge this. This is done right if they're entertained.
Plus the wrestling fan has evolved so much, most of them are longtime fans, they've been sitting watching the same stuff, we've got to change.
You'll hear these dudes, you'll hear people, 'Oh, I'm old school, man, I'm eating potatoes. Nine times out of ten, that means you're lazy.
Rhodes also spoke about how being Dusty Rhodes' kid is a little different from other second or third-generation wrestlers. He noted that his father trained many of today's active wrestlers but was always "hands-off" with him.
I think you'll hear a lot of second generations say the same thing. Like, yeah we got in the door… a Dominik Mysterio going through it right now, for sure, we got in the door but now everyone's looking at me.
I don't mean to knock any other second, third generation but here's the area where it's a little trickier for me. Dusty has his fingerprints, even from the dead, on everything. Half these people in this women's Royal Rumble were part of his tutelidge. Bray Wyatt, a character he helped develop. Like he had this, in the winter of his life, he had this final chapter, he was developing all these wrestlers that weren't me.
He was hands-off with me. He left the writing team when I came up because he didn't want there to be any favortism. He literally left the writing team and just left me to the wilderness.
Cody Rhodes Talks Headlining WWE WrestleMania