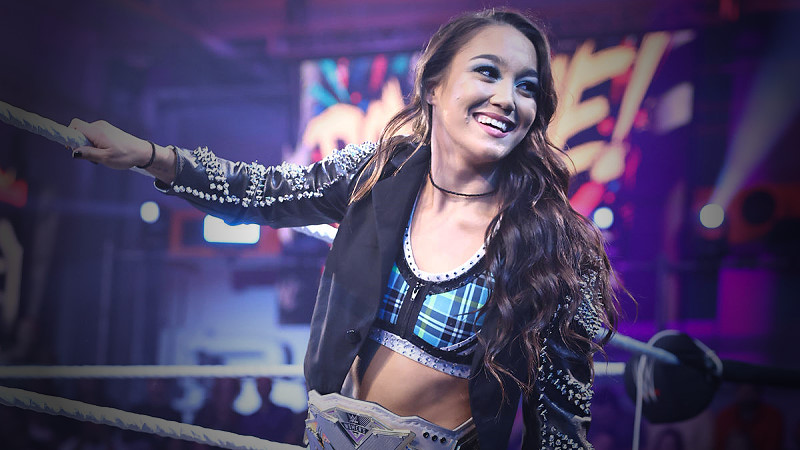 Roxanne Perez Reflects On Winning The NXT Women's Title – By winning the Iron Survivor Challenge at NXT Deadline, Roxanne Perez earned a shot at the NXT Women's Championship.
That title bout was supposed to happen at NXT New Year's Evil, but it took place on the December 13 episode of NXT, with Perez defeating Mandy Rose to win the title. The following day, Rose was released by WWE due to content she had been posting on her subscription FanTime website.
While speaking on Faction 919, Perez reflected on winning the NXT Women's Title.
"It wasn't supposed to happen that day. It was a mix of emotions because I didn't have time to soak it in, 'Alright, this is happening right now.' Expect the unexpected. Obviously, Mandy, I think she is amazing. Since I got to NXT, she is always someone I could go to and she didn't have to be so as giving and sweet to me as she was because she had been there for so long. For her to be such a good human being, I was always so grateful for her. In a way, I was a little sad, because of the way it was happening, but she was so supportive and being like, 'You deserve this.' It made it so much more special. To have Booker T, my trainer, on commentary. My boyfriend was also there as well, he was a big part of my training and me becoming a wrestler. To have them there and when they gave me the championship, holding it in my hands, it didn't feel real until that moment. Everything I went through, all the trials and tribulations, the ups and downs of this wrestling journey that I've been on since I was 13, all those moments were so worth it. It was finally real and it finally happened. It was crazy," she said.
Roxanne Perez Reflects On Winning The NXT Women's Title