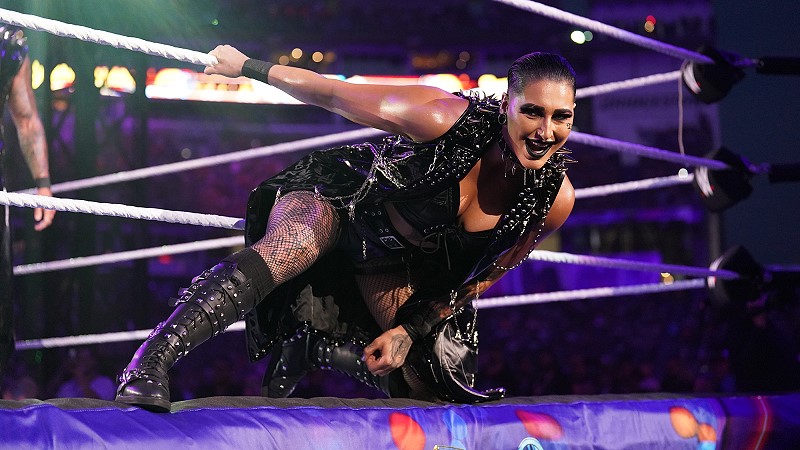 Rhea Ripley Makes Her WrestleMania Choice – Rhea Ripley won the Women's Royal Rumble this past Saturday night. She then appeared on tonight's RAW to officially announce that she is choosing Flair as her WrestleMania 39vopponent.
Here is a recap of Ripley's promo from tonight's show:
Rhea says it has been a while that she has been out here without her Latino Heat or her THE Judgment Day crew, but she wanted all of the attention on her.  Two nights ago, I disrupted the status quo.  I did the unthinkable, I went the distance and outlasted 29 other women to win the Royal Rumble.  Now, I get to choose whichever champion I want to face at Wrestlemania.  Rhea says three years ago, she just turned 24 and her career was just getting started and I was the NXT Women's Champion.  I came to Raw and challenged the winner of the Royal Rumble, Charlotte Flair to a match at Wrestlemania.  She put her in her place.  Rhea looks at the Wrestlemania sign.
The funny thing about Charlotte is that she is always in the title picture.  She is at the top of her game and Rhea says she hates to give Charlotte credit but she gets better every year.  The normal flow is that Charlotte is at the top.  She says she is the disruptor.  She does not like the normal flow and she does not like things being overplayed.  So, Charlotte, I advise you to enjoy everyone bowing down to the Queen because they are about to rise to Rhea Ripley.  
At Wrestlemania, I put you in your place. Charlotte Flair, I choose you.
Flair has not responded to Ripley as of this writing, and likely will not until Friday's SmackDown.
Rhea Ripley Makes Her WrestleMania Choice