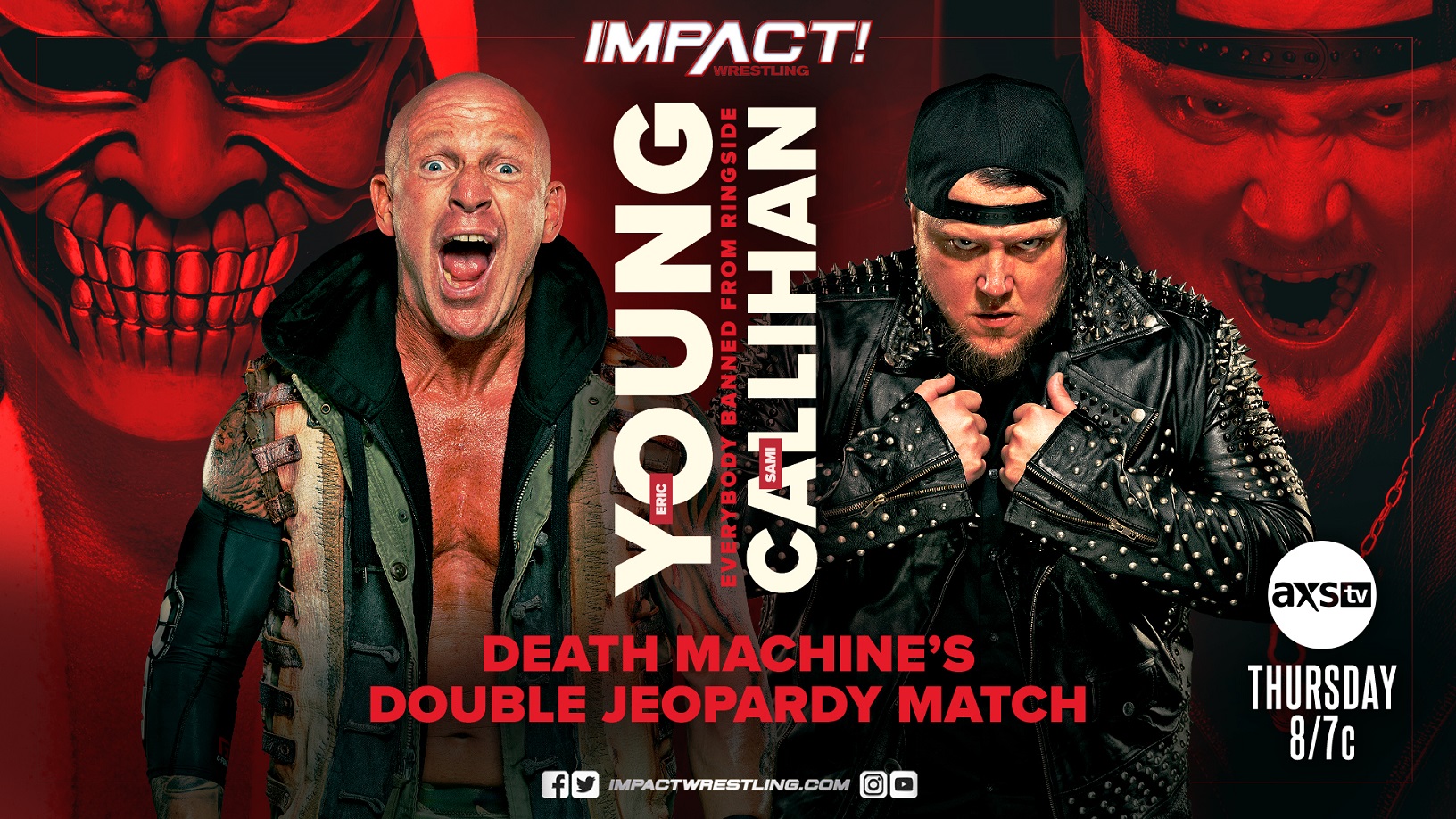 IMPACT! on AXS TV Results (11/17) – Tonight's Impact begins with the BTI Pre-show where they spent a considerable amount of time talking about Mickie James' last ride storyline, where if she loses, she must retire. I enjoyed the storytelling here.
Yuya Uemura defeated Andrew Everett
This match was awesome. Everett and Uemura looked fantastic, and Uemura is improving so much, so quickly. He is working more and more like Tanahashi in the ring, which is not a bad thing. Great selling, timing, and offence.
This match started fast, with Uemura and Everett exchanging some X-Division style offence. Everett hit a springboard spinning wheel kick for a 2-count. Everett drove a knee into Uemura's head and then choked him on the ropes. Everett hit a vertical suplex and a basement dropkick for a 2-count.
Uemura managed to hit a bulldog out of the corner and a Saito suplex for a 2-count. Uemura hit an enziguri and a big German suplex for a 2-count. Everett hit an enziguri of his own before missing a beautiful moonsault. Uemura took Everett's head off with a clothesline and went over the ropes like Tanahashi before hitting a high crossbody that almost looked like a High Fly Flow for the win.
Main Show
Impact opened with a recap of the match between Chelsea Green and Mickie James, with Green saying she was going home after losing, Moose attacking Bully Ray, and Gisele Shaw & Jordynne Grace's excellent match ending with Masha Slamovich attacking Grace and standing tall to close the show.
–Crazzy Steve opened the show hyping up Black Taurus before his tournament match.
In an X-Division Title tournament match Black Taurus defeated PJ Black to advance
This wasn't quite as good as the Uemura/Everett match on the preshow, but this was still a very good match. Taurus advancing to the finals to face Trey Miguel should be great. Miguel has a win over Taurus recently in a multi-man match, meaning that my complaint from Taurus losing to him a few weeks ago has been answered in the long term. This is not the Impact of old where they do things without a reason, which makes me happy. Taurus and Miguel should have a great match for the title.
Black and Taurus did some lucha to open the match, ending with Black hitting a monkey flip. Taurus blocked a second monkey flip and nailed a palm strike, but Black soon hit a dive to the floor. Black and Taurus had a weird spot on the floor with Black going up like he was taking a powerbomb but Taurus took a back bump, and it was treated as an offensive move by Black, as he rolled up the body of Taurus.
Taurus hit a powerslam in the middle of the ring for a 2-count. Taurus tried to pop up Black, but Black countered into a meteora. Black hit a double stomp and a Spanish fly for a 2-count. Both wrestlers crashed to the mat after a double clothesline. Black and Taurus exchanged chops and strikes in the middle of the ring with Taurus hitting a big headbutt and destination hellhole for the 3-count.
–Frankie Kazarian and Josh Alexander were with Scott D'Amore and their wives, Tracy Brooks with Kazarian, and Jade with Alexander. They both signed the contracts, and Kazarian said that him and his wife needed to prepare to deal with Alexander losing. Jade responded by saying that Kazarian and Brooks needed to prepare for Kazarian losing.
–Kazarian and Alexander immediately cleared the air after this, with Kazarian apologizing for saying something to Alexander's wife. Bully Ray walked up and said that he was going to call his shot fair and square with Kazarian if he wins. Kazarian said that he knew better than to trust Bully Ray, and reiterated for Alexander that he shouldn't trust Ray.
Alexander finally snapped and said that he knew he couldn't trust him, and he wasn't sure why people were telling him. He said that he was going to beat him whenever he challenged for the title. Kazarian said that it wouldn't be his problem after tomorrow night anyway.
I actually liked both of these little segments, especially with Alexander finally saying that he knew Bully Ray couldn't be trusted. Kazarian acted like he said he was going to trust him, which is not what he said, but hey, no segment is perfect.
Bullet Club (Ace Austin & Chris Bey) defeated The Motor City Machine Guns (Chris Sabin & Alex Shelley), Raj Singh & Shera, & Aussie Open (Mark Davis & Kyle Fletcher)
Good tag match, with a ton of fast paced action. Bullet Club getting a big win here, with Austin and Bey being highlighted very strongly throughout this match.
The opening part of this match featured Bullet Club, MCMG, and Aussie Open all exchanging offence, and it dramatically slowed down once Shera and Singh were in the ring. Singh got the heat on Ace Austin for a bit, hitting a vertical suplex for a 2-count. Austin did a backflip out of a back suplex, and Shera decided to run at Bey on the apron to prevent the tag. Ace Austin tagged out to Chris Sabin instead.
Sabin and Shelly ran wild taking everyone out, including Austin and Bey. Sabin and Shelly were moving so fast that the referee almost got caught in the crossfire after they sent Singh to the ropes. Mark Davis and Kyle Fletcher had to hit multiple kicks to the face of Shera to drop him. Ace Austin managed to tag himself back in and hit a flying cross body on Fletcher.
Mark Davis managed to hit a one arm powerbomb on Bey while holding Austin and delivering a suplex after the powerbomb. That was awesome. Aussie Open tried to finish the match, but Chris Bey hit a hurricanrana. Bey flew over the top rope while two sweeting Austin to tag in, and Austin hit the fold on Fletcher for the pinfall.
–Rosemary and Taya Valkyrie were backstage, with Rosemary showing great concern that they haven't seen Jessicka in a week. Valkyrie said that she was going to take her match tonight, and that she would show up tomorrow at Over Drive.
–Jordynne Grace challenged Masha Slamovich to a Last Knockout Standing match at Over Drive.
Taya Valkyrie (w/ Rosemary) defeated Tasha Steelz (w/ Savannah Evans)
I am not sure I would have had Steelz lose here heading into their title match at Over Drive. Why would I want to watch the match now that the challenger has been defeated, even though it was just a singles match. Steelz cheating to win and then beating down Valkyrie for Jessicka to return would have been more impactful.
The announcers noted that Jessicka was seen on TikTok clearly out on the town, drinking. Valkyrie was left trying to make up for her absence by taking this match in her place. Valkyrie delivered a beating on Steelz in the opening minutes of the match, with Steelz being left reeling. Steelz tried to counter road to Valhalla with a roll up, but Valkyrie sat down and scored the pin.
–Steelz attacked Valkyrie after the bell Jessicka's music hit and she ran down to the ring to make the save. This would have been more meaningful if Steelz won the match.
–Tommy Dreamer assured Josh Alexander that Bully Ray was a changed man. Why does Alexander need to trust Bully Ray to fight him? Just fight him.
–Trey Miguel was backstage and talked about how he advanced to the tournament finals with the help of Kenny King, when King attacked him and got Mike Bailey DQ'd.
Steve Maclin defeated Tommy Dreamer
This was a relatively tame version of a hardcore match. It was nothing special, but it was fine.
The announcers noted how many people have asked for title shots against Alexander and got them, yet Maclin hasn't, and it didn't make sense. Correct. It doesn't. Dreamer hit Maclin with a cookie sheet and tried to piledrive him on the exposed floor, but Maclin countered with a back body drop before hitting a Cactus elbow off the apron on Dreamer.
Maclin threw several weapons into the ring before Dreamer cut him off and hit a crossbody into a chair for a 2-count. Dreamer missed an elbow from the middle ropes, landing on a chair. Dreamer ducked a cane shot and hit a white Russian legsweep like Sandman, but Maclin hit an Olympic slam for a 2-count. Dreamer choked Maclin with a kendo stick and threw a garbage can into the ring.
Dreamer took some catering out of the can and threw it in Maclin's face. Dreamer hit a cutter on Maclin for a 2-count. Dreamer got the help of a fan to put the table in the ring. Dreamer tried to hit a Death Valley driver through a table, but Maclin countered by driving Dreamer into a garbage can and hitting KIA on some chairs for the pinfall.
–Bully Ray ran down to the ring to attack Maclin as he tried to put Dreamer through the table. Moose ran down to attack Ray and Dreamer. As Maclin and Moose surprisingly worked together to try and put Ray through the table, but Josh Alexander ran down and made the save. Ray looked like he was going to hit Alexander with the Impact World Championship, but he decided to work with Alexander to chokeslam Maclin through the table.
Alexander picked up the Call Your Shot trophy and handed it back to Bully Ray while Ray handed the title back to Alexander.
I hated how this made Maclin look secondary to Ray. I have no idea why you try to make Ray look better than Maclin. Maclin should be being built for a match with Alexander and not playing bit player to Bully Ray drama. If you want to save Maclin for later, have him feud with anyone and beat them. There is zero need to have him involved with this Bully Ray story outside of wanting a title shot eventually.
–Masha Slamovich was with Gia Miller, but answered her questions in Russian, saying that Miller was an idiot for the questions asked, and that only one loss at Bound for Glory meant nothing. Miller apparently understood Russian, responding with more questions. Miller asked what Slamovich expected from the match with Grace tomorrow, and she said, "Death." I liked this.
Rich Swann defeated Laredo Kid
It was a bit weird seeing Laredo Kid here after his horrific injury, but this was clearly taped before that. This was a fairly quick match, but wasn't bad. A good 3 minute match is still a good match.
Swann and Kid had a very fast paced opening to this match, with both men flying all over the ring. Kid hit a frog splash, eliciting an "Eddie" chant from the crowd for a 2-count. Swann shoved Kid off the top rope to avoid a frankensteiner, hitting a superkick and then a 450 splash off the middle rope for the 3-count.
–Taylor Wilde was backstage with Mickie James and they discussed their match tomorrow at Over Drive. James talked about her coming out to save her from Chelsea Green's cheating. Wilde said that she didn't want James' career to end that way, and that she was going to be the one to end it tomorrow at Over Drive. James looked perturbed by this.
-A fantastic hype video for Kazarian and Alexander aired, showing Kazarian's career in Impact.
In a Death Machines Double Jeopardy Match Sami Callihan defeated Eric Young
This was a very violent match, and I was surprised by the ending given the reintroduction of Violent by Design. The post match angle was surprising too, leaving me wondering if Eric Young is leaving Impact.
The announcers told us that the only way to win this match is by submission or pinfall after making your opponent bleed. Alan Angels, Deaner, and Kon attacked Callihan on the ramp before the match started, and Callihan was bleeding before the match began, giving Eric Young a significant advantage.
Callihan told the referee to ring the bell anyway, and Eric Young immediately hit a Death Valley driver, but Callihan managed to roll to the apron. Young sent Callihan to the floor and began to continue the beating that Violent By Design started previously. As they brawled at ringside, Callihan hit a suplex on the floor. Callihan tried to papercut the lips of Young with a Death Dollz picture.
Young hit a back suplex on the apron and choked Callihan. The referee tried to break it up, but since this was a no DQ match, I am not sure why. As Young was going after Callihan's eyes, Callihan managed to hit a Death Valley driver on the apron. Young came up bleeding, so he was eligible to be pinned now.
Callihan put a crossface on Young around the ring post, but Young punched out of it and both Young and Callihan pulled each other back and forth into the ring post, with shoulders and heads slamming into it. Young and Callihan were bleeding everywhere at this point. Callihan threw a garbage can into the ring. Young hit Callihan in the knee and head with the garbage can lid before doing a kneebar on Callihan.
Callihan managed to counter the kneebar into a figure four (~!). Young booted Callihan in the face to break the submission. Both men got up and exchanged chops and headbutts in the ring before collapsing at the same time. Young hit a piledriver on Callihan for a 2-count. Callihan hit a low blow and then a Cactus driver, but Young kicked out. Callihan smashed young with a garbage can lid and hit a second Cactus driver for the pinfall.
–The show ended with Violent By Design coming down to the ring and staring down Eric Young, looking disappointed as the show went off the air.
This was a very good episode of Impact despite my dislike of this Bully Ray angle. It's too bad it has worked its way into several segments of the show, hurting the heat for Maclin, and even Kazarian vs. Alexander. Otherwise, this was a good go home show for Impact Over Drive. I am still baffled at their booking of Steve Maclin though.
Impact Countdown to Over Drive Card
Kenny King vs. Yuya Uemura vs. Bhupinder Gujjar vs. Jason Hotch vs. Mike Bailey vs. Rich Swann
Motor City Machine Guns vs. Bullet Club
Impact Over Drive Card
X-Division Championship: Black Taurus vs. Trey Miguel
Impact World Tag Team Championship: Heath & Rhino (c) vs. The Major Players
Knockouts World Tag Team Championship: Death Dollz (c) vs. Tasha Steelz & Savannah Evans
Bully Ray vs. Moose in a Tables Match
Mickie James vs. Taylor Wilde
Knockouts World Championship: Jordynne Grace (c) vs. Masha Slamovich in a Last Knockout Standing Match
Impact World Championship: Josh Alexander (c) vs. Frankie Kazarian
IMPACT! on AXS TV Results (11/17)