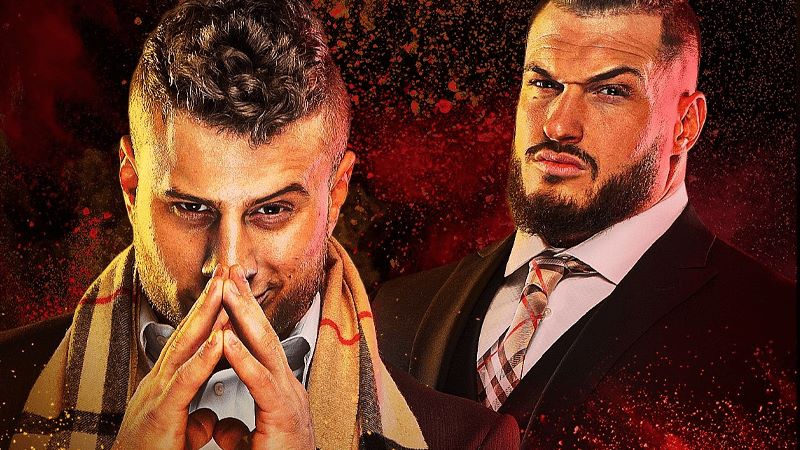 MJF Names His Conditions For A Match With Wardlow – MJF and Wardlow met in the ring during tonight's episode of AEW Dynamite, and MJF set up his conditions for their upcoming match at AEW's Double or Nothing.
Surrounded by security guards, Wardlow came down into the ring before MUF stepped out to a huge ovation in front of his hometown crowd. He recapped the feud between himself and Wardlow before noting that if Wardlow beats him at Double or Nothing, MJF would free him of his contract. However, Wardlow had to go through some conditions first.
First, Wardlow would be hit with MJF's belt 10 times, then he would have to face off and beat Shawn Spears in a Steel Cage Match (which he is currently 0-2 in) that will feature MJF as a special guest referee. If he can accomplish both of those things, he'll get his match. MJF went on to say that if Wardlow loses at Double or Nothing, he would "never" be able to sign with AEW, before allowing Wardlow to sign the contract.
However, Wardlow quickly flipped the script, attacking the security guards before dropping Shawn Spears and attempting to hit a powerbomb on MJF before Mark Sterling stopped him, only to be powerbombed through the table himself by the massive superstar.
During the promo, MJF made a reference to Cody Rhodes while announcing the conditions. "Now let's talk conditions," MJF told Wardlow. "Karma is coming your way when it comes these conditions, for everything you did back in the day to my best friend The American RollerCodester, Cody Rhodes."
MJF then referenced his free agency in 2024, hinting a possible move to WWE when his AEW contract expires.
"Guys, you don't want me to talk about 2024? That's funny, neither does the guy [Tony Khan] in the back," MJF added. "Don't worry about it!"
MJF Names His Conditions For A Match With Wardlow – References Cody Rhodes