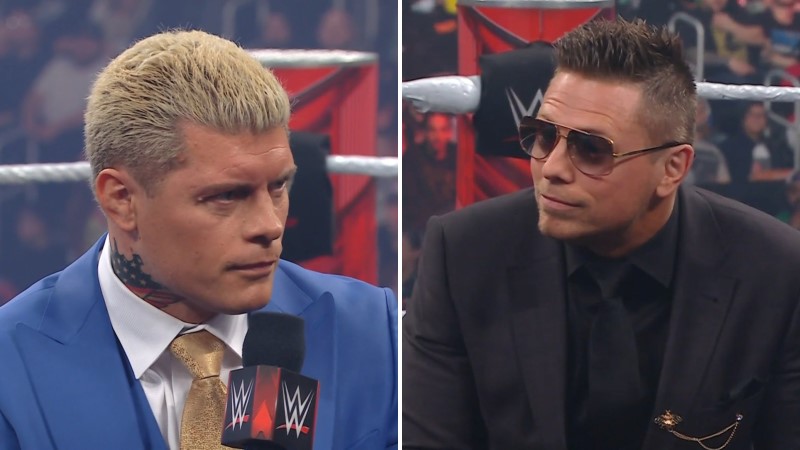 Cody Rhodes Names WWE Banned Words During RAW – The Miz kicked off tonight's WWE RAW episode with his MizTv Show and Cody Rhodes as his guest.
At one point in the segment, Rhodes reiterated that he returned to WWE with one specific goal: to capture the WWE Undisputed Universal Championship.
Rhodes told The Miz, "What do you think I've been doing for six years? And every piece of that road provides me with crystal clear clarity on not what I want to do, what I need to do – and that is win the Undisputed WWE Universal Championship belt."
In response, The Miz referenced a popular Vince McMahon quote.
"It's a title, a belt holds up your pants," The Miz said, which led to WWE Hall of Famer Jerry Lawler bursting into laughter on commentary.
During the same segment, Cody said the following: "When I came back, I knew there would be criticism and doubt.  I came back to be around the greatest wrestlers".
Miz said he knows where Cody has been for 6 years and he won't allow Cody to embarrass him. Miz also said that he's heard that Seth Rollins wants a rematch. Miz also told Cody that "wrestlers" are referred to as "Superstars."
Wrestlers and Belt are two of the many words banned by WWE. We don't know if Cody simply made a couple of mistakes or if his promo was scripted that way, but we will keep you updated.
The segment ended with Cody sidestepping Miz's attempt at a sneak attack. They will wrestle each other later in the show.
Cody Rhodes Names WWE Banned Words During RAW