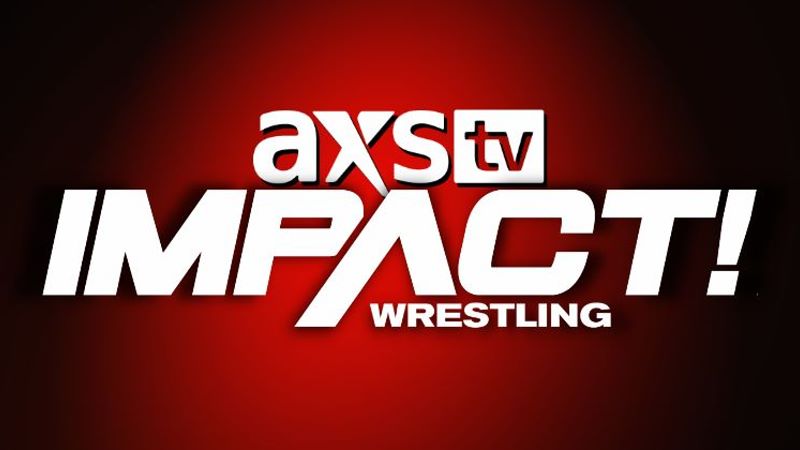 This week's post-IMPACT Sacrifice edition of the show kicks off with a highlight recap video, which shows some of the top moments from the big pay-per-view event from this past weekend.
Josh Alexander Is Obsessed With Moose & IMPACT World Championship
From there, we shoot inside the IMPACT Zone with Tom Hannifan and Matthew Rehwoldt introducing us to the show as the familiar sounds of Josh Alexander's theme is overheard in the background.
As Hannifan continues to talk, the camera shot switches to the ring, and we see "The Walking Weapon" already inside the squared circle. He paces back-and-forth with a microphone in his hand and his music fades down.
The fans chant "Welcome back!" as well as "Walking Weapon!" and "New World Champ!" as Alexander starts by saying how good it feels to be back. He says he's obsessed with getting revenge on Moose and getting his hands on the IMPACT World Championship.
He then switches gears to talk about how he was sent home by Scott D'Amore and after spending several weeks at home with his family, he thought to himself that he might never get to return or get his hands on Moose and the IMPACT World Championship.
Alexander says he can now stand right in the ring and look in the camera and tell his son that on April 23, 2022 he will finally get his hands on Moose and the IMPACT World Championship at IMPACT Rebellion.
Honor No More Confronts Josh Alexander
The fans respond with another "New World Champ!" chant and then the theme for Honor No More hits as the former ROH invasion group makes their way out.
Hannifan points out on commentary how PCO is not with the Honor No More gang this week, noting he is dealing with injury issues following his gritty showdown with JONAH at IMPACT Sacrifice.
Eddie Edwards speaks on the mic as the Honor No More group accompanies him to the ring. He addresses the boos from the crowd and says he'll stand here all night until he gets the chance to say what he came out to say.
Finally he begins speaking once he enters the ring and sarcastically tells Alexander how nice it is that he'll get to give his son another memory. He says it would be better if he told his son the truth – which is that since day one, he has been handed everything in IMPACT Wrestling.
"The Walking Weapon" responds by telling Edwards that if he says his son's name one more time, it'll be the last thing he ever says comfortably. He can't believe that this is the same Eddie Edwards he used to know and love.
He continues by asking how was he handed everything since joining the promotion. He brings up his X-Division Championship run and how he bent over backwards to get and defend that title, and did it for the guys in the locker room.
Now he brings up the fans, which Edwards interrupts to blame for being responsible for his recent transformation and alignment with Honor No More. Alexander says he's standing in the ring with these goons, which he refers to the Honor No More group as, because he got complacent.
Matt Taven cuts in and talks on the mic, telling Alexander not to say that to Edwards. He says if he needs a reminder who he is, he's also a former ROH World Champion. He talks about Alexander's title reign being premature — which he claims is something his wife is familiar with.
Team IMPACT Makes Save, Scott D'Amore Makes Matches For Tonight
Alexander agrees that their title reigns were different. He claims Taven's led to the demise of an entire promotion. He throws the mic down after making it clear he's willing to fight the entire Honor No More group by himself.
The brawl is on and Alexander takes out one member of the faction, but ultimately the numbers game is too much for him. They begin a five and then six-on-one beatdown of "The Walking Weapon."
We see Team IMPACT guys from the IMPACT No Surrender show, such as Willie Mack, Rich Swann, Rhino and others running to the ring to make the save and even up the numbers game against Honor No More.
As Honor No More retreats out to the ringside area, we hear another voice on the mic. The camera shot changes to show Scott D'Amore in the entrance way. He says one of these times they'll have a show run smoothly.
Willie Mack and Kenny King will be having a match right now. D'Amore says everyone from Honor No More is banned from ringside — all night long. He also announces Eddie Edwards vs. Rich Swann for later in the show. We head to a commercial break before the Mack-King bout gets underway.
Kenny King vs. Willie Mack
When we return from the break, we see order has been restored, as Honor No More and the Team IMPACT guys — who were also banned from ringside in this one and other matches throughout the show — have been cleared from the ringside area.
Left in the ring by themselves are King and Mack, who begin circling each other and preparing to lock horns in our opening contest of the show. King extends his hand for a handshake, but Mack wants nothing to do with it.
The two get after it from there and the bell sounds to get this one off-and-running. Mack dominates the action early on, taking it to King as the fans cheer him on. The action spills out to the floor where Mack wipes out King with a big high spot.
From there, however, King recovers and uses some cheap heel tactics behind the referee's back to shift the offensive momentum in his favor. He goes on a prolonged run in control of the action, which included some more heel-style spots to stay in control of things.
King remains in control of the action until finally Mack kills his momentum with the Numba One Stunna. He follows that up with a Six-Star Frogsplash off the top-rope for the pin fall victory.
Winner: Willie Mack
Tom Hannifan & Matthew Rehwoldt Handle In-House Business
The camera shot shifts over to Hannifan and Rehwoldt at the commentary desk after the match.
They remind us about the previously announced Swann-Edwards main event for tonight. They also run down some more matches for tonight, as well as additional bouts for upcoming shows.
Additionally, they also highlight the instant classic Jay White vs. Alex Shelley bout from the IMPACT Sacrifice pay-per-view held this past weekend.
Moose Approaches Scott D'Amore Backstage
We shoot backstage and see Moose approaching Scott D'Amore behind-the-scenes. He brings up what transpired between himself and Josh Alexander recently and asks what D'Amore's role was.
The IMPACT V.P. goes on to clear the air and then says he should be more worried about Alexander being focused on just him for a change.
D'Amore then asks about the status of Moose's signature on the contract that Alexander signed. He says he has it in his possession and he can take the week to look it over, have his attorney check it out, but if he doesn't bring it back next Thursday night with his signature on it, he will be stripped of the IMPACT World Championship.
We see the IMPACT executive walk off at that point as we head to another commercial break.
John Skyler vs. Ace Austin vs. Crazzy Steve
As we settle back in from the break, we see Trey Miguel joining Tom Hannifan and Matthew Rehwoldt on special guest commentary for our next match of the evening.
The X-Division Champion takes his seat beside them and has some back-and-forth banter with Rehwoldt, whom he notes he was in a brawl with the last time he saw him in the IMPACT Zone.
Meanwhile, John Skyler makes his way to the ring for this bout. Out next is Ace Austin and finally, Crazzy Steve of Decay makes his way to the ring. These three will compete for the right to be the next challenger to Miguel's X-Division title.
After some back-and-forth action, we get to the finish of this one, which sees Ace Austin pull off the victory to earn himself the next shot at the X-Division Championship held by Trey Miguel.
Winner and NEXT X-Division Championship Challenger: Ace Austin
Larry D. & Bhupinder Gujjar Brawl Backstage
After the X-Division title eliminator bout, we shoot backstage where we see Gia Miller standing by with Bhupinder Gujjar.
Gujjar said that he had earned everything in his life, so he wanted to keep getting wins and rank up to a title match.
Raj Singh ends up walking up to him and asks him why he had been ignoring him, but suddenly, Larry D enters the picture. He complained that he was gone because they had no space for him, but instead hired Gujjar and Singh, so D punched Singh down and got in Gujjar's face.
Larry D. walks off and Raj tells Gujjar that he told him that proves his point. Gujjar seemed to almost enjoy the sucker punch and the challenge from Larry D. as the segment wraps up with him smirking.
Eric Young & VBD Address Title Win At Sacrifice, The Good Brothers
After a brief vignette featuring Eric Young and Violent By Design boasting over their IMPACT Tag-Team Championship victory at Sacrifice and sending a message to The Good Brothers, we head back to the ringside area for our next match of the evening.
Tasha Steelz, Savannah Evans & The Influence vs. Mickie James, Chelsea Green & The IInspiration
In a featured eight-woman tag-team contest, we see the ring introductions of new IMPACT Knockouts Champion Tasha Steelz and Savannah Evans, who are joined by new IMPACT Knockouts Tag-Team Champions The Influence.
The commentators put over Madison Rayne for joining Gail Kim with the most titles accumulated for a Knockout in IMPACT Wrestling history at eight.
Now the theme for Chelsea Green hits and out she comes. Mickie James makes her way out as well and then finally, the theme for the former Knockouts Tag-Team Champions — The IInspiration — brings them out to the ring.
The bell sounds and we're off-and-running with this one. We see a lot of back-and-forth action until finally the heel foursome takes over control of the offense. We head to a mid-match commercial break now as the match continues.
As we settle back in from the break, we see some good teamwork from the babyface crew leading to a shift in momentum, and ultimately, Mickie James hits her DDT finisher to secure the pin fall victory for her team.
Winners: Mickie James, Chelsea Green & The IInspiration
The Good Brothers With A Message For VBD & The Briscoes
We head to the ring now as we hear the familiar sounds of the theme for The Bullet Club as well as The Good Brothers — Karl Anderson and Doc Gallows.
Anderson and Gallows claim that they are putting the entire tag-team division on notice after losing their IMPACT Tag-Team Championships to Violent By Design at the IMPACT Sacrifice PPV.
They make it clear that they are ready and willing to take out any-and-everyone necessary to get their gold back. They mention that The Briscoes, their opponents at the upcoming IMPACT Multiverse of Matches special event, are first on the list. They also send a warning to VBD.
The Bullet Club To Battle Motor City Machine Guns Next Week
The Bullet Club leader, Jay White, now speaks up. He addresses his highly-regarded instant classic match with Alex Shelley from the Sacrifice show. He asks Alex Shelley to come out.
Shelley comes out and they talk about their match, their history and how things were left with them when White refused to show sportsmanship after their hard-fought battle at Sacrifice.
White claims it was not personal, but instead strictly business. He claims that Shelley knew him in the past, but he doesn't know "The Switchblade" version of Jay White.
Shelley tells him he can call himself whatever he wants, but it's his fingerprints that are all over the business, naming guys like Kazuchika Okada, The Young Bucks and others.
Chris Bey ends up cutting in and telling Shelley that he was out there by himself when there was four of The Bullet Club members standing across from him.
Shelley points out that he is never alone in IMPACT Wrestling. With that said, out comes Chris Sabin to join him on the entrance ramp. They claim to be the best tag-team and a challenge is issued for them against Jay White and Chris Bey on next week's show.
The challenge is accepted and next week we will see The Bullet Club taking on the Motor City Machine Guns in featured tag-team action.
Josh Alexander Approaches Scott D'Amore
We head backstage and see Josh Alexander approach Scott D'Amore. He tells him it should be him taking on Eddie Edwards tonight.
D'Amore says to focus on his goal of capturing the IMPACT World Championship and settling his business with Moose at the upcoming IMPACT Rebellion special event.
Before this segment ends, D'Amore ends up making a singles match for next week's show, which will see Alexander going one-on-one against Matt Taven of Honor No More.
Deonna Purrazzo Putting Both Titles On-The-Line Next Week
Gia Miller is standing by with the champ-champ herself, Deonna Purrazzo. The backstage interview features "The Virtuosa" talking about having a moment of remorse when re-injuring Chelsea Green's arm at IMPACT Sacrifice.
She makes it clear that won't ever happen again, and then is approached by Gisele Shaw and Lady Frost. This culminates with Purrazzo putting both of her titles on-the-line against Shaw and Frost on next week's show.
Rich Swann vs. Eddie Edwards
After the backstage segment, the commentators confirm a few additional matches for next week's show.
In addition to The Bullet Club (Jay White & Chris Bey) vs. The Motor City Machine Guns (Alex Shelley & Chris Sabin), Josh Alexander vs. Matt Taven, and Deonna Purrazzo putting her titles on-the-line against Gisele Shaw and Lady Frost, we are told that Rhino vs. Steve Maclin will take place as well on next week's show.
Now it's main event time for tonight's program. With that said, out comes the first of the two competitors involved in this bout, Rich Swann.
He settles into the ring and then out comes the turncoat from Honor No More, Eddie Edwards. He is attacked by Swann during his entrance to get this one off-and-running.
The match eventually finds its' way into the squared circle and the bell sounds to make it official. Edwards quickly takes control from there and Swann tries fighting back with a rana and a dropkick, but got cut off with an inverted Atomic drop and over-the-head throw.
We see Edwards working over Swann for a bit, with a couple of near falls attempted. At one point, Swann caught Edwards with a 619, but was again cut off when Edwards dropped him on the outside.
Swann's back continues to by the target of the attack of Edwards before the latter tried another comeback with some quick pin attempts, only to get dropped again, but as the match spilled into the apron, Swann hit a desperation rana into the floor and finally dropped Edwards. Back in the ring, both men traded strikes with Swann getting the better of Edwards with a jumping clothesline and a kick combo. We see a neck-breaker after that and a pin attempt is tried, but he only gets two.
Now things pick up as we near the finish of what is turning out to be an extremely good main event singles contest here on the post-Sacrifice edition of IMPACT On AXS TV. Swann catches Edwards with a cutter and a Lethal Injection for another near fall — this time coming really close to the win.
When Edwards survives, he goes for the Phoenix Splash, but Edwards avoids it and ends up countering, blasting Swann with a running lariat, and finally finishing him off with the BKP and the Die Hard Driver. 1-2-3. That's all she wrote. Honor No More joins Edwards in the ring to celebrate the victory as the show wraps up. That's how this one goes off the air. Thanks for joining us!
Winner: Eddie Edwards