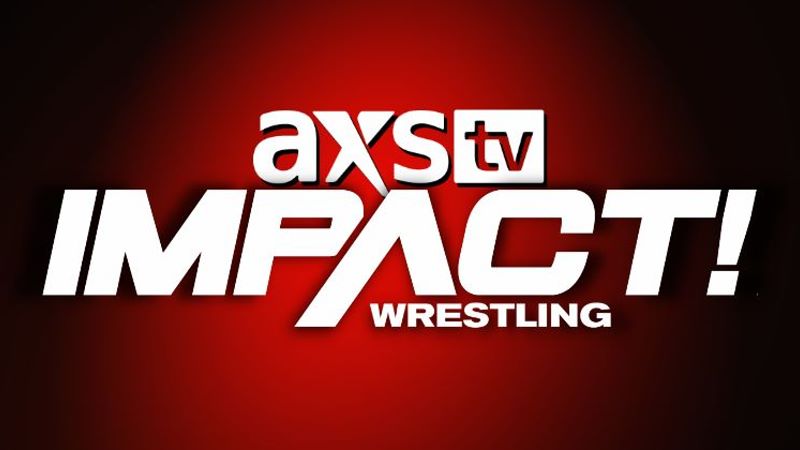 D'Lo Brown and Matt Striker welcome fans to Impact Wrestling! We kick things off with some Knockouts action!
Knockouts Tag Team Champion Rosemary (w/Havok) vs. Tasha Steelz (w/Savannah Evans)
The fans instruct Rosemary to "Bite Tasha's Face Off." Rosemary is in full control at the beginning of the match. She does what she's told by fans earlier. Rosemary holds Steelz in the Upside Down before the five-second call. Rosemary climbs up to the top rope. She misses a potential dropkick. Steelz takes advantage of the Demon Assassians' fall with a stomp. Steelz tosses Rosemary in the corner and hits a hard elbow, followed by a snapmare out. Steelz runs the ropes and hits a bicycle kick for a two count.
Steelz continues the onslaught with another near-fall. Rosemary starts to fight back. She looks for her As Above, So Below, but Steelz turns it into a springboard bulldog. Steelz goes for a cover. Rosemary kicks out. Rosemary slams herself into the top turnbuckle but recovers to land a spear in the center of the ring. 1-2-3. The Knockouts Tag Team Champion comes out victorious!
Winner: Rosemary
Post-Match: Tasha Steelz steals Rosemary and Havok's Knockouts Tag Team Titles. Savannah Evans uses herself as the distraction.
– D'Lo Brown and Matt Striker run through the other matches set for tonight's action-packed show!
Backstage: Ace Austin and Madman Fulton are standing by with Gia Miller. Miller asks Austin if he's prepared for his match with Christian Cage for the Impact World Championship at Victory Road next Saturday. Austin quickly responds with yes, he's ready. Then, he turns his attention over to Executive Vice President Scott D'Amore. Austin thinks Cage should face Fulton next week before their clash on Saturday. D'Amore agrees to the terms, but he thinks it should be turned into a 10-man tag team matchup. Austin starts recruiting. He asks Brian Myers and Sam Beale if they'll join his team. Myers says he's in.
– An advertisement for Victory Road is shown. This show will air next Saturday on Impact Plus!
– We follow up with Rhino, who is in the process of being baptized for his sins. Eric Young cuts a compelling promo during this segment.
Bunkhouse Brawl: Rich Swann vs. Impact Tag Team Champion Karl Anderson (w/Doc Gallows)
Rich Swann wastes little time as he slides into the ring. He lays out Doc Gallows on the outside by going up and over. Swann then sends Karl Anderson right through a wooden board that's set up in the corner. On the outside, Swann hits a buzzsaw DDT on Anderson at the top of the ramp. Anderson turns it around briefly, but Swann turns his attention toward Gallows (who isn't scheduled to be in this match) and hits him where the sun doesn't shine. He lands the same move on Anderson. The fans are very pleased with this!
Swann wraps a rope around Anderson's neck; he does the same thing to Gallows. Anderson finds a garbage can lid and slams it against Swann multiple times. Anderson drags Swann to the ramp and hits a vertical suplex just before the commercial break.
Back from the break, Karl Anderson and Rich Swann are back in the ring. Anderson sets a steel chair in between the ropes. Anderson tries to send Swann towards it, but Swann counters with a short arm reversal. Anderson goes flying into the chair! Anderson launches Swann into another wooden board set up in the ring. He does it again. The fans chant in unison, "This is awesome!"
Anderson measures Swann up. Swann ducks out of the way in time. Anderson slams himself into the wooden board. Anderson finds the garbage can lid from earlier. Swann catches him with it and hits a giant kick. Swann plants some combination offense for just a two-count. Doc Gallows distracts Swann, helping Anderson set up a spinebuster, which he hits. Anderson hooks the leg on Swann. Swann kicks out. Swann counters the Gun Stun! Anderson recovers and sends Swann inside out for another near-fall. A table is brought in by The Good Brothers.
Swann evades going through a table with a nice kick. Swann plants Anderson on the table and rains down some hammer shots. Swann climbs up to the top rope. Gallows makes the save by grabbing Swann's foot. Anderson sends Swann crashing toward the table (but not breaking it) with a Gun Stun for the pinfall victory.
Winner: Karl Anderson
Backstage: Gia Miller hosts a sit-down interview with Mickie James. James is very disappointed in how the Knockouts and AAA Reina de Reinas Champion Deonna Purrazzo affected her match at NWA 73. James thinks she needs to tap into her Hardcore Country persona and get Purrazzo back.
– An advertisement for Bound For Glory is shown. BFG will air on Saturday, October 23, at a special start time, 10 PM ET!
– "Drama King" Matthew Rehwoldt challenges Trey Miguel to a match next week.
Backstage: Gia Miller finds X-Division Champion Josh Alexander before he signs a contract with Chris Sabin ahead of their epic matchup next Saturday. Alexander is quite prepared for what the former eight-time champ will throw at him. Just after saying that, the Impact World Champion Christian Cage approaches Alexander and asks if he'll join his team to take on Ace Austin next week. Alexander eagerly obliges.
Backstage: Rohit Raju acknowledges what he did to Chelsea Green last week went too far. But he retracts his statement by saying Green wanted it, and it felt great.
Chris Bey vs. David Finlay
David Finlay puts Chris Bey in the corner. Bey plays some mind games by escaping out of the ring and chatting with the fans. Finlay meets him on the outside and hits a nice European uppercut and a nasty knife edge chop. The fans instruct Finlay to do it again; he does so. Finlay counters a face slam onto the apron with one of his own.
Back in the ring, Bey rolls through but eats a back elbow. Finlay plants a senton for just a two count. Finlay takes to the skies with a Pescado, but no one's home. Finlay eats an elbow from Bey, but it isn't enough for Bey to pick up the victory just yet. Bey continues the onslaught, followed by a lateral press. Finlay pops free at two. Bey connects a flying elbow in the corner. Bey heads up top and hits a flying elbow for another near-fall! Bey looks for the Art of Finesse. Finlay catches him with a suplex.
Finlay lands a perfect accelerated European uppercut! Will this be enough for Finlay to win? No! Finlay traps Bey with a Uranage Backbreaker. Cover. Bey kicks out! Finlay floats over with a crossface. Bey stretches his foot over to the bottom rope. Finlaytraps Bey in a small package for two. Bey plants Finlay with a spinebuster. But it still isn't enough to win this! Bey lines Finlay up with some Yes Kicks. Finlay counters an enziguri. Bey looks for another pin. Juice Robinson runs out (with a little hobble) to make the save! Bey is shocked.
David Finlay stacks Chris Bey up. 1-2-3. Bey prevails in this fight!
Winner: David Finlay
Post-Match: New Japan Pro-Wrestling star and fellow Bullet Club member Hikuleo makes his Impact debut and comes out to help Chris Bey take out FinJuice. He and Bey attack the knee of Juice with a chair. Both of them stand tall. Bey holds up the "Too Sweet" gesture.
Backstage: EVP Scott D'Amore sits between Josh Alexander and Chris Sabin as they both sign on the dotted line ahead of their X-Division Title match at Victory Road. D'Amore compliments both men for being pillars in this company and the X-Division. Following their contract signing, Cage asks Sabin if he'll join his tag team. Sabin agrees and looks forward to the challenge.
At Swinger's Palace: Mr. Johnny Swinger is back and ready to collect some money with John E. Bravo as his dealer. The Swingerellas are there as well. TJP, Fallah Bahh and No Way want to make some bets before Steve Maclin's match, but a conversation between No Way and Swinger's co-workers goes haywire. No Way, Bahh and TJP are kicked out. Meanwhile, Kimber Lee is stalking her next prey.
Grudge Match: Steve Maclin vs. Petey Williams II
Steve Maclin goes straight to work with a crossbody turned vertical suplex on Petey Williams. Maclin maintains the driver's seat position by hitting a backbreaker on the Canadian legend. Maclin eats two big boots in the corner. Williams executes an enziguri, followed by a belly-to-back overthrow suplex. Maclin drives Williams down on the mat with a legsweep. Maclin looks for a cover. Williams pops out.
Willaims hits a perfect hurricanrana on the outside. Williams is about to set Maclin up for a Canadian Destroyer, but No Way, Fallah Bahh, TJP and their conga line interrupts everything. A distracted Williams eats a pin from Maclin after he connects his inverted facelock sitdown slam.
Winner: Steve Maclin
Backstage: Eddie Edwards still does not need Sami Callihan's help despite the brutal beatdown he received at the hands of Moose and W. Morrissey. With Cage stepping in asking both of them if they'd like to join his team next week, Callihan accepts the offer, while Edwards does not. Edwards doesn't want to be on the same team as Callihan. So, he's making Cage choose either him or "The Draw."
Backstage: Ace Austin and Madman Fulton are being interviewed again to provide an update on who they'll have on their team. It looks like W. Morrissey and Moose will be joining the group. Austin's team is complete.
Moose (w/W. Morrissey) vs. Eddie Edwards
The majority of the fans are pulling for Eddie Edwards in this bout. Moose and Edwards start things off with heavy smashes. Moose connects a big knife edge chop but eats a back elbow coming off the ropes. Edwards plants an inverted atomic drop, but Moose recovers quickly, sending Edwards to the corner. Edwards pays homage to Satoshi Kojima with some machine gun chops! Moose throws Edwards to the outside. On the outside, Moose throws Edwards into the ring post, shoulder first before the final commercial break.
Coming back from the break, Edwards executes a beautiful avalanche Frankensteiner on Moose. Following the recovery, Moose catches Edwards with a powerbomb. Then, Moose sends Edwards out cold with his Lights Out finisher for the pinfall victory.
Winner: Moose
Post-Match: Moose and W.Morrissey continue the beatdown on Eddie Edwards. Chris Sabin runs out to make the save. Everyone on Ace Austin's team comes out and continues the brawl. Josh Alexander charges to the ring in support of Edwards. Ace Austin and Madman Fulton finish the rest of them off. They stand tall for a moment before Christian Cage comes out and hits a Killswitch on Madman Fulton! After all their spots, Moose, Morrissey and Edwards return to where they last left off.
Alisha Edwards runs down with a kendo stick in hand to save her husband. She whacks Morrissey across the back with it. Then, Sami Callihan's "ICU" picture appears on the screen. Callihan and Edwards join a temporary alliance to send Moose and Morrissey packing. Cage slides in the ring and in between Callihan and Edwards. Callihan and Edwards take their bat and kendo stick, respectively, and exchange a truce. Everyone on Christian Cage's team (Chris Sabin, Josh Alexander, Eddie Edwards and Sami Callihan) all stand tall just as the show wraps up.
That concludes this week's episode.