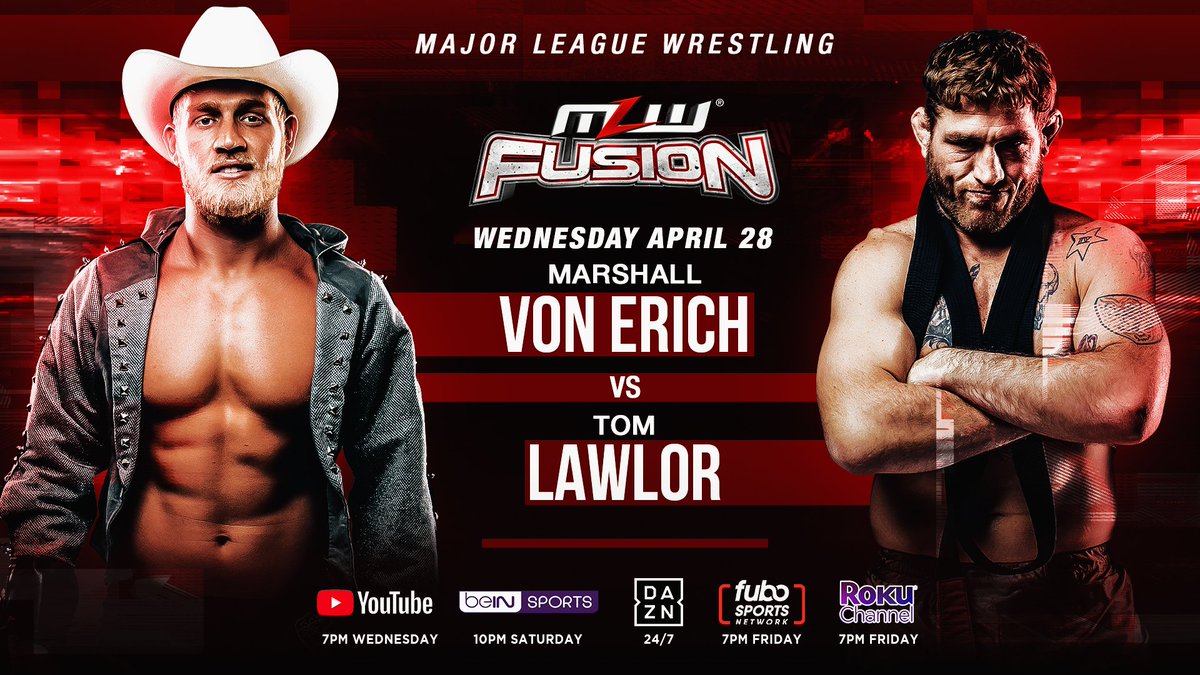 MLW Fusion #130 Results (full show at the bottom of this page) – MLW Fusion starts with a recap video explaining how the main event matchup between Tom Lawlor and Marshall Von Erich came to be. These two will be facing off for the first time tonight!
SNEAK PEEK! Take a look at the first 93 seconds of tonight's #MLWFUSION! pic.twitter.com/81g3at1YEE

— MLW on VICE | This Saturday (@MLW) April 28, 2021
Commentators Ray Flores and Saint Laurent welcome fans to the show. We kick things off with the first singles match of the evening!
Ross Von Erich (w/Marshall Von Erich) vs. Dominic Garrini (w/Kevin Ku)
Dominic Garrini tries to get Ross Von Erich on the ground for some mat-based wrestling, but Ross doesn't budge. Garrini looks for a half-guard tie-up on the mat. Ross rolls over towards the ropes for a break. They take their fight back down on the mat. Ross finds himself in the same position as before. Back on their feet, both men go for a knuckle tie-up. Both men apply double-leg locks.
.@RossVonErich with a BIG kick on @dgarrinibc.#MLWFusion |
▶️https://t.co/Q4jO2XiLHM pic.twitter.com/lfegFZxlUr

— MLW on VICE | This Saturday (@MLW) April 28, 2021
Ross throws down several palm strikes. Garrini traps Ross in a triangle choke. Ross finds a way to break free. Then, both men trade forearm strikes and chops in the center of the ring. Garrini calls with a spinning chop, and Ross answers with a spinning heel kick for just a two count. Garrini neutralizes Ross with a Guillotine Choke, but he can't get it in all the way. Ross switches a suplex counter into a beautifully done Falcon Arrow. Cover. 1-2-3. Ross Von Erich picks up the win!
.@RossVonErich with the Falcon Arrow counter!#MLWFusion |
▶️https://t.co/Q4jO2XiLHM pic.twitter.com/odJA41mQ4R

— MLW on VICE | This Saturday (@MLW) April 28, 2021
Winner: Ross Von Erich
Backstage: Tom Lawlor is frustrated that Marshall Von Erich would make an appearance before their match tonight. Lawlor tells his boys he's got an idea. He wipes out his cellphone, but he doesn't say who he's calling.
Outside: Lawlor meets up with referee Tim Donaghy. Both men continue their conversation in private after Lawlor hands him an envelope full of money.
Hijo de La Park (w/Salina de la Renta) vs. Bu Ku Dao
Hijo de LA Park pokes fun of Bu Ku Dao's height. He drives Dao to the mat with a powerful clothesline and keeps him down with a series of heavy stomps. Hijo takes his weight belt off and starts to choke Dao out. On the outside, Hijo slams Dao spine-first onto the concrete floor. Hijo rolls him in and goes for the first count in the match. Dao kicks out. Dao chops the soul out of Dao for another near-fall count. Dao gains some momentum with a bulldog, followed by a well-executed dive to the outside.
Double knees from @Hijodelapark1 #MLWFusion |
▶️https://t.co/Q4jO2XiLHM pic.twitter.com/CiC6bxsSr1

— MLW on VICE | This Saturday (@MLW) April 28, 2021
Back in the ring, Dao rolls Hijo up with a crucifix pin. Hijo says not so fast with a kick out at two. Hijo traps Dawo in the turnbuckles and lands a nasty kick and a lungblower for a two count. Dao sends Hijo for a ride with a tilt-a-whirl which transitions into a crossface submission. Hijo slams his knees into Dao's face causing some whiplash. Hijo briefly turns his back and eats a flatliner. Dao hooks the leg and picks up another huge victory in his singles career!
.@BuKuDaoOrDie with a Crucifix Driver!#MLWFusion |
▶️https://t.co/Q4jO2XiLHM pic.twitter.com/40mhIDgLxv

— MLW on VICE | This Saturday (@MLW) April 28, 2021
Winner: Bu Ku Dao
Post-Match: Salina de la Renta storms out. Dao says he dedicates tonight's win to his parents.
– Ray Flores and Saint Laurent report that the Middleweight Champion Lio Rush did not board his flight to Orlando for his press conference with Myron Reed.
Backstage: Alicia Atout reports that MLW officials are speaking to wrestlers in Dragon Gate and RevPro in the U.K.
Backstage: Alicia Atout interviews Marshall Von Erich before his main event matchup. Just as he's explaining his strategy going into this match, Lawlor and referee Tim Donaghy interrupt and make Marshall take a drug test.
– Moments ago, Salina de la Renta was taken out of the arena with a mask over her head and shoved into a car. A masked man sees the MLW production crew filming them, and he rushes toward them.
– Furious over the sacrifices he made to be at this press conference today, Myron Reed informs Rush that his time as the Middleweight Champion is up.
Backstage: Alicia Atout speaks with Alex Hammerstone after his jaw-dropping challenge to Jacob Fatu for his MLW World Heavyweight Championship. Hammerstone thinks that Fatu fears him since he hasn't responded to his challenge yet. "The Phoneix Powerhouse" promises to be the man to dethrone Fatu's two-year stranglehold.
Backstage: Alicia Atout and Lawlor await Marshall Von Erich's test results. Donaghy announces that Marshall's urine sample came up clean. Marshall has the cup in hand, and throws it in Lawlor's face. These two will collide next!
.@FilthyTomLawlor wanted @MarshallVonEric to take a drug test and Marshall's passed it… All over Tom.#MLWFusion |
▶️https://t.co/Q4jO2XiLHM pic.twitter.com/Ot3JpNvrZI

— MLW on VICE | This Saturday (@MLW) April 28, 2021
– After being a no show for his press conference tonight, MLW officials have fined Lio Rush.
– Next week, Richard Holliday will be in action.
– CONTRA Unit's leader, Josef Samael, responds to Hammerstone's comments from earlier. He lets the Openweight Champion know that he is in control of who faces Jacob Fatu. He regrets to inform "The Phoenix Powerhouse" that he will not get a World Title opportunity.
And now, the main event!
"Filthy" Tom Lawlor (w/Team Filthy) vs. Marshall Von Erich (w/Ross Von Erich)
Neither man wastes any time as Tom Lawlor slams into Marshall's formerly injured leg with a dropkick.  Lawlor then begins to drive Marshall's knee into the canvas. Marshall tries to fight out of Lawlor's control with a European uppercut, but Lawlor doesn't let up so easily. Lawlor smashes down on Marshall's knee again with a well-scouted dropkick. Lawlor counters Marshall with a forward Russian leg sweep, trapping Marshall's arm in the process. Marshall breaks free with a rope break.
Lawlor drags Marshall into the center of the ring and applies a kneebar. Marshall creates some space by unloading a flurry of forearms and a clothesline. Marshall continues to unload on the Opera Cup winner. Team Filthy climbs up on the apron and distracts the referee while Lawlor clocks Marshall with a wrench straight towards the knee. Lawlor dishes out more pain on Marshall with boot shots and a foot choke in the corner.
Marshall ducks out of the corner and works up enough steam to land two dropkicks before his knee gives out. Marshall tries to use the Iron Claw on Lawlor to break up a kneebar submission, but he can't get it in. Lawlor drives Marshall right into the canvas with a huge Uranage Slam! Both men trade heavy shots. Lawlor looks to hit a DDT. Lawlor turns it into a Guillotine Choke, but he can't get it in all the way. Marshall counters with a Claw Slam! Cover. Lawlor kicks out!
Lawlor goes straight back to the knee and puts Marshall in a side single crab. Marshall fades. The referee calls for the bell. Lawlor prevails over Marshall Von Erich.
Winner: "Filthy" Tom Lawlor
Post-Match: Team Filthy ambush Marshall and Ross Von Erich. ACH runs down to the ring to help even the odds. Pandemonium breaks out as their brawl spills in and outside of the ring. This concludes the show.
That concludes this week's episode.
---
Since 2001, WrestlingAttitude is your number one source for WWE wrestling news, rumors and results. Make sure to follow us on social media to get the latest news in real time! We are facebook, Twitter, Pinterest and Instagram at the following links:
WA on Facebook – https://www.facebook.com/wrestlingattitude/
WA on Facebook (Women's Wrestling) – https://www.facebook.com/WrestlingDivas/
WA on Twitter – https://twitter.com/wa_wrestling
WA on Instagram (Women's Wrestling) – https://www.instagram.com/wa_wrestlingattitude/
WA on Pinterest – http://www.pinterest.com/realbadrose/wrestling/
---