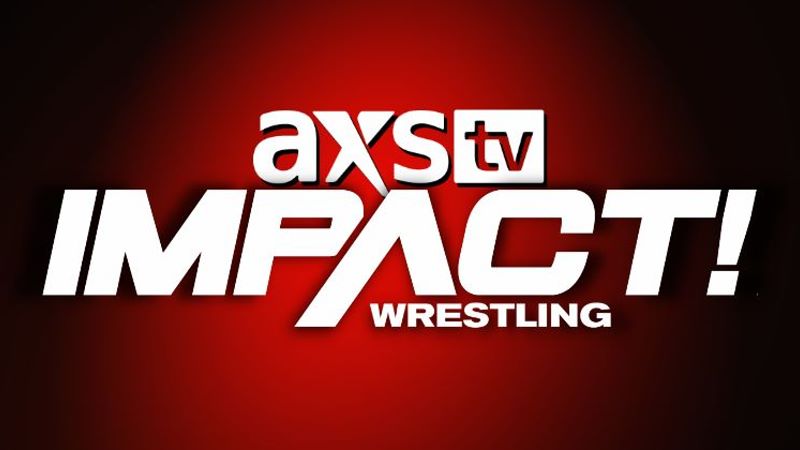 Impact Wrestling Results – February 23, 2021 – We opened with a look at everything that went down the last week.
Tables Match: Deaner vs. Jake Something
They began brawling at the bell. Something scored the early offense and went to the floor to get a table but Deaner attacked. Jake fought him off and brought the table into the ring. He started setting it up as Deaner returned to the ring and kicked him off the apron to the floor. The table was set up across the ropes on the middle turnbuckles. He went for a belly to back suplex but Deaner escaped. Jake charged him but was shoved into the table, smashing the side of it with his jaw. That was a great spot. Deaner nailed a slingshot, sending Jake into the bottom of the table.
Deaner set up the table at a 45 degree angle in a corner. He followed Something to the floor and ripped at his face, then placed a table against the apron outside. Jake fired back and gained control, then bridged the table across the apron to the guard rail. They battled back and forth above the table. Deaner tried to shoulderblock Jake off through the table but Jake blocked it. He tried to backdrop Deaner over the top through the table but Deaner blocked it. He knocked Jake to the floor and went for a flip dive. Jake caught him and tried to powerbomb him through the table but Deaner slipped out. Jake tried to whip him into the table but Deaner ducked and slid under. This has been seriously great.
Deaner flipped the table over onto the floor and drove Jake down into the legs. He peppered Jake with punches and placed him across another table. Deaner went to the top but Jake recovered and attacked him. They battled on the top, teasing a superplex off to the floor. Jake landed in the ring and went for a mare off the top to the ring. Jake speared Deaner in the corner. He grabbed Deaner and nailed a sit-out powerbomb. Deaner went to the floor, where they battled to the stage. Deaner told him this was on Jake and went for hs DDT but Jake drilled him with a big forearm.
Jake pulled Deaner up for a powerbomb on the stage but Deaner slipped out and lowbowed him. Jake, recovering, began climbing back to the apron. Deaner charged but was caught with a spinebuster through the table.
Your winner, Jake Something!
This was a damn entertaining brawl with some really nice Table spot teases.
Moose charged the ring and immediately speared Jake through one of the tables in the corner that weren't utilized He called for a chair and sat down. He took the mic and apologized to AXS TV, telling him that there won't be a show tonight until he gets the Impact title shot he was promised by Rich Swann. They went to commercial.
After commercial, Scott D'Amore said that this was crap, Moose had to stop and get out of the ring. Moose said they had 90 minutes to go and they can have great wrestling if they give him his title shot. Scott said that Rich wasn't cleared and isn't even in the building tonight. Jake Something returned and tried to get past officials to get to Moose. Moose told hm he better be careful or he was going to end up with a lot worse than he got. Scott said he can have a title shot. As of now, the TNA title is an official title in Impact Wrestling and he's going to defend it in the main event against Jake Something.
The folks at TNA fans in the Asylum just lost their minds, especially the fan who once faked his own death, but that's another story for another time…
Matt Striker and D'Lo Brown wondered how Jake would fare given everything he's been through and ran down the lineup for tonight.
Black Taurus & Chris Bey & Ace Austin vs. Willie Mack & Trey Miguel & Josh Alexander.
Bey and Miguel started out going back and forth with some nice reversals and action. Alexander and Austin tagged in. Alexander sent him hard into the corner. He and Mack tagged in and out, working over Austin until Taurus was able to tag in. He and Mack had a fun series of interactions. Mack used a lucha style takedown and hit a dropkick into the corner. Josh was drilled in the corner and hit with a rolling Samoan Drop by Alexander. Taurus battled back with some evil, stiff chops in the corner. Josh fired back and continued beating him with forearms and chops.
Alexander whipped him out of the corner but Taurus blocked it and came off the ropes with a spinning strike, then locked on a sleeper as they went to commercial, smothering Alexander. When they returned Alexander blocked a rana from Bey and powerbombed him over his knees. Austin tagged in but was worked over in the corner. Taurus tried to run interference but was sent off. Trey trapped Austin in a pendulum then drove him to the mat and scored with a big elbow. Austin was superkicked in the head after having it trapped in the buckles. Mack grabbed him for an Electric Chair but Bey interfered. Mack still drove Austin with an elevated uppercut for a two count. Mack went to the top for the frog splash but was tripped up in the ropes, crotching himself,
Austin nailed him and ran across the apron with a kick that brought back to the ring. Austin nailed him with The Fold but the pinfall was broken up at the last second. Taurus and Miguel battled. Taurus nailed an evil looking over the knee backbreaker. Alexander missed a charge in the corner but still grabbed Austin in an anklelock. Bey came off the ropes with a DDT to break it. Mack smashed Bey, sending him flying. Mack again went for the frog splash but missed it, rolling through. Bey nailed the Art of Finesse and scored the pin.
Your winners, Black Taurus & Chris Bey & Ace Austin!
They will face off in a three-way match next week with the winner challenging TJP the following week for the X-Division title.
As Miguel returned to the back, Sami Callihan was waiting and said he told him so. He said Miguel has been back three months and already, things aren't going his way. He thinks Trey is about to flake out and leave again. He said Miguel has a lack of passion. Miguel attacked Sami and beat him down. Officials pulled him off. Trey walked off as Sami smiled.
They aired footage of Decay vs. The BroMans from Slammiversry 2016.
We go to the latest AEW paid ad with Tony and Tony joined by Ryan Nemeth, Brian Cage, Ricky Starks, Matt Hardy, Isaiah Kassidy, Rebel and Britt Baker, all putting over their AEW matches tomorrow.
Neveah and Havok were talking backstage. Havok said they just need to take a step back and take a moment to figure out what they can do next. Neveah said she needed time and walked off. Tenille Dashwood and Kaleb with A K were listening and approached Havok, asking her to team with them. She said she wasn't interested and walked off but Tenille and Kaleb believed there was chemistry there.
Impact Wrestling Tag Team Champions The Good Brothers vs. XXXL (non-title)
Karl Anderson and Doc Gallows worked over Larry D early, tagging in and out. D was able to tag Acey Romero but Gallows drilled them both with a double clothesline. Acey didn't go down but was beaten into the corner by Gallows, who hit shot after shot. Anderson tagged back in and kept nailing some big forearms. Romero fought back and tagged in Larry, who worked over Anderson's back.
Gallows tagged back in and massacred D with a series of clotheslines. Acey returned to the ring but ate a big boot. D was clotheslined again and hit with a pump kick. He kicked off a Gallows charge but was kicked down again. Anderson knocked Romero off the apron and The Good Brothers finished D with the Magic Killer.
Your winners, Impact Wrestling Tag Team Champions The Good Brothers!
A thoroughly enjoyable match. XXXL did a great job putting the shine on the champs.
We go back to Swingwe's Casino as everyone plays cards. Rohit Raju and Shera joined in. He got 20 but John E. Bravo, the dealer, had 21. James Storm and Raju got into a fight but Chris Sabin said he loves this place and doesn't want to get kicked out. Swinger said no one is getting kicked out and started taking bets on the fight. He sent someone to go get the match official for Impact.
Backstage, FinJuice was approached by The Good Brothers, who bragged about how great they were at beating up XXL tonight. FinJuice told them it took them long enough and asked if they were slowing down a little. They said they were the best tag team in the world. FinJuice said they know of all the titles The Brothers have held and that they are the best tag team in the world as professional wrestling, hung over. They walked off. Anderson took offense, saying he wasn't hung over.
Eddie Edwards vs. Brian Myers
Myers came out in street clothes and took the mic. He said he would love to have the match tonight but he can't and he's been advised not to. His attorney, Mark Sterling, appeared on the screen. He said he was hired due to the unprofessional and unsafe working conditions in Impact which led to irreversible conditions to Myers' eyesight. He said that due to an article of Myers' contract, a replacement can be made. Hernandez was announced.
Eddie Edwards vs. Hernandez
Eddie attacked Hernandez on the floor. Hernandez cut him off and nailed a big splash in the corner. They battled to the floor. Edwards was slammed hard on the apron. Myers attacked Eddie on the floor as the referee was distracted. Myers is doing some of the best character-based stuff of his career with this run. Back in the ring, Edwards avoided a slam but ate a big back elbow. Hernandez went to the top but was kicked in the head. Hernandez was caught with an overhead superplex but immediately wiped out Eddie as he charged. Hernandez went for the Border Toss but Eddie slipped out and nailed the Boston Knee Party off the second rope.
Your winner, Eddie Edwards!
A solid way to continue the story. Hernandez having to be hit with the Boston Knee Party off the ropes, as opposed to the normal execution, helped put over how hard Eddie had to dig deep to get the win. Hernandez has really been working super hard and inspired of late and has had something of a fun resurgence under the radar.
Backstage, Matt Cardona approached Brian Myers. Myers asked if he was stalking him. Scott D'Amore came up and said Brian's lawyer didn't understand that Impact's doctor is the one who has to clear him or keep him from working, so Myers is cleared for next week against Eddie Edwards in an Eye For An Eye Match. He announced Cardona was going to be the guest referee. Myers asked if he was serious. Scott said he wasn't because who was going to book that and then take someone's eye and then what, in a few weeks, his eye is fine again? He walked off. Cardona told Myers he would see him next week, leaving Myers fuming. Myers is a great straightman for all these vignettes.
Kimber Lee & Susan vs. Jordynne Grace & Jazz
The winners earn a Knockouts Tag Team Championship Match.
Jazz and Susan started. Susan was easily outmatched. She finally grabbed a side headlock but was shoved off into the ropes and drilled down on the rebound for a two count. Jazz nailed some big crossfaces. Jazz rebounded off the ropes for a move but Deonna Purrazzo grabbed her leg. That distracted her, allowing Susan to nail her from behind. Purrazzo began choking Jazz on the ropes as the referee was distracted. ODB hit the scene for the same. The referee tossed ODB and Purrazzo from ringside as they went to commercial.
When they returned, Kimber controlled Jazz on the mat with a side headlock. Jazz fired out with a series of elbows and drilled her for a two count. Lee stopped her from making the tag. Lee nailed a sideslam for a two count. Susan tags in and locked in a side chinlock. Jazz tried to fight out but was sent into the corner. Kimber and Susan tagged in and out, working over the veteran. Jazz blocked a whip into the corner and smacked heads with Kimber. She finally made the hot tag to Grace.
Grace cleaned house on Susan, nailing a series of clotheslines. Grace nailed Susan. They nailed her with a double suplex for a two count. Grace locked her in a Human Torture Rack, dropped her and nailed a German suplex. Grace went for another move but Susan grabbed her face. She and Lee antagonized Jazz, who tried to interfere but was stopped. Grace broke free of an anklelock and nailed the Grace Driver on Susan for the pin.
Your winners, Jordynne Grace & Jazz!
They are now the top contenders for the Knockouts Tag Team titles.
Another solid match.
They returned to the back but found ODB laid out. They called for help. They said it had to be Deonna Purrazzo who did this. But was it?
TNA Champion Moose vs. Jake Something.
Jake attacked Moose during his entrance and they brawled all over ringside. They battled into the ring, where the bell finally rung. Moose cut him off and ripped at Jake's face. Moose missed a charge and was sent to the floor. Jake teased a dive but saw Moose move and re-directed himself, only to have Moose cut him legs off and slammed down face-first into the apron.
Jake rolled back into the ring. He tried to fire back and nailed several short-arm clotheslines, wearing Moose down. Moose drilled him with a headbutt to the face but nailed with a spear. Jake slammed Moose and covered him for a close two count. Jake missed a charge into the corner and went to the top but was drilled with a dropkick. Moose pulled him up and nailed a big superplex. Moose kipped up and aimed for a spear. He charged but was caught with a pop-up powerbomb for a CLOSE two count. They are really trying to build Jake with this showing tonight.
Jake pulled him up. Moose fired with right hands. Jake fired back. Moose nailed a pump kick but was CRACKED with a hard forearm. Moose hit a series of Uranages, then a ripcord lariat. Jake pulled himself up but was speared with authority and pinned.
Your winner and still TNA Champion, Moose!
Moose grabbed a chair and kept beating him down. Rich Swann hit the ring and attacked Moose, who shoved him backwards. There was a huge pullapart with referees and officials coming out. Scott D'Amore says they keep going around and around, so it all ends on 3/13 at Sacrifice when they face off for the title.
A hell of a performance from Something on this episode.
Another good outing across the board from Impact.