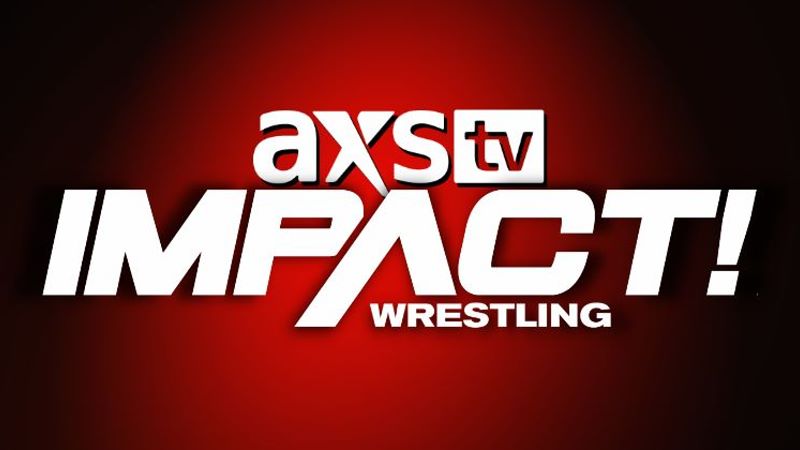 It's the last stop for Impact Wrestling before this Saturday's Bound for Glory PPV and we open up with a look at everything that went down last week.
Hernandez vs. Cousin Jake vs. Alisha Edwards vs. Rhino vs. Heath – Winner Earns Entrance #20 in Bound for Glory PPV Call Your Shot Gauntlet Match.
Alisha Edwards showed fire, getting in everyone's face and shoving them. Hernandez put her on the top rope, sitting her down and everyone else brawled. Undaunted, she jumped on Heath's back with a sleeper. Cousin Jake nailed Heath. They brawled to the floor as Rhino and Hernandez hit the ring, slugging it out. Rhino nailed a clothesline and Edwards dove on Hernandez for a two count. The male competitors all fought on the floor. Alisha nailed a flying bodypress to the floor, taking out everyone but Hernandez.
Hernandez worked over Jake near the railing. Edwards was going for a dive but Jake tripped her as she rebounded off the ropes, then apologized. All the men battled. Jake hit the ring and nailed Rhino from behind. He and Hernandez worked over Rhino together. Everyone battled. Rhino went for a Gore but nailed Edwards. Shocked at taking her out, Rhino was caught in a rollup and pinned by Hernandez.
Your winner, Hernandez!
Hernandez enters last in the Gauntlet Saturday while Rhino is forced to enter at number one. The storyline is that if Rhino or Heath don't win, they are both gone from Impact.
This was absolutely fine. I don't think anyone would have called Hernandez's win. Edwards showed some fire here. I feel like they needed a post-show interview with Heath and Rhino now that their backs are against the wall, but it didn't happen.
Madison Rayne and Josh Mathews ran down the lineup for tonight's episode. They really have morphed into a hell of a team over the last few months. I'd say they are the most underrated commentary team of 2020.
They aired a video recap on the Moose vs. EC3 bout to preview Saturday's PPV bout.
Moose, holding the TNA title, sat down with Jimmy Jacobs for an interview. He was very distracted, as opposed to his usual self. Moose blew off a question about being happy about getting the belt back. He questioned whether anyone was happy these days and promised EC3 wouldn't be happy about Bound for Glory. He stormed off. Jacobs was grabbed by EC3's hooligans and had a bag forced over his head. He was dragged out of the building and into a waiting car.
Elsewhere, John E. Bravo was pissed they didn't have a proper altar for the wedding rehearsal and screamed at his wedding party for all dropping the ball. Cody said he was getting tired and he could kill that guy, meaning Bravo. Swinger said, "Like his father Dino, eh?" WHOA that was stiff. Bravo asked if Jake got the photographer. He did. It was Kaleb with a K. He arrived with Tenille Dashwood and began taking photos of her. Bravo yelled at them to sit down. Bravo began ranting and saying if things are ruined, it was all of their heads. Taya arrived and was confused why he was being so mean, saying she wouldn't treat him that way (of course, she has since the dawn of time) – Bravo said he's stressed and losing it. He stormed off saying he didn't even know if the wedding would even happen. Pretty funny to see Bravo turning into Taya. I am wondering if they will say it's because he bit Rosemary's forbidden apple. Bravo really has done a hell of a job as a personality this year and really deserves praise for his work.
They aired a video feature with Deonna Purrazzo talking over the history and legacy of the Knockouts division while putting over the importance of winning. She put herself over as full of class and elegance and said she was going to rise beyond the pressure while knocking the idea that Kylie Rae could do the same. She played up that Kylie is emotional and that Deonna could use that to her advantage. They showed footage of Rae losing it in the aftermath of Susie's "broken arm." She promised Rae would lose this Saturday. Purrazzo came off like a star here.
Rosemary vs. Havok
If Rosemary wins, Havok will agree to help her bring back Jim Mitchell.
They shook hands but Havok didn't let go and kept squeezing. Rosemary broke free and nailed a series of rights but was smashed down by Havok, who worked her over. Havok missed a legdrop and was covered for a two count. Rosemary charged but was grabbed and driven backwards into a backbreaker. Havok went for a Fireman's Carry but before she could transition into another move, Rosemary slipped out and nailed a DDT for a two count. Rosemary grabbed her in a front chancery, trying to choke out Havok, but was pulled into a bearhug and a big back suplex. Havok nailed a Facewash in the corner. Havok missed a charge in the corner and was hit with a Flying Bodypress for a two count. Rosemary was caught with a series of forearms. Rosemary cut her off with a pair of spears and pinned Havok.
Your winner, Rosemary!
This was solid. I was surprised to see Havok lose cleanly that quick, but for the storyline, it's where they needed to go. Jim Mitchell will return to the land of the living!
A demoralized Havok followed Rosemary to the back to assist her in the return of Mitchell.
They aired a video feature on this Saturday's Tag Team title bout.
They then aired a preview of tonight's Talking Shop special, which will follow Impact.
Kylie Rae discussed this Saturday's title bout. She admitted her anger sometimes get the best of her. She takes full responsibility for that but at the end of the day, she tries to be nice and a good person. Deonna has ulterior motives. It's not about the title this Saturday. It was made her personal when she broke Susie's arm but it's not about revenge.
EC3's minions drag Jimmy Jacobs to a building. For his sake, I hope it's not Titan Tower. He is released into a room and EC3 is waiting. He demands Jacobs asked him a question. Jacobs asked what the narrative is now. He said it was always control but now it's changed. He said he's been waiting for the man he's been waiting to fight – The Moose – on the bridge. Moose claims he's Mr. Impact, a wrestling God, a champion but he is a false idol. He has potential and EC3 saw it last week, rising to the occasion, but it's not Moose's narrative to control. It's his. Lessons not learned in blood are lessons you forget. He has to learn at EC3's hands. He is fighting for control, freedom, purpose and himself. He let his past get in the way and he forgot it but now the past is no longer in his way. He wants to burn the TNA title and its legacy down to ashes. When he beats Moose on Saturday, he knows his purpose is fulfilled. EC3 said the only Glory you will find is his. This was absolutely awesome and intense. Just an awesome delivery. Legitmately, EC3 came off like a complete psycho here and his acting was incredible. Jacobs' reactions to all of this helped make it work as well.
Sami Callihan vs. Eddie Edwards
The usual great match between these two with some gritty brawling and near falls. Edwards went for the Boston Knee Party but Sami grabbed his cell phone and pressed a button and the lights went out. When they returned, Ken Shamrock was lurking like The Frankenstein Monster. He distracted Edwards, who was rolled up and pinned by Callihan.
Your winner, Sami Callihan!
Edwards attacked Callihan but was jumped by Shamrock and hit with a big suplex. They began stomping and working over Edwards. Shamrock grabbed him for an anklelock and wouldn't release. Shamrock finally released and stood over Edwards as he grabbed at his leg.
Match was real good but we were all waiting for the angle and we got it. It made perfect sense to send Edwards looking for revenge going into the PPV. How the hell is Ken Shamrock somehow scarier now than he was at the height of his UFC career?
They aired a video feature on the X-Division title bout at Bound for Glory.
Impact X-Division Champion Rohit Raju & Chris Bey & Jordynne Grace vs. Willie Mack & TJP & Trey Miguel.
Rohit and Mack started out but TJP tagged himself in. Raju tagged himself out and was chased around but Bey attacked TJP as he returned to the ring. Bey nailed a big rana. Mack tagged back in and nailed lots of big offense, culminating with a legdrop. Mack nailed a big right hand and worked Bey over. Bey was brought to the wrong corner, where TJP worked him over.
Bey was able to tag out to Grace, who used her power to beat TJP from all sides, then covered him for a two count. She brought TJP back to her corner, where she and Bey tagged in and out, working him over as Raju tried to manipulate them. They reluctantly tagged him in but TJP nailed him with a dropkick. He warded off the offense of Grace and Bey, tagging in Trey Miguel. Miguel hit the ring with some fiery offense and cleaned house, nailing Raju with an enziguri for a two count.
Grace broke up the pinfall. Everyone battled, all hitting one big offensive maneuver after another. It culminated with Raju nailing a big flying knee. Bey, who was the legal man, covered him but Miguel kicked out at the last second. Bey nailed a springboard cutter but Raju tried to make the pinfall. He and Bey got into it and got physical with each other. Bey nailed hit springboard cutter on Raju. Trey nailed Bey and covered Raju for the pin.
Your winners, Willie Mack & TJP & Trey Miguel!
Good preview of the Scramble and the finish showed that Raju won't have any assistance this weekend.
They aired a video feature on the Impact title bout at Bound for Glory this Saturday.
Gia Miller conducted a sit-down interview with Impact Wrestling Champion Eric Young.  She asked him about the recent attacks he was committed and asked him his plans for the PPV.  Young said it was all self-inflicted.  He gave them paths to avoid him and warned them to stay out of his business, but no one listens to the warnings.  He is not the problem.  He didn't create this.  He made a plan and set boundaries and they broke them.  They have to deal with the ramifications of their choices just as he did and he took control of his career.  Being the champion was going to happen one way or the other.  He doesn't know why others keep putting themselves in his business.  He has a purpose.  He has a target.  He warned Rich Swann that his actions are Swann's responsibility.  Swann charged and in attacked Young. They brawled out of the building into the parking lot and wiped out the camera feed in their path of destruction.  Usual good delivery from Young and a short but good brawl. 
They broke down the lineup for the BFG PPV this Saturday.
The North vs. The Good Brothers
Anderson and Page started out. Page was tossed to the floor. Alexander tried to jump Anderson but Gallows hit the ring. The North regrouped at Impact went to commercial. When they returned, The Good Brothers were working over Alexander, tagging in and out. They controlled Alexander for some time. Page interfered, allowing Alexander to pounce and attacked Anderson. Anderson was choked against the ropes, worked over. Anderson tried to fire back with chops but was drilled in the mid-section in the corner. Page tagged in and controlled Anderson on the mat with a side chinlock. Just as Anderson was about to elbow his way out, Page flung him into the corner and Alexander nailed him. The North exchanged positions with a tag as Anderson continued to endure torture on the mat, this time at Alexander's expense. Again, Anderson fought his way out, only to be taken back down. Anderson finally avoided a charge in the corner and stunned Josh with a high spinebuster. Gallows made the hot tag and cleaned house. The Good Brothers went for the Magic Killer but Alexander attacked. Everyone brawled and the referee, unable to contain them, called for the bell.
No contest.
Ace Austin and Mad Man Fulton hit the ring and attacked everyone. The Motor City Machine Guns hit the ring and everyone brawled. It's a Pier City Brawl. It's Pandemonium. It's every cliche you ever heard Gorilla Monsoon scream. The Guns and The Brothers finally cleaned house and faced off. Anderson offered a handshake and pulled Shelley into a stone cold stunner. They nailed Sabin with the Magic Killer and we went off the air with The Good Brothers standing tall, just like every Vaudeville Duo would before their own special.
Fun, crazed energy to close us out this week.
Nothing announced for next week.