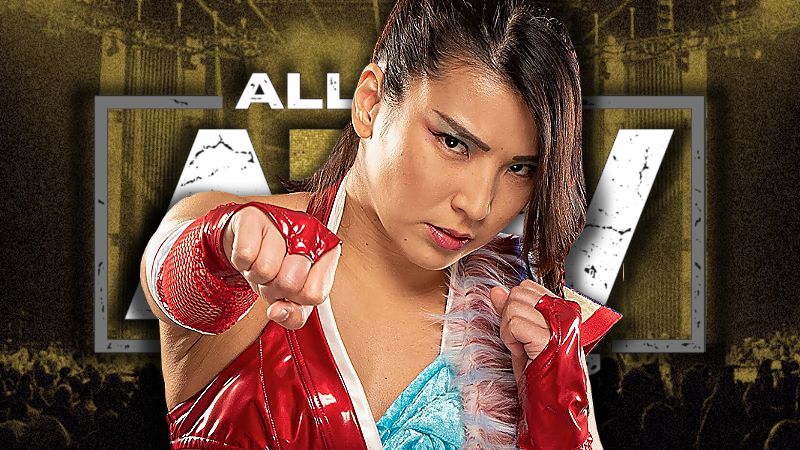 After marking their marks are pro wrestling legends, WWE Superstars such as The Rock (Dwayne Johnson) and John Cena have gone on to amass great careers as actors. It even looks like the mighty Bautista is ready to make his mark in Hollywood. What all three of these great wrestlers have in common is they were established athletes and wrestlers long before they started making movies.
Clearly, there is a path available for someone to go from a pro wrestler to a movie star. At least that's true for popular wrestlers that gamblers would use the bonus code that's available to wager on. Are there any instances of an established actor or actress who went on to a career as a top pro wrestler? Until recently, the answer was an emphatic no. Let us introduce you to Hikaru Shida.
Ms. Shida, 32 years old, is currently the reigning AEW Women's World Champion, a title she held steadfast after investing spending 12 years paying her dues as an undercard professional wrestler. What is most interesting about Ms' Shida's wrestling career is it started as more of an afterthought.
As a teenager, Ms. Shida took up training in martial arts disciplines like judo and kendo. After leaving high school, she began an acting career that included a steady role in the popular Japanese TV series Muscle Venus. In 2008, she began showing an interest in using her athletic ability to get involved in sports. When an opportunity came up to join Japan's Ice Ribbon promotions as a wrestler, she jumped at the opportunity.
Her wrestling career started on July 20, 2008. As a rookie, she was relegated to undercard events where she was usually designated to lose her matches. Her involvement with Ice Ribbon gave her enough exposure to help her land a lead role in the Japanese feature film "Three Count." The movie was set in the world of Japanese pro wrestling and served to increase her appetite to be a pro wrestler.
Here she is in 2020 and after paying her dues, Hikaru Shilda stands as a pro wrestling champion. She has officially made the leap from being a successful actress to being a successful pro wrestler.
In a recent interview, Ms. Shida talked about how she got connected to wrestling through her acting career. She told a reporter at H/T Wrestling Inc,
"I was an actress. I took a movie audition, and a producer came in and stood in front of us, and he said, 'OK, you have to be a professional wrestler. If you debut as a professional wrestler, you can take a part in the movie. I've watched wrestling before, but I started wrestling for the wrestling movie. I had only a month to train – that was crazy. I never watched before, so at the first training, I didn't know what I was doing."
As a well-established wrestling star, it is unclear whether or not Ms. Shida will go in search of a bigger wrestling stage with an organization like the WWE. It is possible she might have an eye on returning to acting. None of that matters right now as she prepares to defend her AEW Women's World Championship against Big Swole on October 14.