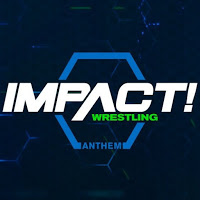 – Impact opened with its signature, and then a highlight video of last week's show, including the LAX funeral for Decay (with a run-in from VOW). Highlights of Lashley's backstage interview aired, where he talked about wanting the GFW Title. Then, they showed highlights of Alberto El Patron beating Magnus for the GFW Title last week.

The video then cut to highlights of Ultimate X, which will return later on this show. Low Ki will defend the X Division Title against Andrew Everett and Trevor Lee.
– Impact's opening montage aired.
– In-arena: Shots of the crowd were shown as Josh Mathews welcomed us to the show. They showed the GFW Tag Titles on a table as Mathews said the night would begin a match in the GFW Tag Title Tournament.
(1) LAX (w/Konnan, Homicide & Diamante) vs. GARZA Jr. & LAREDO KID – GFW Tag Team Championship Tournament first round
There was a loud "LAX!" chant before the match began. Mathews said it was only him and Pope on commentary, no Jeremy Borash. The match started two-on-two and Laredo Kid hit a dropkick. Then, both Garza Jr. and Laredo Kid hit moonsaults from the apron to the outside. Back in the ring, Laredo Kid and Garza Jr. chopped LAX. Ortiz broke up a pin attempt and then kicked Garza Jr. off the apron. Laredo Kid came back with a springboard dive. Ortiz hit a Death Valley Driver but Garza Jr. had made a tag and dropped Ortiz with a dropkick off the top. Santana, however, then hit a dropkick on Garza Jr. off the top rope. Ortiz took out Garza Jr. with a dive to the outside. Ortiz hit a northern lights suplex for a two count. Laredo Kid tagged in with a springboard hurricanrana. Garza Jr. powerbombed Ortiz as Ortiz had Laredo Kid in a powerbomb off the top. Then Ortiz hit a frogsplash on Laredo Kid and he collided with Garza Jr. in a double-clothesline, putting both men down. [c]
Back from the break, Ortiz and Laredo Kid are the legal men. Homicide clotheslined Laredo Kid on the outside. Laredo Kid hit a tornado DDT and then slingshotted Ortiz into a superkick from Garza Jr. Garza Jr. hit a superkick on Santana for a two count (rope break). Diamante went to the top rope and hit an unsuspecting Garza Jr. with a hurricanrana. Laredo Kid gets hit with a Street Sweeper, giving LAX the win.
WINNERS: LAX in 14:00.
After the match, LAX celebrate with the Impact Tag Titles. Replays are shown.
– Mathews and Pope were running down the card and what was coming next week, as the crowd behind them gives Mathews a thumbs down, and booing.
– Backstage: Bruce Pritchard is on the phone when Magnus walked up to him. Magnus told Pritchard that he cost him the GFW Title, and his golden ticket. Pritchard said that he didn't tap out to El Patron. Pritchard said that Magnus needed to get himself back into title contention, and there wasn't much he could do for him. Magnus said there was something he could do, and then walked off.
– A video aired on Laurel Van Ness, her history with Braxton Sutter and now Kongo Kong. Clips included Sutter and Kongo Kong brawling from last week. [c]
(2) KONGO KONG (w/Laurel Van Ness) vs. BRAXTON SUTTER (w/Allie)
Mathews said that Sutter and Allie are responsible for the downward spiral of Laurel Van Ness. Kong missed a dive in the corner at the bell and Sutter responded with chops. Sutter tried to take Kong down with a shoulder tackle, but he bounced off. Kong planted Sutter with a belly-to-belly and then bent his neck over the bottom rope with his boot. Kong continued to choke Sutter on the rope. As Sutter was bent over the rope, Van Ness drew a heart on his face with lipstick. Kong meathooked Sutter and dragged him to the corner. Sutter rolled out of the way of a senton from Kong. Sutter threw a flurry of shots at Kong but he stood his ground. Sutter hit Kong with a front kick to the chin, but Kong didn't fall. Sutter threw everything he had at Kong but he wouldn't go down. Kong then ran down Sutter in the corner with a splash, followed with a Helldriver for the win.
Winner: Kongo Kong in 3:30.
After the match, KM and Sienna ran to the ring and then began stomping Sutter. Allie ran into the ring and Van Ness cut her off, holding her back to watch Sutter get beaten.
Mahabali Shera ran to the ring for the save, chasing off KM and Sienna. Kong stayed in the ring for a second but then climbed out with Van Ness.
Sutter grabbed a mic and asked "boo boo" (Allie) to help him up.
"Big, fat KM," Sutter said. "The big, fast bully. Grab that dude cousin of yours, Sienna, bring Kongo Kong and hot mess Van Ness. Next week, a tag-team match, me and Shera against you two."
Mathews clarified that the challenge was Sutter & Shera vs. KM & Kongo Kong. Sutter's music played as he thanked Shera.
– Highlights of Andrew Everett's win over Matt Sydall, Dezmond Xavier and Caleb Konley were shown. They were highlighting Xavier a lot as well, not only showing Everett's win, but a lot of the impressive stuff from Xavier in that match.
– Backstage, Matt Sydall said that match last week is exactly what he signed up for with Impact. Sydall said he believes he should have won the match, but Andrew Everett impressed him. Sydall said he hopes Everett goes on and wins the X Division Title, just so that when they have their one-on-one match, it's for the title. Sydall told Everett not to take his eyes off of him.
– A video aired on the Ultimate X match and the X Division. A lot of early highlights were shown, including clips of AJ Styles and Jerry Lynn. Low Ki takled about being part of the X Division from the beginning.
– McKenzie Mitchell interviewed Karen Jarrett about the Edwards/Richards feud. Karen said they need to control the situation, and next week, there will be a mixed tag match. Magnus walked across the camera shot and moved Karen out of the way. She wondered why he was back there?
– Highlights of ECIII whipping James Storm in the back with his belt last week were shown. [c]
– (3) ETHAN CARTER III vs. JAMES STORM
Magnus joined Mathews and Pope on commentary. Mathews asked why Magnus was out here for this particular match? Magnus said he was interested because these guys were top contenders. Magnus complained about Bruce Pritchard. Mathews said he thought Bruce was dead. Magnus said, "we can only hope."
Storm brought a belt with him to the ring and ran off ECIII. The referee tried to pull the belt away from Storm and ECIII jumped him from behind. Storm hit a series of clotheslines in the corner. Magnus argued with Pope. ECIII hit a running knee to Storm's back. Mathews egged on Magnus more about his hate for Pritchard. Magnus said ECIII was a superior athlete. ECIII had Storm in a sleeper and fish-hooked him a few times. Magnus called Mathews a stooge, when he asked him why he wasn't on Team GOAT a few weeks ago. ECIII hit a running knee to Storm's back, sending him to the floor. Magnus wondered why Impact "let the marks" decide who would get a title shot, rather than a championship committee. Magnus said "only internet suck-ups" would get title shots. Storm grabbed the belt and Magnus got up from commentary to grab it away. Pritchard and more referees ran to ringside. Pritchard threw Magnus out of ringside. [c]
Back from the break, ECIII hit a knee to Storm's gut. Storm came back with an atomic drop and a clothesline. Storm went to the top rope, but ECIII cut him off and Storm dropped on the turnbuckle. ECIII hit a TK3. ECIII went to the outside and grabbed the leather belt. He left it on the mat and hit a second TK3. Pope said ECIII needs to go for the cover. Mathews said ECIII is sending a message. ECIII grabbed the belt again but the referee tried to stop him. ECIII then dropped Brian Stiffler with a punch, pulled off his shirt and he began whipping Stiffler in the back.
WINNER: James Storm via DQ in 16:00.
With ECIII focused on Stiffler, Storm hit a backcracker. Magnus ran back to the ring and pulled Storm out of the ring, throwing him into the steps and then hitting Storm with multiple punches. Magnus climbed in the ring and ECIII yelled that he had Storm "right where I wanted him!"
Pritchard ran back to the ring. He told ECIII and Magnus that he had it. Pritchard booked Magnus vs. ECIII vs. James Storm for next week. Pritchard then told ECIII that he gave him some advice a few weeks ago about finding himself. Pritchard told ECIII to go find a mirror again, but this time he needs to find his balls. ECIII attacked Pritchard from behind.
– Another Rockstar Spud video aired. The music this week was again a little more upbeat. Spud is shown getting out of his wheelchair with the help of a cane. Spud said anyone else would have quit. Doctors said that he would never wrestle again. But next week, Spud said he was defying doctor's orders and he was coming back to the Impact Zone. Spud said revenge would be his. [c]
(4) ODB vs. SIENNA (w/KM) – GFW Women's Title match
A graphic overlay for the GFW Women's Title came across the screen as the match started (similar to what WWE does before title matches). Mathews said that ECIII will be heavily fined, but he will compete in the three-way match next week. Mathews also said that the three-way match for next week would determine the No. 1 contender for the Impact World Title.
Sienna threw ODB to the outside and then whipped her into the ring post. Back in the ring, Sienna mocked ODB and then hit a splash. ODB fired back with chops and then hit a spinning forearm. ODB splashed Sienna in the corner. ODB threw Sienna into the turnbuckle. Sienna came back with a Silencer for the win.
WINNER: Sienna retains the title in 3:00.
– Jeremy Borash came to the ring, much to the dismay of Josh Mathews. Borash was carrying a piece of paper on a clipboard.
Borash walked to the announce table, grabbed a house mic, and told everyone that he hired an attorney. Borash said that as of right now, he has been reinstated to Impact Wrestling. And, according to the documents he had, he was reinstated effective immediately. Mathews demanded to see the papers and was demanding to know who Borash's attorney was?
Borash brought out his attorney, Joseph Park. He came to ringside with a mic and said he missed everyone. Park said that the crowd likes him. Park told Mathews that, as of now, Borash will re-take his position as the lead Impact announcer. Mathews said that he was the lead announcer. Park told Mathews that no one likes him. Mathews said he didn't care. Mathews said he goes home to a beautiful family. He asked who Park goes home to? Mathews said that Park is Abyss. Mathews asked if we are all 11 years old? "You're Abyss, you big dumb idiot!"
Park said he fought wars in the courtroom and in the ring. Mathews called Park a disgusting blob. Park said that he wanted to fight Mathews. Park said that Borash wants to fight Mathews, too. Park suggested that they do it at Slammiversary. Park said that he and Borash were challenging Mathews and a partner of his choice at Slammiversary. Mathews yelled, over and over, "I have to find a partner?!"
Mathews then said he was out of there, screaming, "bye marks!" on the way out. Mathews walked to the back. Borash said he was sitting at the announce table because Ultimate X was next.
– Back from the break, highlights of El Patron vs. Magnus from last week were shown.
– Backstage: El Patron was holding the belt and said he was so happy to be the new GFW Champion. El Patron said he was looking for a home, and thanks to all the Impact fans, this is his house. El Patron said his beautiful fiance, in San Antonio at the moment, always uses that phrase. El Patron said he gave the fans more than 100 percent because the fans give him everything. El Patron said he has nothing but respect for Magnus and called him one of the best in the world.
(5) LOW KI vs. TREVOR LEE (w/Shane Helms) vs. ANDREW EVERETT – Ultimate X match for the X Division Championship
Borash, now on commentary, talked about the different dynamic with three people in this match. Everett hit a standing hurricanrana on Low Ki. Low Ki and Everett were fighting on the apron, and Lee shoved them both off the apron, into the railing. [c]
Back from the break, Trevor Lee was climing the turnbuckle, trying to go for the belt, but Everett intercepted him. Lee turned Everett inside out with a German suplex. Lee then went for the belt again, but despite making it a little farther down the rope, Everett again intercepted him. Everett and Lee traded punches and Lee whipped Everett into the turnbuckle. Low Ki was back in the ring, but Lee hit a cutter on him, over the rope. Lee then kicked Low Ki in the face from the apron. Everett hit Lee with a shooting star press from the top rope, to the outside. Low Ki saw an opening and went for the belt but Everett stopped him with a springboard dropkick. Lee yanked Low Ki out of the ring, which allowed Everett to go for the belt. But, Lee came in the ring and knocked Everett off the X with a chair to the back. Lee tossed Everett into the chair, which he set up in the corner. Low Ki punched the chair full force, sending it back into Lee's face. Lee double-stomped Low Ki. Everett hit a Frankendriver on Lee but Lee came back with a powerbomb, sending all three men to the mat. Lee tried to German Low Ki, but he flipped through it, landed on his feet, and hit a double stomp. Low Ki took off his suit jacket and again went for the belt, though he was selling his hand after punching the chair earlier in the match. Everett cut off Low Ki and threw him into the metal beam. Low Ki fell back, with his leg caught (he's hanging upside down). Shane Helms climbed up and stopped Everett, dropping him with a neckbreaker off the top. Lee climbed on Helms' shoulders and he's going for the belt but Low Ki ran into the ring and kicked Lee off Helms' shoulders. Low Ki then took out Helms with a running boot. Low Ki went for the belt, but he still couldn't use his right hand. Lee was back up and climbing across the rope. Low Ki Climbed on top of the steel setup. Everett and Lee raced from opposite corners on the rope, including Everett taking a huge flat-back bump from the rope to the mat. Low Ki dropped down in the middle, kicking Lee and Everett off the X rope and grabbing the title to retain.
WINNER: Low Ki in 19:00.
After the match, Low Ki celebrated, sitting on the X ropes. Pope and Borash threw to highlights.
The show went off the air with Low Ki in the ring, posing with the belt.
---
GET EVERY NEWS 24/7 FOLLOWING US ON YOUR FAVORITE SOCIAL MEDIA. WE ARE ON FACEBOOK, TWITTER AND G+!
---
LATEST NEWS var numposts = 5;var showpostthumbnails = true;var displaymore = false;var displayseparator = true;var showcommentnum = false;var showpostdate = false;var showpostsummary = true;var numchars = 100;