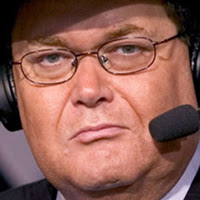 WWE Hall of Famer Jim Ross gave his thoughts on several topics during the latest episode of the Ross Report, which featured in an interview with Roderick Strong. Here are the highlights.

On matches being interrupted by commercial breaks:
"Is there any reason to interrupt a match with a commercial? I'm sure there are exceptions to my rule, but overall, why would you interrupt the game to go and sell Detergent? Just finish the game, just let guys maintain their continuity and connect with the audience. It's a better product I think; and it's also the theory of: is it a wrestling company covering a sporting event or is it a company producing a TV show? There's a difference between those two philosophies; neither are 100% right, neither are 100% wrong. It also depends on how it is executed; what your personal philosophy is and it's a little bit different; WrestleMania has become a major spectacle, it has so many facets to it; the lights, the stadiums, it's huge, it's a spectacle. It's an overall television show."
On if he would rather call RAW than the UK TV show:
"A lot of people wondering why I'm so motivated to do these UK shows that aren't Raw or SmackDown Live. To hang around 40+ years as a Broadcaster, you have to have a certain amount of ego and anyone that knows me is laughing their a* off because they know I have a big ego. Big egos in the Pro Wrestling business is a defense mechanism, which is also a survivor kit. For me to go put the headset on and call matches; once you get on the air, it's another wrestling show. I'm completely invested in what I am seeing. I am that way when I call New Japan, in the studio with Josh Barnett, it's just the way I am wired, so damn right I am excited about doing these gigs, so I hope more come my way. I'm also very competitive. I'm going to go work 7 shows with Josh Barnett and my goal is to call that product as good as I can call it with the style that New Japan is known for. I'll change styles and partners and atmosphere for the UK shows because I'm going to be calling matches from young lads that I have never called before, all of them as far as I know, so that is new and fresh. Working with Nigel [McGuinness] is new and fresh. I am really excited about this whole endeavor. I would love for people to say that JR and Nigel are pretty damn good, but we have to go do the work, which is what we plan on doing this week. I believe these matches are really good. I read online that they were kick a**, so we have some work to do."
On playing a different role in WWE:
"I feel like a Major League Baseball Pitcher that was a Starter, that is now a Closer. I am not sure if I have the skills to become a Closer, but I think I can do a decent job. It is really excited to be back on the air, with any role. I am a team guy and practice what I preach. I am back on the home team again. What role do I need to play in order to help the team win? It's really a simple formula. Sometimes in life, we cloud that up. We make our lives more complicated than they really need to be, so it's a simple process; you work for a company then you are one cog in a big wheel, so make sure you carry your share of the water, which is what I plan on doing."
---
GET EVERY NEWS 24/7 FOLLOWING US ON YOUR FAVORITE SOCIAL MEDIA. WE ARE ON FACEBOOK, TWITTER AND G+!
---
LATEST NEWS var numposts = 5;var showpostthumbnails = true;var displaymore = false;var displayseparator = true;var showcommentnum = false;var showpostdate = false;var showpostsummary = true;var numchars = 100;