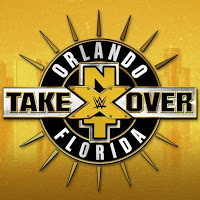 Pre-Show:
It's preshow time, and our hosts are Charly Caruso, Nigel McGuinness, and Sam Roberts. They welcome us, then show us video of Ember Moon, Asuka, Shinsuke Nakamura, and Bobby Roode arriving at the arena.

Kayla Braxton is outside with some fans chanting NXT, and she shows us video of Sanity attacking No Way Jose at Axxess earlier today and smashing the ring steps down on his hand. Jose needed to be loaded onto a stretcher and carried out, and Nigel informs us that William Regal won't let Jose compete tonight. Instead, he's giving Tye Dillinger, Roderick Strong, and Ruby a chance to pick a new partner.
They move on to talking about the three way elimination match for the NXT Tag Team Title between the Authors of Pain, the Revival, and DIY. We see a video package hyping the match, then the panel goes over the rules of an elimination match just to make sure they have them straight.
We see a video package hyping Aleister Black vs Andrade "Cien" Almas, and they talk about how much of a change has happened since he first came to WWE as Tommy End. They talk about the scars of his emotional growth and how dangerous he is, compared to how entitled Almas seems to believe himself to be.
Time to talk about the Women's Title match, and we see a video package hyping Asuka vs Ember Moon. Billie Kay and Peyton Royce join the panel to discuss the match and their demands that the Eclipse be banned. They dismissively give their thoughts on Asuka's poor fashion sense and how great the NXT Women's Title would look next to their chandelier.
They also plug the WrestleMania 33 card and the WWE Network. Charly leads us to a video package for tonight's main event and that's it for the pre-show.
NXT "Takeover: Orlando" Opener:
NXT "Takeover: Orlando" opens up from the Amway Center with Triple H in the ring under a spotlight. He says tonight is our night. Tonight we make history, determine our fate and show the world why we are NXT. And tonight, we are home. We cut to an opening video package.
SAnitY vs. Roderick Strong, Tye Dillinger, Ruby Riot and Kassius Ohno
SAnitY is out first with Eric Young, Nikki Cross, Killian Dain and Alexander Wolfe. The announcers talk about how No Way Jose has not been cleared due to the Axxess attack from SAnitY. Tye Dillinger is out first for his team. Ruby Riot is out next. They wait before heading to the ring. The music hits and out comes their partner, found at the last minute – Kassius Ohno.
Big brawl with all eight participants to start us off, then things calm down and we wind up with Nikki and Ruby starting us off. Nikki works Ruby over pretty good and tosses her across the ring by the hair, Ruby dodges a charge and headscissors Nikki face first into the corner. Wolf tags in, so Ruby tags out to Ohno, who promptly knocks both Wolf and Young out with roaring elbows. Ohno with a rolling senton for 2 on Wolf, then works over the arm with a nasty wristlock.
Young distracts Ohno and lets Wolf cheapshot him, and now Ohno is trapped in the wrong part of town. He gets away and tags out to Strong, who cleans house on all of Sanity, hitting a Hacker Slam on Wolf and a backbreaker on Young. Leaping enziguiri sends Dane to the floor, but he turns his back and lets Wolf get in behind and hit a half nelson suplex. Now Dane is in and he is not happy with Strong, pounding the snot out of him. Strong is our babyface in peril for several moments until Young misses a corner charge and Strong makes the tag to Dillinger, who goes absolutely berserk on Young, then turns his attention to Wolf and lays him out with a DDT.
Tye hits a top rope bodypress on Wolf, takes Young out with a dive to the floor, but gets blindsided by Dane. Strong in turn blindsides Dane, Wolf nails Strong, and Ohno knocks Wolf out with an elbow, then Dane rams Ohno into the ring apron. Ruby goes for a dive, but Nikki comes out of nowhere and lays Ruby out with a big shot. Nikki and Ruby are brawling and roll out to the floor as Dillinger and Young come back in, and Tye unloads on Young with a series of punches, nails Wolf, backdrops Young, superkicks Dane into next week and covers for 2. Ohno blocks a bicycle kick, hits one of his own, drills Wolf with the Deathblow, but then Young hits Ohno with a leaping neckbreaker.
Young goes for a wheelbarrow suplex on Dillinger, but Strong drills him with the Sick Kick, leaving Strong in there with Dane. Nikki jumps on Strong's back, Ruby jumps on Dane's back, Nikki jumps off Strong and again brawls out to the floor with Ruby. Tye is in and gets Dane up on his shoulders, Wolf comes in and superkicks Tye, and Dane hits a version of the Cradle Shock Driver for the win.
Winners: Sanity
– They showed us Bobby Roode in the back. He believes everyone is here to see him.
– Then they showed Edge and Beth Phoenix in the crowd. They got a huge pop and looked happy.
Aleister Black vs. Andrade "Cien" Almas
Time for Cien Almas vs. the debuting Aleister Black. Almas is out first. The arena went dark for Black, pun intended. He came out under a spotlight and looked pretty intimindating. He walked slowly to the ring. He walked out slowly to a death metal song and some cool background. He got a big pop after being announced. Nigel told him that he has known Black since 2005 and he has changed. He has some demons but in that ring he is legit.
Back and forth to start as they go at it. Almas misses early on and Black nails a kick. Almas shows off some but ends up dumped over the top. Black runs the ropes but Almas gets to his feet. Black puts on the brakes and takes another seat in the middle of the ring to meditate. Almas comes in as Black tells him to come get some. Black drops Almas with strikes and keeps him grounded now. Almas turns it around and works Black over in the corner. Almas charges for an attack but stops, yells in Black's face and then slaps him. Almas with more showing off and stalling as the crowd boos.
Almas catches Black in an armbar and ends up keeping him on the mat with the arm locked. Black breaks it but Almas keeps control. Black catches a big strike. Black with knees and more strikes. Almas ends up on the floor again. Black nails a nice moonsault from the corner to the floor. Black brings Almas back in as fans chant for NXT. Black goes for a big boot but Almas counters. Black rolls Almas up for a 2 count. Almas with forearms to the head and a boot to the face. Almas gets dumped to the apron. Black stuns Almas but Almas catches him in another armbar on the ropes. Black blocks it. Almas goes to the top but Black catches him in mid-air for barely a powerbomb. Almas goes right to another submission on the arm. Black makes it to the rope and the hold is broken.
Almas works over Black in the corner now. Almas charges but Black moves and he hits the turnbuckles. Black with a 2 count. Almas with a close 2 count. Black blocks a kick as the back and forth continues. They kick each other to the mat at the same time. More back and forth. Almas connects with an impressive kick to the back of the neck. Almas sends Black to the corner and charges with the double knees. Almas goes for the DDT but Black counters. Almas with a snap German suplex for a close 2 count. Almas eats jumping knees. Black with a boot and more offense as Almas goes down on his face. Black picks up a stunned Almas and hits a big spinning kick to the face for the pin.
Winner: Aleister Black
After the match, Black stands tall before taking another seat in the middle of the ring to meditate. We go to replays. We come back to an intense looking Black staring off in the ring. Back to break.
– We see Ember Moon backstage preparing for her title shot.
– Tom sends us to a video package for tonight's NXT Tag Team Title match.
Triple Threat Elimination Match for the NXT Tag Team Titles: DIY vs. The Revival vs. The Authors of Pain
We go to the ring and out first comes Scott Dawson and Dash Wilder. Johnny Gargano and Tommaso Ciampa are out next. WWE Hall of Famer Paul Ellering is out next with NXT Tag Team Champions Akam and Rezar. We see NXT General Manager William Regal in the ring. The referee takes the titles from The Authors of Pain and hands them to a ringside staffer. Regal is handed the new tag team title belts. The referee raises the new belts and they get a pop. All three teams face off as we wait for the bell. The Revival and DIY turn to face The Authors. The bell rings and everyone goes at it.
DIY grab a table and set it up early on at ringside. They go back to Akam but he fights them off. Lots of back and forth between the three teams early on. Gargano gets a big "Johnny Wrestling" pop as he stands tall in the middle of the ring. The Authors then use Gargano to take out Ciampa and one of The Revival. Fans chant "this is awesome" as The Authors bring it in the ring. Rezar talks some trash and stands over Gargano as fans boo. The Authors keep control and go for another pin attempt. Akam puts Gargano in a rack and walks around with him. Fans rally for Gargano but he's still in the hold. He tries to turn it into a pin attempt but the hold is broken. Gargano ends up nailing an enziguri but Akam stops him from tagging. Gargano shoves Akam into a shot from Dawson on the floor. Ciampa finally gets the tag. He comes off the top onto Akam and decks Rezar. Ciampa unloads on the champions and hits a snap German suplex. Ciampa with a second German on Akam as Ellering looks on. Ciampa nails the big knee but only gets a 2 count.
Ciampa continues battling The Authors and tries to put Rezar through a table from the apron. Gargano joins him but Rezar hangs on. The Revival rushes Rezar and assist DIY in putting him through the table. Fans go wild. Akam ends up coming back and fighting off 4 opponents. Ciampa counters a powerbomb. The Revival tag in and bring Akam down. Dawson applies a submission to Akam. Gargano comes in to break it up but Dawson tells him he's got this. Gargano stops and thinks about it. Gargano then applies a crossface to Akam to try and guarantee the submission. Rezar has made his way back in from the table bump now. They try to hold him off but he breaks the double submission and fans boo.
The Revival end up in the ring with Rezar now. They double team him. Gargano enters the ring to join Dawson in doing the DIY double team finisher. Fans go wild as DIY and The Revival team up to take out The Authors. A big "holy s–t" chant breaks out. The Revival and DIY face off in the middle of the ring now. They start brawling as Ellering eggs them on. It comes down to Gargano and Dash going at it. They stop to nail a double dive on Akam and Rezar on the floor. Another huge spot sees Dash nail a superplex from the top to the floor on top of everyone else. The crowd goes crazy and another "holy s–t" chant starts. Dawson brings Ciampa in but Rezar tags himself in and floors Dawson. The Authors grab Ciampa for The Last Chapter and the pin. DIY are eliminated.
Fans boo the elimination and a "bulls–t" chant starts. The Authors double team Dash now. The Revival fights off a double team and hit one of their own. They hit the assisted German suplexes for a close 2 count. The Authors turn it back around and go for Last Chapter but Dash stops it. This leads to a close 2 count by Dawson. Dawson gets dropped. The Authors hit powerbombs on The Revival at the same time. They stand tall as fans boo. Dawson is beaten up and barely able to continue. Dawson gets a close 2 count on Rezar out of nowhere. The Authors end up bringing The Revival back in and hitting the Super Collider for the win.
Winners: The Authors of Pain
After the match, Ellering stands tall with Akam and Rezar as they raise the new title belts. We go to replays.
– We get a promo for tonight's NXT Women's Title match.
NXT Women's Title Match: Ember Moon vs. Asuka
We go to the ring and out first comes the undefeated Ember Moon. The undefeated NXT Women's Champion Asuka is out next. We get formal ring introductions from Mike Rome.
NXT GM William Regal hands over the new Women's Title belt and the referee raises it up. The bell rings and we get back & forth to start. They trade holds and takedowns. They do some taunting and intense back & forth early on. Asuka hits a hip attack but Ember gets right back up. Asuka ends up hitting another hip attack that sends Ember from the apron into the barrier. Asuka keeps control for a few minutes and goes for the Asuka Lock early on. She can't get it as Ember nails a big forearm. Asuka goes to the floor. Ember springboards from the corner and splashes Asuka on the floor.
Ember brings it back in and looks to go for the Eclipse but Asuka stops her. Asuka unloads and hits a Shining Wizard for a 2 count. Asuka with kicks while Ember is on her knees now. Asuka keeps control and takes Ember to the mat with a hold. Ember powers up but Asuka jumps on her back and brings her back to the mat. Ember starts fading at one point but she manages to bring them both down. Asuka misses a hip attack and pays for it. They both go down again. More back and forth. Ember with a head scissors. Ember goes on and hits a dropkick but Asuka comes right back. Ember knees her and hits a fall-away slam.
Ember keeps the offense going until Asuka catches her with a big German suplex from the ropes. Asuka with a 2 count. Fans do dueling chants as they unload on each other. Ember drops Asuka with a forearm but she gets right back up. Ember hooks Asuka's leg and suplexes her on her head for a close 2 count. Ember goes to the top for the Eclipse. Asuka cuts her off and climbs up. Ember counters and plants Asuka on her face. Ember goes for the Eclipse but Asuka pushes the referee into the ropes, causing Ember to fall. Asuka nails a kick to the head and covers for the win.
Winner: Asuka
After the match, Asuka stands tall with her new title belt as the referee checks on Ember. We go to replays. We come back to Asuka celebrating. Back to commercial.
NXT Title Match: Bobby Roode vs. Shinsuke Nakamura
Nakamura's entrance was awesome as usual, and they had a couple of great (and really hot) piano ladies playing the intro before Bobby Roode's glorious entrance. Man, NXT has gotten big time. As with the first two title matches, William Regal unveils a new NXT Title belt, and then the bell rings and we're off with our main event!
Roode shoots right in on the leg, but Nakamura sprawls out and goes behind. They do some feeling out stuff, then throw each other some lip. Back and forth leads to Nakamura hiptossing Roode and connecting with a kneedrop to the face. Nakamura unloads with kicks to Roode, followed by an enziguiri. Roode goes to the floor, Nakamura sends him back in and tries to suplex Roode to the floor, but Roode blocks and dropkicks Nakamura before shoulder tackling him off the apron and into the barricade. Back in the ring and Roode puts the boots to Nakamura before doing GLORIOUS at the crowd. Roode spends a long time working the neck of Nakamura over, but Nakamura gets free and connects with a kick that drops Roode.
They trade shots and Nakamura comes out on top of that exchange, then unloads on Roode with a flurry of kicks. Nakamura connects with a charging forearm in the corner, puts Roode on the top rope, and hits the running knee to the ribs before baseball sliding Roode to the floor. Nakamura hits a running kneelift and then a kneedrop off the apron, rolls Roode into the ring, and covers for 2. Roode blocks a Regalplex, then tears Nakamura's head off with a roaring clothesline. Roode charges into Nakamura's boots, then Nakamura hits a charging dropkick out of the corner. Nakamura sets for his finish, but Roode dodges and clips Nakamura's knee out from under him. Roode wraps Nakamura's leg around the ringpost, then puts the boots to Nakamura's leg.
Roode wraps Nakamura's leg around the ringpost, then puts the boots to Nakamura's leg. Roode gets a figure four, Nakamura fights like hell and eventually reverses the hold. Roode quickly goes to the ropes, so Roode goes back after Nakamura's knee, goes for another figure four, and Nakamura traps him in a cross armbreaker. Roode tries to clasp the hands, but Nakamura breaks his grip. Nakamura transitions it into a triangle choke and hammers elbows into Roode's head, Roode powers Nakamura up, but Nakamura goes back to the cross armbreaker and has Roode right in the middle of the ring. Roode fights his way to the rope and forces a break. Nakamura is hammering Roode with kicks now, and the referee literally has to push Nakamura back to give Roode some space.
Nakamura puts Roode on the top turnbuckle and tris a charging knee, but Roode moves and Nakamura connects with the top turnbuckle, reinjuring the knee. Nakamura is up and unloads a flurry of kicks on Roode, but Roode ducks a big kick and hits a lungblower for 2. They go face to face and IT IS ON! They trade forearms, Roode boots Namakura in the knee and goes for the Glorious DDT, Nakamura blocks and hits a gourdbuster and then a sliding knee for 2. Nakamura sets for his finish, but Roode rolls under the bottom rope and to the floor.
Nakamura goes after him and rolls him back inside, but he's too slow getting back in the ring and Roode kicks the middle rope into his ding ding, then hits the Glorious DDT. Roode covers, but Nakamura is out at 2! What a match. Roode staggers to his feet and steps out to the floor, grabs the ring bell, and brings it into the ring. The referee takes it away from him, and Roode turns around right into a kick from Nakamura, who follows up with a Regalplex and sets up for the Kinshasa. He charges…right into a spinebuster from Roode, who covers for 2.
Roode is spent, but he crawls over and hoists Nakamura up for another Glorious DDT, but Nakamura drives Roode into the corner, connects with a series of shoulderblocks, but Roode clips Nakamura's knee again, goes to the second rope, and hits a tornado Glorious DDT. Roode slowly rolls on top of Nakamura, hooks the leg, and that's all she wrote.
Winner: Bobby Roode
After the bell, Roode takes is title and celebrates in the corner. We go to replays as Nakamura recovers. We come back to Roode raising the NXT Title on the stage. He yells about how this is his NXT and we should learn to love it. Takeover goes off the air.
---
GET EVERY NEWS 24/7 FOLLOWING US ON YOUR FAVORITE SOCIAL MEDIA. WE ARE ON FACEBOOK, TWITTER AND G+!
---