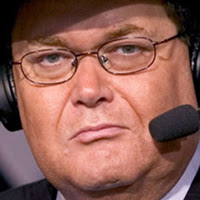 Jim Ross posted his latest blog at JRsBarBQ.com. Here are some highlights:
Samoa Joe debuting on RAW:
"Who Joe wrestles at 'Mania is TBD at this time, unless it is 'leaked,' like Randy Orton winning the Royal Rumble match. (Are these leaks predetermined or is some one just happy to 'share info?')

"RAW was a much better debut for Samoa Joe than if he only participated in the Rumble match (unless he won it which wasn't in the cards this go around.)"
TNA initials being dropped:
"My sources tell me that Impact Wrestling is going to permanently ditch the TNA initials and that their TV tapings going forward in Orlando will be done in four day increments which will make the talents and crew happier and more productive."
Calling the WCPW "True Destiny" event next weeK
"Excited to be preparing for 'True Destiny,' the Sunday February 12 PPV for What Culture Pro Wrestling in England where I will be joined at the broadcast desk by Matt Striker. Kurt Angle vs Alberto El Patron and Ricochet vs Will Ospreay are just two of the main event level bouts that should rock the house. You can see this tremendous, live event on the FITE App if you have a smart device and WiFi on PPV. I can't tell you how much I enjoy and embrace the opportunity to get back to ringside and broadcast live, pro wrestling play by play. It is invigorating and my favorite part of my professional life. You will get my best work in Sunday Feb 12, I can promise you."
---
GET EVERY NEWS 24/7 FOLLOWING US ON YOUR FAVORITE SOCIAL MEDIA. WE ARE ON FACEBOOK, TWITTER AND G+!
---