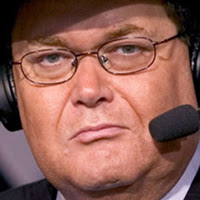 WWE Hall of Famer Jim Ross recently updated his blog on his JR's Bar-B-Q website; you can read a few excerpts below:
As I said after WWE Roadblock, it seems to me that Sasha Banks will be a more viable villain with a need to cheat to win and it looks like that may be what @WWE is thinking as well.

While some may proclaim that today's wrestling fans do not need/want clearly established antagonists and protagonists, i.e. 'faces and heels, and I could not disagree more. Agreed that society has nearly erased the line that separates good versus evil to a large degree but basic human nature still readily recognizes life's heroes and villains.<br />
When talents who are positioned as fan favorites and who currently are booed on a regular basis, one potential remediy might be for the talents to wrestle as 'villains' to better fit their individual presentations. Steve Austin wrestled as a 'rough, baby face' in his biggest years and it resonated for him.This might work for Roman Reigns, for example, who might be better served to not over react to the reaction of the fans and do his business, be physical and athletic and let the cards fall where they may.
"Talents involved in reality based storylines will often times register with the TV viewer but will also become afterthoughts if there is no clear cut road to a 'pay off.' I.E. will Renee Young eventually get physical with Maryse? I'd watch as many of us enjoy the occasional 'train wreck.'"

"It seems easy to predict that by year's end, if not before, that AJ Styles will be WWE's most popular in ring star as the grass roots feedback that AJ is receiving from WWE fans should resonate as legit, market research. It's hard for highly skilled, physical talents who do amazing athletic things, like AJ and Neville, for example, to be able to get the fans in mass to boo them. What's not to like?"