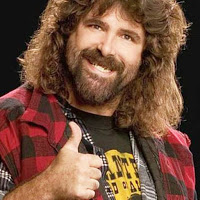 WWE Hall of Famer and RAW GM Mick Foley has posted the following blog to his Facebook page talking about why he thinks Seth Rollins gets a bad rep as an unsafe wrestler:
Below is the full text from the post:

THE RAP ON ROLLINS ISN'T FAIR

Recently, WWE Superstar Seth Rollins seems to be getting stuck with the label of being an unsafe wrestler – and I don't think it's fair. I'm going to take you back to the original "Rocky", released in 1976, when Rocky Balboa, looking out for little Marie who hung out at the Atomic Hoagie shop, explains to her that "people don't remember you, they remember the rep" (her reputation). In the same way that little Marie was in danger of being known as "the little wh*re who hung down at the Atomic Hoagie shop", Seth Rollins finds himself in danger of having people remember him for the rep of being dangerous and causing injuries, as opposed to being remembered as one of the very elite wrestlers of his era, an amazing athlete, and a credit to the business.

I have been hesitant to write this article, because the image of Seth Rollins as unsafe has been largely advanced by "Hitman" Bret Hart, a WWE Hall of Famer, certified legend, and one of the great performers in the history of our business. I have nothing but respect for Bret and count him as a good friend going back 20 years. Let me make it very clear that I have absolutely no desire to get into any social media feud with Bret Hart. But because Bret is so highly thought of in the wrestling community, his words carry an incredible amount of weight, and the opinion of Rollins as a dangerous performer has been gaining momentum. I won't even pretend that I am the player in this business that Bret is, but I know quite a few people respect my viewpoint, and I feel like I owe it to Seth, and the fans who make his living possible, to share my feelings, and hope they are considered before a verdict on Seth Rollins is reached.

The evidence against Seth seems to focus on the two injuries from the Rollins "turnbuckle bomb", to Sting and Finn Balor, and the broken nose John Cena suffered in a match with Seth. I wrote about that injury to Sting in a Facebook post from September, 2015, in which I opined that certain moves become more and more difficult to pull off and to absorb as we age. I speculated that while the old adage "the legs are the first to go" for a boxer as he ages, that in pro-wrestling, it's the muscles of the neck – so necessary for keeping the chin tucked firmly to the chest during landings – that may be the first to go. This could very well have been the reason why the Rolins turnbuckle bomb, used safely on hundreds of occasions, created a whiplash effect in the neck of Sting, 56 years old at the time of the match. In my opinion, the injury was not Seth's fault, not Sting's fault, or WWE's fault; it simply may have been a case of trying to push back the hands of time a little too far, a little too fast

I was personally at a loss to figure out why my concussion total was growing so rapidly as I aged. After suffering only eight documented concussions in my 15 year full-time career, I started getting injured on a much more regular basis, doing the same moves I had shrugged off easily years ago. But Mother Nature and Father Time have a way of catching up on a guy. But I never blamed any of those opponents who happened to be in the ring at the time of my injuries That just would not be fair – and I don't feel like it's fair to Seth Rollins to blame him for those 3 injuries that occurred while he was in the ring.

I was ringside, right in front of the announcers, where Stephanie McMahon and I had the best seat in the house for Seth's match with Finn Balor – the one where a small section of the WWE Universe let the look of the new WWE Universal title distract them from an epic match – a match made even more epic with the knowledge that Finn Ballot worked for almost 20 minutes with a torn labrum. Finn's injury was suffered when taking a turnbuckle bomb outside the ring, on the ringside barricade. Those turnbuckle bombs remind me of choke slams, in the sense that there is little margin for error. While some moves allow the body to disburse the impact over a large area of the body, the turnbuckle bomb, like a choke slam has a very small margin for error – you don't hit it perfectly, and you're likely to feel it for a while. I literally spit up bright red gobs of blood after a simple choke slam from the Undertaker during one of our first bouts in 1996, Wilmington, North Carolina. I hocked up three or four bright red loogies, and wondered how I could ever recover in time to take that move again.

I feel like there's more pressure to produce for today's WWE Superstars. The moves are more intricate, they are performed with greater frequency, and there is pressure – from the fan base, and from the Superstars, to constantly push the bar, constantly try to outperform not only their opponents, but themselves. Unfortunately, it goes with the territory that signature moves will be used in new capacities – so that the power bomb on the turnbuckle will inevitably become a power bomb on the barricade – where there is almost no margin for error. Unfortunately, the landing was not a good one for Finn, and he has a long road back from major surgery. Trust me, I know Seth well enough to know that he already felt great remorse, without wrestling fans placing the blame on him.

The broken nose to Cena was just an accident. I broke Goldust's nose in WCW by accident, while Vader broke mine on purpose (at my request) a few months later. Goldust does not blame me, and I don't blame Vader.

Sometimes, injuries just happen. It's part of what we do. Seth Rollins is a safe wrestler. He works an intense, highly physical style, as do most of the WWE Superstars. Those moves look good for a reason; there's a sense of realism to so many of them – a realism that is absolutely necessary in today's day and age. When I was growing up as a WWE fan, we received two hourlong shows comprised almost entirely of one-sided matches. Current fans see good, and often great matches on a weekly basis and today's WWE Superstars sacrifice their bodies, week in and week out in their effort to excite, excel and entertain. Seth Rollins embodies this spirit. He deserves to be remembered for his dedication to his craft, and for his willingness to go above and beyond to participate in great matches for WWE fans around the world. That's the Seth Rollins I think people should know – the real guy, not the rep!

Have a nice day! Please feel free to like, share and leave a comment.