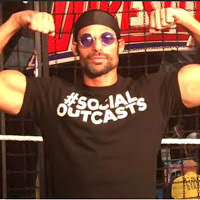 TMZ reports that Adam Rose faced a judge in Hillsborough County, Florida this morning. The judge wanted to put a restraining order on Rose, keeping him away from his wife, but she begged the court to reconsider so he can come home and help raise their special needs child.
Rose, was brought in wearing shackles and an orange jumpsuit, is facing misdemeanor domestic battery and felony tampering with a witness charges after the Wednesday arrest. His lawyer argued that his actions were "not aggressive or painful" but "more of a passionate, 'Hey, let's talk about this.'"
Rose was accused of grabbing his wife's face while screaming at her during an argument. He then took the phone from her when she went to call 911 for help.
The judge mentioned another domestic incident between the two that happened in March, and was concerned about a pattern of abusive behavior.
The judge ended up changing his mind on the restraining order and setting a bond of $1,000. The Hillsborough County sheriff website has not updated to show that bond yet but Rose could be out by the end of today. He was ordered to see his pastor once a week for counseling. His next court date is in June.