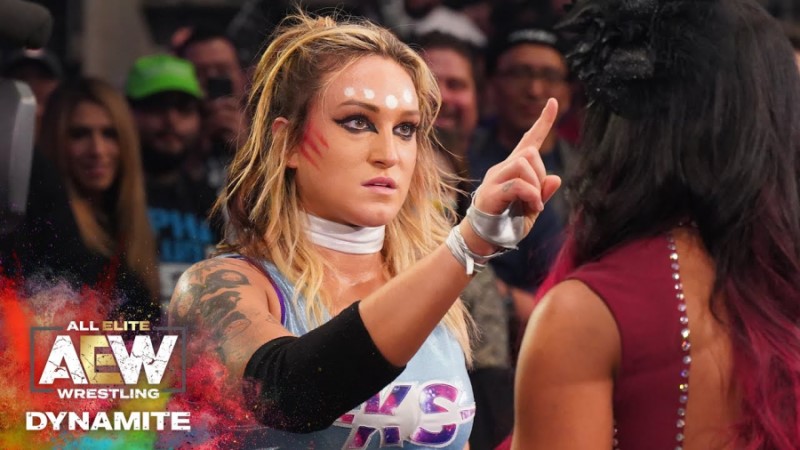 Kris Statlander Credits MJF for AEW Signing – Kris Statlander recently appeared on the Under The Ring podcast, where she discussed her TBS Title run and her return from knee surgery. During the interview, Statlander also credited MJF for playing a role in getting her signed by AEW.
Kris Statlander on being the TBS Champion:
"I'm feeling pretty good about it. I still have the title, so I think I'm doing all right, but having my comeback be on a pay-per-view and winning a title, my comeback was kind of insane, but I know my first return from injury was popping out of a claw machine, so I had to find a way to top it and I think winning a title on my return did a good job of doing that."
On Ben Stiller commenting on her Zoolander-themed gear:
"Statlander as my last name, it almost seems like a little too obvious with like, Statlander Zoolander, like, it's kind of right there in your face a little bit. I don't know. I just love the movie and It almost feels like it's weird that not a lot of people have done any Zoolander inspired gear because I feel it's a timeless movie. It's kind of an iconic movie. It's so fun. It's amazing. I just felt like it was something that I wanted to do for so long. I had Laurie make this gear when I was like, freshly out of surgery just because I had this concept in my head for so long and I just wanted to have it in my hands ready to go for whatever the time was to wear it. I was worried that not everyone was going to understand what I was doing with the Zoolander stuff. I feel like a lot of people do a lot of superhero inspired looks and I wanted to do something different than that. Ben Stiller responding is like the highest praise anyone could ever ask for. That was so cool that he actually saw it."
On getting the call to come to work for AEW:
"I feel like it all kind of happened so suddenly. I remember I was at this point in my independent career where I was having like, six matches a week and I was wrestling like four or five days a week, and I was very tired, but very busy and very excited. I got the email to come do a dark match and be an extra. It was in Nashville, so I remember I was like, oh, that's kind of a far distance, but if they're bringing me in, sure, I absolutely am not going to say no to that. I remember I showed up. I did some of the training with the girls. I feel like, pretty early in the day, they started discussing possibly bringing me in and I was like, 'I haven't even had my match yet.' Like, if anything, I was just like, 'Don't you want to see me wrestle first?' In my opinion, I want to see how a person works before I bring them into a company. I know that I had some people recommend me and looking out for me. I hate to give him credit, but I know MJF was probably the biggest one, so I do have a lot to owe him, unfortunately, but he's been there for me a lot as a friend. I think if he hadn't recommended me as someone to bring in, I probably wouldn't have gotten that opportunity so early on. I'm sure it probably would have happened eventually. I would hope it would have at least but, yeah, it just kind of just happened out of nowhere. The first day that I was there, it was kind of like, 'Were gonna bring you in', and I was like, 'All right, let's do it.'"
Stay tuned to WrestlingAttitude, WA.Com On Twitter and Google News for more.
Kris Statlander Credits MJF for AEW Signing