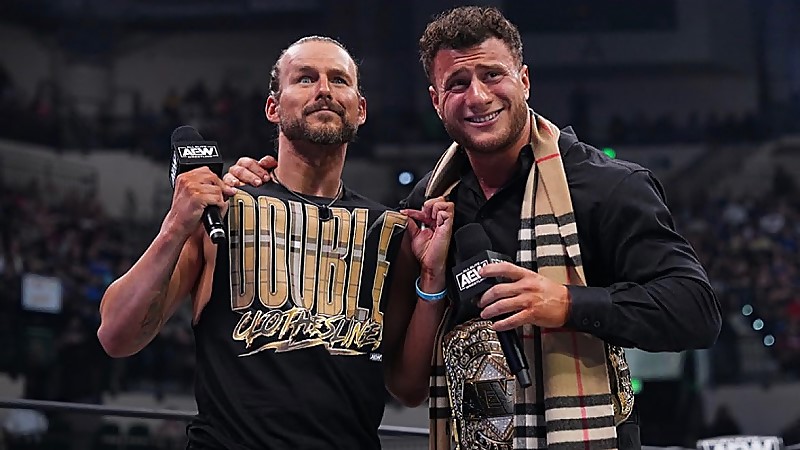 Better Than You Bay Bay Have Sold "Ungodly" Amounts Of Merchandise – Tony Khan recently held a media call to discuss various topics ahead of the WrestleDream pay-per-view in Seattle. During the call, Khan highlighted the significant success of the ROH Tag Team Champions, Better Than You Bay Bay, composed of Adam Cole and AEW World Champion MJF.
Khan mentioned that the fan response to Better Than You Bay Bay has been overwhelmingly positive, and he described them as "our scumbag" that fans no longer need to hate. This change in perception and the acceptance of the duo as fan favorites has been reflected in their merchandise sales, which Khan described as "ungodly amounts." The fan support and the merchandising success of Better Than You Bay Bay underscore their popularity and status as top stars within AEW.
"You don't have to hate him anymore because 'he's our scumbag.' That's something that has really been embraced by the fans and it's shown because Better Than You Bay Bay have sold an ungodly amount of merchandise and they continue to rack up that merch money for us, which is awesome. They get these massive reactions and its befitting of a top star and, in this case, a fan favorite."
The evolution of Adam Cole and MJF's characters, from being antagonistic to fan favorites, has resonated with AEW's audience. Their ability to connect with fans on an emotional level and garner massive reactions demonstrates their impact on the wrestling landscape. Additionally, their merchandise sales contribute to their overall star power and financial success for AEW.
During Tony Khan's media call, he also mentioned that an injury update regarding Adam Cole would be disclosed during the AEW Dynamite broadcast.
Stay tuned to WrestlingAttitude, WA.Com On Twitter and Google News for more.
Better Than You Bay Bay Have Sold "Ungodly" Amounts Of Merchandise