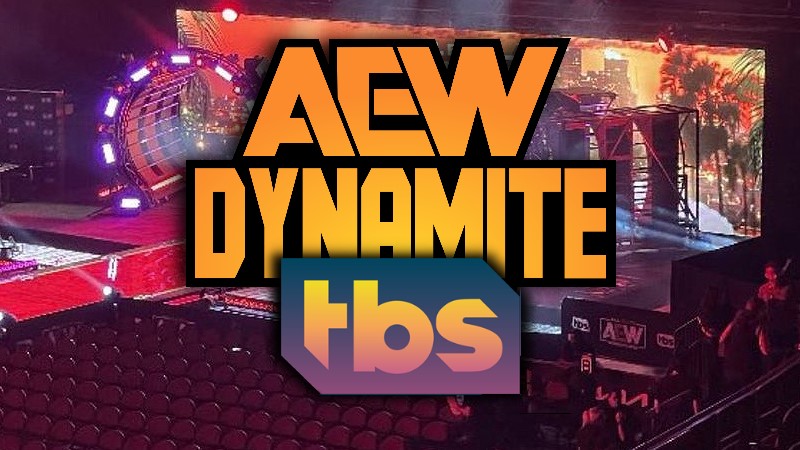 9/13 AEW Dynamite Results – We are live from the Heritage Bank Center in Cincinnati, OH, as Jon Moxley makes his way to the ring for our first match of the night. Big Bill is next accompanied by Ricky Starks.
AEW International Championship
Jon Moxley (C) vs. Big Bill
Big Bill lands the first shot, but Mox eats it and dares him to do it again. He then lunges at Big Bill in the corner with rapid-fire forearm shots. Big Bill muscles him out, Donkey Kong's him to the mat and pummels away at him as the crowd boos.
Mox starts fighting back with clotheslines that don't knock Big Bill down, but get him on shaky ground. Bill again shucks Mox off and manhandles him, launching him out to the floor. He heads out after him and pounds him with clubbing blows to the back at ringside.
Jon slows him down and takes over, sending him into the steel ring steps. Big Bill takes over again and sends Mox into the barricade. On that note, we shift gears and head into a mid-match commercial break as our opening title tilt continues.
When we return from the break, we see Mox's face is covered in blood. Hope the Grandmas out there are enjoying this one! Mox takes Big Bill off the top-rope with a super-plex and now the offensive momentum begins to shift in his bloody favor. Mox hits a Cutter that knocks Bill out to the floor.
We see Mox head up to the top-rope, but Ricky Starks jumps on the apron and shoves Mox off the top behind the referee's back. Bill blasts Mox and goes for the cover, but he kicks out. Bryan Danielson runs down and starts drilling Starks as the crowd goes wild. Mox rolls Bill up in the confusion but Bill kicks out at two.
Danielson gets laid out and blasted into the steps on the floor. Bill chokeslams Mox in the ring and goes for the cover, but Mox kicks out after the count of two. Mox throws up a triangle choke on Bill. Bill hoists him up and Donkey Kong's his way out of it so Mox switches to an armbar in the triangle. Bill taps out. Mox retains the title.
Winner and STILL AEW International Champion: Jon Moxley
After the match, Starks attacks Danielson and then helps Bill attack Mox in the ring. Claudio Castagnoli ends up running down and hoisting Big Bill up for a big pop. He runs off the heels and the BCC guys stand tall in the ring as "Wild Thing" plays again.
Roderick Strong Doesn't Want Adam Cole's Concern
We shoot backstage to Renee Paquette, who is standing by with Roderick Strong and The Kingdom. As she begins interviewing him, in comes a concerned Adam Cole telling Strong that Samoa Joe can break his neck.
Strong doesn't want his concern because The Kingdom believes in him and he's a wrestling legend. He says he should be more worried about his boy MJF when he beats Joe and challenges him for the title at Grand Slam next week.
Don Callis Reveals His Next Masterpiece
Tony Schiavone is in the ring and he introduces Don Callis, who comes out to a chorus of boos with Konosuke Takeshita by his side to reveal his next masterpiece. He tells the fans to show some respect because "we just beat Kenny Omega twice in one week."
Callis says when you're the top guy in a promotion in Japan, you're called the Ace. He says since Takeshita beat Omega twice in one week, he's the Alpha. He shows an Alpha graphic at the top of the entrance aisle.
Don Callis reveals a painting to tell Omega that Kota Ibushi is the next target of the Don Callis Family. He vows to butcher, skin and burn him. He says Omega will have to sit home and watch like the "cuck" he is. He stabs the painting with a screwdriver.
Bryan Danielson Issues A Challenge
We shoot backstage where Bryan Danielson issues a challenge for this Saturday night's Collision. It will be he and Claudio Castagnoli against Ricky Starks and Big Bill.
Rey Fenix runs up and tells Mox he'll beat him next week. A bunch of people rush to the scene to keep them apart. In the chaos, we see a dead silent Claudio Castagnoli and a dead silent Eddie Kingston staring each other down.
Kingston says one more week, laughs and walks off. On that note, we shift gears and head into another commercial break.
Renee Paquette Interviews HOOK & Orange Cassidy
As we settle back in from the break, we shoot backstage where Renee Paquette is standing by with HOOK. She asks how it feels to be the FTW Champion again. Orange Cassidy walks up before he can say anything.
Cassidy is asked what he's doing. He says he doesn't know. He says he was just walking around. He asks HOOK why he's mad. He says he's got a championship. He says he used to have one. HOOK calls him a good former champion. He walks off. Cassidy says he's still so tired. Alrighty. Moving on!
AEW Women's Championship Eliminator
Toni Storm vs. Hikaru Shida vs. Nyla Rose vs. Britt Baker
The bell sounds and we're officially off-and-running with this one. Whoever emerges victorious in this match will move on to challenge Saraya for the AEW Women's World Championship at next week's AEW Dynamite: Grand Slam special event at Arthur Ashe Stadium.
Nyla Rose is thrown to the floor early on. Storm pushes Shida into Baker, who crashes onto Rose and Marina Shafir at ringside. Shida then knocks Storm to the floor and hits a big diving splash for a big pop. On that note, we shift gears and head into a mid-match commercial break.
When we return from the break, we see some back-and-forth action and then as it looks like Baker has this one finished up, we see Shida cost her the win and Storm steals it. Storm now moves on to challenge Saraya for the title next week.
Winner and NEW No. 1 Contender: Toni Storm
Renee Paquette Interviews Saraya
Once the match wraps up, we shoot backstage to Renee Paquette, who is standing by with AEW Women's World Champion Saraya. She talks about how she has taken everything from Toni Storm since she arrived in AEW.
She took her friends, her title. She says next week she's also taking the win in their match and then Storm will have nothing. We head to another commercial break.
Chris Jericho & Sammy Guevara Talk Ahead Of Grand Slam
When we return from the break, Fozzy's "Judas in My Mind" plays and out comes Chris Jericho, accompanied by Sammy Guevara, introduced by "The Dapper Yapper" Justin Roberts as their tag-team name of Le Sex Gods.
Fireworks explode as the duo head to the ring together while the fans sing along to Jericho's theme. Jericho begins by talking about their first-time ever showdown against each other next week. He wants to remind us of their history together and an in-depth video package is shown.
Jericho talks from the heart honestly about how he first heard of Guevara and what he thought when he first saw him. Guevara does the same after Jericho but then mentions how he didn't come to this company just to be Jericho's sidekick. He says he wants to be a star like him, Jon Moxley and Bryan Danielson.
Guevara says he can't do that as long as he's in Jericho's shadow. He says that's why he needs to beat him next week. Jericho says he wasn't brought in to be his sidekick but to be a main event player. He tells him he's getting closer and closer to that every single week.
Chris says he's got to be the best version of himself to stand a chance against him. He says he doesn't think he's ready. Sammy says there it is. The ego. He says Jericho doesn't truly believe Guevara is as good as him. He gets in his face and says the man Sammy Guevara is gonna beat him. He says he's gonna earn his respect. He says then they'll shake hands and win tag titles.
MJF Sends Message To Roderick Strong & Samoa Joe
We see exclusive footage from MJF in the doctor's room. Renee Paquette interviews him while Adam Cole is by his side. MJF is told he has to take a week off but will be okay by Grand Slam. He says he's happy to get a week off and then sends a message to Roderick Strong and Samoa Joe ahead of their tourney final showdown tonight.
Hangman Page vs. Brian Cage III
Immediately we hear some loud "Cowboy sh*t!" chants. Cage takes the early offensive lead but Page starts to take over. Cage slows down Page's momentum, but not for long, as Hangman fires up, as do the always present "Cowboy Sh*t" chants from fans when he's on the screen.
As he pulls into a comfortable offensive lead, the catchy entrance tune for Shane "Swerve" Strickland plays. As the fellow member of The Mogul Embassy makes his way out, Page is distracted and Cage takes back over control on offense. As he does, we head to a mid-match commercial break.
When we return from the break, we see Swerve watching on as Page fights back into the lead, clotheslining Cage over the top rope and out to the floor. Page hits a big top-rope moonsault onto Cage on the floor. Back in the ring, he goes for the Buckshot Lariat, but Cage nearly counters with a Drill Claw. Page avoids it, blasts Cage and gets the win.
Winner: Hangman Page
After the match, we see Swerve continuing to grill Hangman Page in the ring. Page gets on the mic afterwards and addresses him saying he wants his spot last week.
He says for one second he thought Swerve had some balls. He says now he's sure he's just keeping them tucked under Prince Nana's Burger King crown. Swerve grabs a mic from the top of the ramp and says, "What up, turd?"
Swerve says Hangman is going to fight on his terms. He says he wants Hangman Page one-on-one at AEW Wrestle Dream on October 1 in Seattle, WA. He says until then, The Mogul Embassy is gonna tune him up. Brian Cage attacks him from behind until The Young Bucks run out and chase them off.
Don Callis Recruiting Daniel Garcia For His Family
We shoot backstage and Renee Paquette is with her guest at this time, Daniel Garcia. Garcia interrupts her and says he's tired of talking about Chris Jericho and Sammy Guevara. He says let's talk about the Arizona Cardinals doing his dance.
Don Callis comes in and relates to Garcia. Garcia dances in his face and walks off. Callis says that's money. He chases Garcia down saying let's get some of that money. We head to another commercial break.
– When we return from the break, Excalibur announces Jade Cargill vs. Kris Statlander II for the TBS Women's Championship for this Friday's episode of AEW Rampage on TNT.
Darby Allin & Nick Wayne vs. Matt Menard & Angelo Parker
We see some hard-hitting back-and-forth offense early on, but Menard and Parker quickly take over. Christian Cage and Luchasaurus' theme hits and they head over for special guest commentary as we head into a mid-match commercial break as the action continues.
As we settle in from the break, the former J.A.S. duo is still very much in control of things and then we see Nick Wayne connect with his Wayne's World finisher. Darby fights back as well and the two head up to the top-rope together. They each hit a high spot and pick up the win.
Winners: Darby Allin & Nick Wayne
Christian Cage Issues Challenge For AEW Grand Slam
After the match wraps up, we hear Christian Cage on the mic talking trash about Darby Allin and Nick Wayne. He then issues a challenge for next week's AEW Grand Slam for Darby Allin and Sting to take on himself and Luchasaurus.
Grand Slam Title Eliminator Tournament Finals
Roderick Strong vs. Samoa Joe
The winner of this one will advance to challenge MJF for the AEW World Championship on next week's special Grand Slam edition of Dynamite from Arthur Ashe Stadium in Queens, New York.
We see Joe jump into the early offensive lead coming out of the gate. Strong gets in some offense but Joe quickly takes back over as we shift gears and head into mid-match commercial break as our main event continues.
When we return from the break, we see Strong trying to fight back, but Joe begins manhandling him once again with big slams and suplexes. He goes for a power bomb but Strong escapes out the back door and starts to take over.
Joe fights back into the lead and gets in his choke for the win.
Winner and NEW No. 1 Contender: Samoa Joe
With the win, he challenges MJF next week for the title. He gets on the mic and calls out MJF. He vows to take everything from him. He heads to the back.
Strong sees Adam Cole coming out and pretends like his neck is hurting, yelling "Adam! Adam!" Cole looks concerned as a stretcher is rolled out for Strong. As he walks to the back with him, Joe pops back out and chokes out Cole. He again tells MJF he's taking everything from him. That's how this week's show goes off the air. Thanks for joining us!
–– Here is what's in store for tonight's show ––
We will hear from Chris Jericho and Sammy Guevara before their one-on-one match at Grand Slam
Don Callis will unveil his next masterpiece
"Hangman" Adam Page vs. ROH World Six-Man Tag Team Champion Brian Cage
Britt Baker vs. Hikaru Shida vs. Toni Storm vs. Nyla Rose to determine challenger for AEW Women's World Champion Saraya at Grand Slam
Roderick Strong vs. ROH World Television Champion Samoa Joe in the non-title finals of the Grand Slam World Title Eliminator with the winner going to Grand Slam to challenge ROH World Tag Team Champion MJF for his AEW World Title
AEW International Champion Jon Moxley defends against Big Bill
Stay tuned to WrestlingAttitude, WA.Com On Twitter and Google News for more.
9/13 AEW Dynamite Results