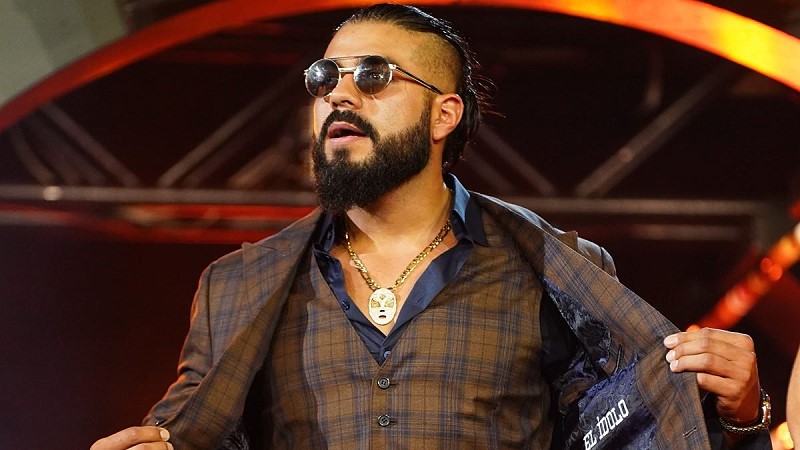 Andrade El Idolo Comments On AEW Collision's Ratings – Andrade El Idolo has joined FTR's Dax Harwood in responding to criticism of the ratings for AEW's newest weekly television show, Collision.
The show has been criticized from the get-go once reports came out that the two-hour Saturday night program show is built around CM Punk with a soft roster split.
While it did solid ratings the first week, each week the ratings have declined, something that was expected as all programs see a drop after premiering. The premiere episode did 816,000 total viewers with a 0.33 key demo rating. The June 24 episode did 595,000 with a 0.21 and last week drew 452,000 viewers with a 0.13 key demo rating last week.
Andrade issued the following statement on social media:
"I respect all the talent of all the AEW brands, remember if they respect me, they will always receive my respect. because they all work hard to earn a place. I am AEW collision and I love the looker room, we have only 3 weeks on television and we have achieved in 3 weeks what other brands have in 4 or less years, I love wrestling like all of you and the more competition we have, all this is better for the company, but I would love that the people who were in charge of preparing the first AEW Collision show in Chicago, those people are in charge of doing all the shows week after week. We have a lot of top talent, you will never imagine ANDRADE THE IDOL VS SAMOE JOE, CM PUNK, FTR, MIRO DAY, SCORPION, THE BULLET, RICKY STARKS, HOBBS, and more talent that I could forget. Thunder Rosa's comeback will be great imagine her beating up julia hart and getting my mask back and maybe having our own championship that CM PUNK never lost."
Andrade El Idolo Comments On AEW Collision's Ratings