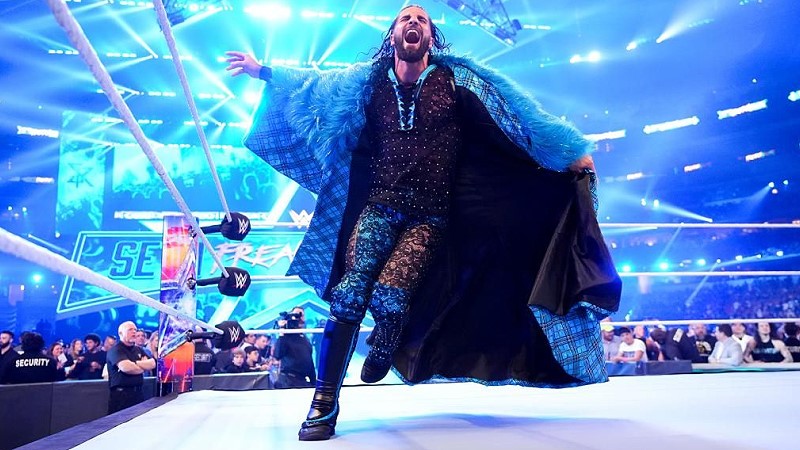 Seth Rollins is loyal to the wrestling business, which is why he has a great dislike for Logan Paul.
The Visionary spoke on this topic during a recent interview on the After The Bell podcast, where he mentioned the Logan Paul model and how WWE has been bringing in celebrities for years. Rollins expresses his dislike for that model, and how true pro wrestling is about going on the road and having thousands of matchups to perfect your craft. Highlights from the interview can be found below.
Whether he still considers Paul a tourist:
Yes and no. There are obvious advantages to having people from outside of our world come into our world. Logan Paul is not a new phenomenon. We've been doing this in WWE for decades and we're going to continue to do it for a long time after Logan Paul is gone. There's just a lot to be said about having these types of performers on our show and whatever they may be doing. You look at the Rock N Wrestling Connection, all the way back to Cyndi Lauper, the first WrestleMania with Muhammad Ali and Liberace, you had it all. It makes sense. It's a different beast, I feel, when you start getting these people in the ring on a semi-regular basis.
Compares Paul's run to Lawrence Taylor and how Taylor never claimed to be the best wrestler on the roster:
You look at Lawrence Taylor against Bam Bam Bigelow, perfect way to utilize these celebrities. Lawrence Taylor was an athlete beforehand, one of the greatest linebackers in NFL history, and also, a guy who wasn't calling himself a wrestler. He didn't go around getting a big head thinking, 'I can do this, I'm so good at this, this is a cake walk for me.' I don't want people going around thinking that's what wrestling is, that it's paint by numbers, somebody programs you and you're going to be just fine. Now you're the biggest star, you're the best thing that has ever happened and that's what the business has become. If every single one of us just followed that road map, there wouldn't be a wrestling business because nobody would be able to do the damn thing.
Says wrestling is about making the rounds around the world and having thousands of matches:
That's not what it is. It is making the towns, having hundreds and thousands of matches in different cities in front of different sized crowds. It's learning your trade. This idea that you can, poof, hop on a camera, film yourself, do some crap on social media to become a star and have some worth in the world, maybe I'm an old crotchety man, but I don't understand what value you're giving back to the world.
Says if everyone follows the Paul model the wrestling business is dead:
In the Logan Paul situation, I don't understand what long-term value he's going to be able to give back to us. It's one thing if you come in, do your thing, and leave, but this dude has a contract with WWE. He's supposed to have a few matches a year. That doesn't make you an ambassador for the business, that's not what wrestling is. I don't want my students, I don't want the next generation coming up and thinking that's how you make it in wrestling. If everybody follows that model, the business is dead.
Rollins and Paul are set to face off at WrestleMania 39.