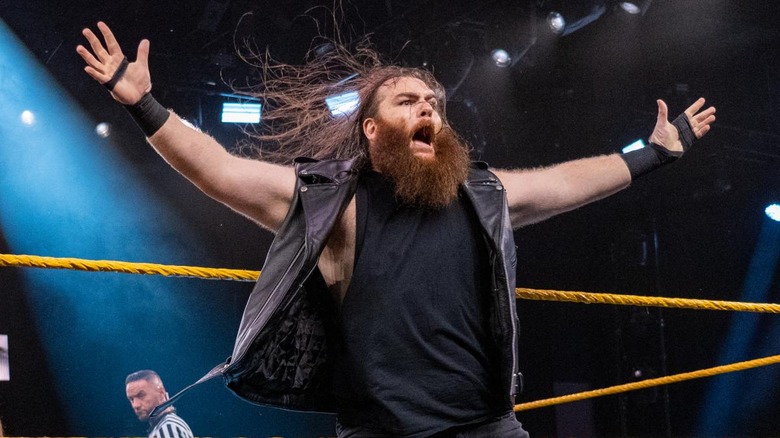 Big Damo discusses a potential WWE return and a reunion with SANitY.
The former Killian Dain opened up on this topic during a recent interview with WrestlingNews.Co, where he admitted that he's currently enjoying his run with PROGRESS and doesn't really trust WWE after they let him go back in 2021 due to COVID-19 budget cuts. You can read his full thoughts on the subject in the highlights below.
Says right now he's focused on his run with PROGRESS and hasn't considered returning to WWE:
If you do, then you do, but right now I'm focused on what I'm doing. I'm focused on Progress Wrestling, I'm focusing on everywhere I'm going because I get to choose my own path right now. I get to choose everything I want to do, that's why I'm not beholden to anybody, except for my wife in fairness.
Says he doesn't really trust WWE after they let him go, but admits that his run with SAnitY was some of his favorite times of his career:
Honestly, if it happens, you know it'd be a conversation we could have and whatever else but at the end of the day, they let me go once before. I don't trust them, I don't believe… I don't wake up every morning hoping for that call because listen, they had me there, I had the time of my life. I got to wrestle some of the best in the world, I got to travel with Eric [and Alexander Wolfe], some of the best experiences of my life. But you know, they ended that for their reasons and I've been able to have the time of my life this last year, so. I've been having the time of my life this last year. As you know, I've been able to say no to promoters, I've been able to do things that I wasn't able to do for six years.
How important it is for him to be able to travel home more often:
More importantly, I've been able to get back and forth to home and like the realization that everybody is getting older and those opportunities are going to come a lot less and so, being able to pick and choose my own path has been incredible. But listen, if fans are desperate to see more Sanity, then come and see us at Progress Wrestling.