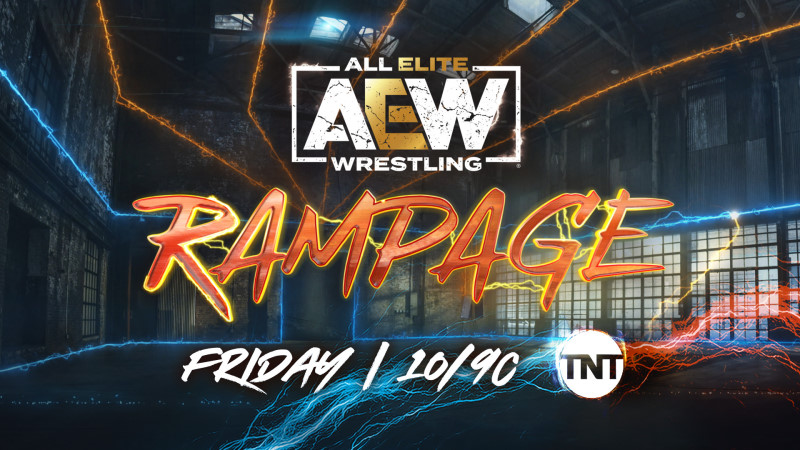 Jim Ross, Excalibur, Tony Schiavone, and Chris Jericho greet audiences at home as Darby Allin and Juice Robinson wait in the ring.
Darby Allin (c) vs. Juice Robinson for the TNT Championship
The bell rings and the two lock up. They exchange submission holds before Robinson gains the upper hand and looks for a senton. Allin gets his knees up and delivers a pair of arm drags. Robinson sends Allin to the outside, then tosses him into the ring steps. He gets him back in the ring and rains down right hands.
Back from the break, Robinson delivers a series of right hands and a chop. Allin fires back with a shotgun dropkick, then goes flying on the outside. He gets him back in the ring, then looks for a Coffin Drop off the middle rope. Robinson blocks it and knocks him to the mat, then follows it up with a kick. He hits a trio of sentons, then ascends to the top rope and looks for another one. Allin rolls out of the way, but Robinson gets him up on his shoulders and delivers the jumping double knees. He looks for a cannonball, but Allin moves out of the way and delivers the Code Red. He then ascends to the top and sets up for the Coffin Drop, but Robinson pulls him down and delivers a series of chops. He delivers a lariat, then ascends to the top and looks to take Allin for a ride. Allin counters it into a Scorpion Death Drop, then follows it up with the Coffin Drop for the win.
Winner (and still): Darby Allin
After the match, Sting heads to the ring to celebrate with Allin.
We then head to a video from Powerhouse Hobbs, who puts the entire AEW locker room on notice.
We Hear From The Acclaimed
Back from the break, Renee Paquette introduces The Acclaimed. The duo and Billy Gunn head to ringside as Max Caster raps. Anthony Bowens says The Acclaimed loves Los Angeles, then says they are in the mecca of professional wrestling: AEW. He calls for everyone in the arena to "throw their scissors up" because tonight is the night they cement their legacy to remind the generations to come that everyone loves The Acclaimed. Billy, Caster, and Bowens are about to put their scissors into the cement, but The Gunns cut them off and Colten says they've already had their time. Austin says they are the real stars and the only reason they are popular is because they stole their title match from them. Billy says The Gunns are right and tells them to go ahead and put their hands in the cement. Bowens and Caster then pants them before Billy pushes them backwards into the cement.
Kings of the Black Throne then head to the ring, followed by Eddie Kingston and Ortiz.
Kings of the Black Throne vs. Eddie Kingston and Ortiz
Ortiz and King begin the action. The bell rings and King delivers a back elbow. Ortiz fires back with a series of chops and elbows, but King delivers a boot and a chop of his own. Ortiz delivers a pair of dropkicks, but King whips Ortiz into his corner. A reluctant Kingston tags in while King tags in Black. The two lock up before Black delivers a kick to Kingston's chest. Kingston fires back with a chop, then mocks Black.
Back from the break, King delivers a cannonball to Kingston in the corner. He goes for a pin, but Ortiz breaks the fall. He hits a lariat, but Kingston fires back with an enziguri and a half-and-half suplex. Ortiz asks to be tagged in, but Kingston opts not to do so. Ortiz gets in the ring and delivers a DDT before Kingston follows it up with an Exploder. He goes for a pin but Black kicks out. Black delivers a rising knee strike, but Kingston fires back with a suplex and a clothesline.
Buddy Matthews runs to a ring with a chair in hand, with Julia Hart not far behind. Kingston grabs the chair from Matthews as Hart screams and drops to the mat. Ortiz assumes Kingston hit Hart with the chair, allowing Black to take advantage and deliver the back heel kick to Kingston for the win.
Winners: Kings of the Black Throne
We then head backstage to Lexy Nair, Jade Cargill, and Leila Grey. Nair asks what's going on with Red Velvet and Cargill tells Velvet she's out of The Baddies.
We Hear From Paul Walter Hauser
We then head to Renee Paquette and Paul Walter Hauser in the ring. Paquette asks what the past few days have been like for him since winning his Golden Globe and Hauser says he loves wrestling. He says as much as he loves being an actor, there's nothing like wrestling and says you never know what will happen in AEW.
Danhausen's music hits and he heads to the ring. He says he's here to talk about awards because he's the number one merchandise seller in AEW, but wasn't given a physical award. He says that due to that, Hauser should give him the Golden Globe he's holding in his hand, but before things go further, Jay Lethal, Jeff Jarrett, Satnam Singh, and Sonjay Dutt head to the ring.
Hauser says that they're on his home turf, then tells Jarrett he "looks like a woman who owns a Crunch Fitness" while his buddies looked like they're dressed for homecoming.
Lethal knocks Hauser to the mat with a right hand before Jarrett smashes Hauser with his guitar, all the while Singh keeps Danhausen from helping out.
Lethal picks up Hauser's Golden Globe to hit Danhausen with it, but before he can, Orange Cassidy and Best Friends head down to the ring to make the save. Singh, Lethal, Jarrett, and Dutt retreat with Hauser's Golden Globe in hand.
Ruby Soho and Willow Nightingale vs. Anna Jay A.S. and Tay Melo in a Street Fight
Jay and Tay head to the ring, but are attacked by Soho and Nightingale on the ramp. Nightingale delivers a big boot to Jay before Soho tells her to "get the tables." Jay levels Soho and pushes her down the ramp as Nightingale sends Melo into the barricade. Jay sends Soho into the ring apron, then tosses her into the ring post. She sends her head bouncing off the timekeeper's table as Nightingale and Melo teeter on the middle rope. Jay sends Soho in the ring steps, then tosses a garbage can over her head. Melo delivers a double stomp off the apron, and Soho begins to bleed.
Jay and Melo begin tossing chairs in the ring and set up a row of them facing one another. They sit Soho and Nightingale in them and take the corresponding seats across from them. The four women begin exchanging forearms before Melo delivers a superkick to Soho. She then sends her to the outside and joins Jay in beating down Nightingale. Soho fights back and begins hitting Melo with forearms as Nightingale repeatedly hits Jay with a garbage can lid on the outside. Melo hits Nightingale with a kendo stick, then delivers a superkick. She gets her back in the ring as Jay tosses a garbage can inside, and Jay plants her with a Gory Bomb on top of the garbage can.
Melo grabs some barbed wire from under the ring and passes it to Jay. Jay puts it on her forearm, then locks in the Queenslayer. Nightingale backs her into the corner as Soho ascends to the middle rope and rains down right hand with a chain wrapped around her fist. Melo hits her with a garbage can lid, then meets Soho on the ropes. Jay climbs up to where Melo is, but Nightingale pulls all three women down onto chairs. She tosses Jay across the ring, then sets her up in the corner and places a garbage can on top of her. Melo hits her with a chair, then fires off several forearms. Nightingale delivers a spinebuster, then hits a senton to Jay. She pins Jay, but Jay kicks out.
Nightingale delivers a Death Valley Driver to Jay on the apron, then looks for the Doctor Bomb on the floor. Melo hits her with a garbage can lid, but Soho takes her out with No Future. She drags a table close to the apron as Jay and Nightingale fight up the ramp. Nightingale powerbombs Jay through a table off the stage as Soho and Melo fight on the apron near the table previously set up. Melo hits a piledriver through the table, then gets Soho in the ring. She goes for a pin, but Soho kicks out. Melo grabs a bag of thumbtacks from under the ring and dumps them out. She looks to deliver a piledriver to Soho through the tacks as Soho gushes blood from her face, but Soho blocks it. She tosses a handful of tacks through Melo's face, then delivers Destination Unknown through the tacks for the win.
Winners: Ruby Soho and Willow Nightingale
After the match, Soho fist bumps Nightingale as a sign of respect.