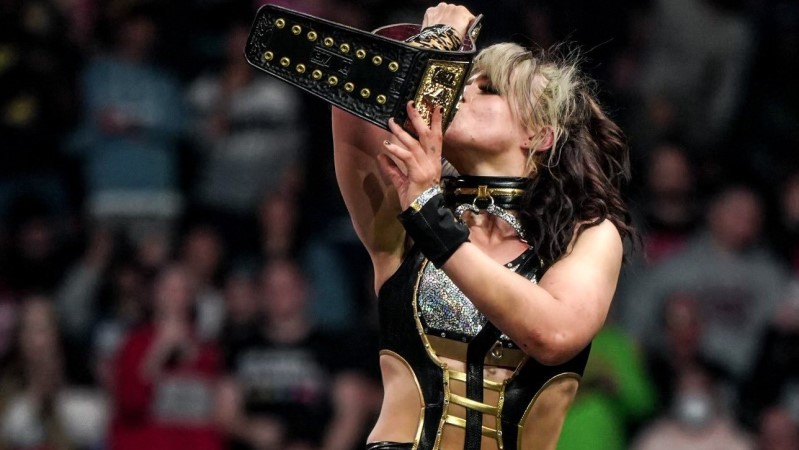 Jamie Hayter Comments On Her Career So Far – Jamie Hayter has come a long way, and she is now one of the top stars in AEW's women's division.
Hayter made her AEW debut in 2019 and later returned in August 2021 as Britt Baker's enforcer. Over the next several months, she gradually became a fan-favorite star, and this momentum propelled her to AEW Full Gear 2022, where she defeated Toni Storm to win the AEW Women's World Championship.
In an interview with Justin Barrasso of Sports Illustrated, Hayter reflected on her journey up to this point. She recalled how, during the height of the COVID-19 pandemic, she reached a point where she didn't have anywhere to live, and she had to sleep on some of her friends' coach.
"There was no work in Japan," Hayter said. "I was supposed to go home; then they'd bring me back. I left, but I didn't have anywhere to live. I remember saying, 'Holy s—, I'm homeless.' I had nowhere to go and no idea what I was going to do. Fortunately, I stayed with my friends and lived on their couch."
Over two years later, Hayter has risen to the forefront of AEW's women's division, as fans rallied around her ahead of her title win at AEW Full Gear. Hayter emphasized that she's never experienced anything like this before, but she's giving it her all.
"I've never experienced anything at this level before," Hayter said. "I went into this unknown as Britt's muscle. I didn't know what to expect, so I put everything I had into it—mind, body and soul."
The champion also commented on the fans' support and emphasized that being accepted feels validating.
"The crowd cares," Hayter said. "I didn't ever really know if they would. But they've been so loud chanting my name. So maybe this is my time. It's been emotional. I'm still getting to know people. They're still getting to know me, too. Being accepted, it's been so validating."
Still riding high after her remarkable victory at AEW Full Gear, Hayter made it clear that she could retire today and feel satisfied.
"If I retired today, I wouldn't have any qualms," says Hayter. "Whatever I do from this point forward is a bonus for me. I've made it."
Jamie Hayter Comments On Her Career So Far