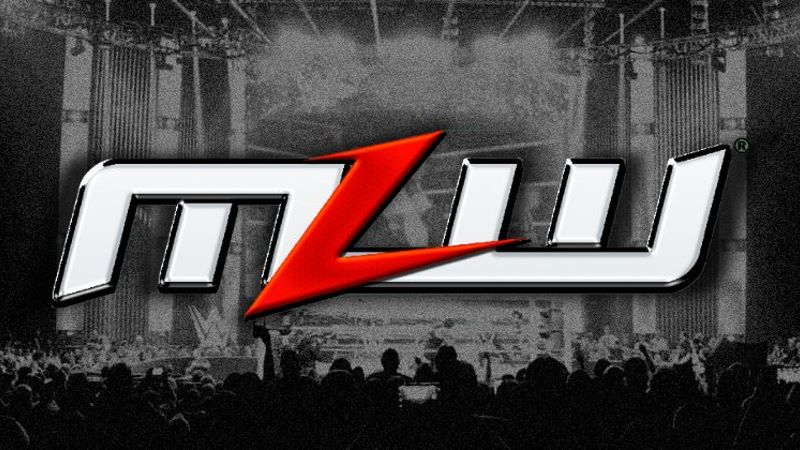 MLW Fusion #115 Results – Watch LIVE MLW Fusion #115 in the embedded video below thanks to MLW Youtube channel. Full results below the video at the end of the show.
MLWFusion begins with a video package, highlighting the Opera Cup's significance in MLW. In the main event, Tom Lawlor and Low Ki will clash in the final match for this year's Opera Cup Tournament to determine who will be crowned the winner of this historic tournament.
After commentators Rich Bocchini and Jared St Laurent run through tonight's card, we head to the ring for the first match of the evening.
Dirty Blondes (Leo Brien & Michael Patrick) (w/Aria Blake) vs. Ariel Dominguez & Daniel Starling
Leo Brien hits Daniel Starling with a big right just after the bell rings. He continues to whale on him in the corner with also a running boot. Brien sends Starling over to his corner to get a tag in with Michael Patrick. Patrick gets a series of elbow drops in before Brien briefly takes over. The Dirty Blondes work together to send Starling down and out with a big powerslam off the middle rope to gain the pinfall victory.
Winners: Dirty Blondes
We take a look back at Alex Hammerstone and Mads Krügger's brawl from last week just after Krügger won his 2-on-1 handicap match.
This week, Hammerstone has something to say about their upcoming match at Kings of Colosseum. Hammerstone doesn't think CONTRA Unit and Krügger realized putting him on the shelf for a month was the worse decision they could have made. Now, Hammerstone is stronger than ever and ready to put Krügger down with his Nightmare Pendulum. He also mentions that once he's down with Krügger, he's going for Jacob Fatu's World Heavyweight Championship.
After hearing Salina de la Renta's announcement that Mil Muertes will be debuting for MLW soon, the Promociones Dorado owner has another big bombshell to drop at Kings of Colosseum in two weeks!
Backstage, Alicia Atout catches up with Low Ki before his main event match with Tom Lawlor tonight. Low Ki mentions that if anyone knows Lawlor, it's him. He concludes his interview by saying that he looks forward to bringing prestige back to the sport.
After the commercial break, we hear back again from Atout on what new matches have been signed for Kings of Colosseum since last week. It'll be:
Jordan Oliver vs. Simon Gotch in a Grudge Match
The Von Erichs will defend their tag team titles against the Dirty Blondes in a Texas Tornado match
Atout also discusses the Middleweight Championship defense set to take place between Myron Reed (c) and Lio Rush. We hear from Reed right after. Reed advises Lio Rush to bring his A-Game, or else he's going home a "broke weight."
Atout revisits the already announced match scheduled between Alex Hammerstone and Mads Krügger. Krügger hacks into the segment to warn Hammerstone that his day of reckoning is coming at Kings of Colosseum.
After the second break in the show, Jared St Laurent reports who made it on Pro Wrestling Illustrated's Top-10 List for this week:
10. Calvin Tankman
9. Laredo Kid
8. ACH
7. Mads Krügger
6. Richard Holliday
5. Myron Reed
4. LA Park
3. Low Ki
2. Tom Lawlor
1. Alex Hammerstone
At the gym, Los Parks are sick and tired of guys like Dirty Blondes taking their spot. They issue MLW to give them more title shots in 2021, or else LA Park will retire!
Final Match of the 2020 Opera Cup: "Filthy" Tom Lawlor (w/Dominic Garrini & Kevin Ku) vs. Low Ki (w/the Von Erichs)
The bell rings, and Tom Lawlor looks for a single leg takedown. He successfully takes Low Ki down. Ki gets back up and pushes him up towards the ropes. He steps back for a clean rope break. Lawlor bends Ki's left leg back and tries to go for a bow and arrow pinfall. Ki rolls out at 1. Ki looks for submission, and Lawlor rolls him over and goes for a cross arm breaker.
Lawlor and Ki roll each other up for back and forth pinfall attempts; no one is successful with that. Lawlor transitions an anchor lock into a near-fall rollup. Next, he goes for a gut wrench and another near-fall of 2. Ki counters Lawlor's lockup with a double stomp. Ki puts pressure on Lawlor's neck with a head scissors, which turns into a Figure Four lockup. Lawlor reverses it into an Indian Deathlock. Ki's shoulders hit the mat but he pops up at the 2 count again.
Ki creates some space with an enziguri. Lawlor rolls out of the ring. Back in the ring, Ki has the upper hand with a chop and a slam into the top turnbuckle. Lawlor finds his offense again with a big backbreaker. He hooks the leg for another 2 count. Lawlor cuts Ki off with a front facelock. Back on their feet, Lawlor goes to town on Ki with a flurry of forearm shots in the corner.
Lawlor keeps his dominance in check with more knee shots towards Ki's face. Ki fires back by climbing on the back of Lawlor and tying him up with a dragon clutch. "Filthy" bites on the top rope for a break. Lawlor switches his initial lockup into a sharpshooter in the center of the ring. Lawlor chops Ki off his feet with two kicks to his hamstrings.
Lawlor catches Ki's pump kick attempt with a dragon screw, setting up a Figure Four submission. Both men roll over and over, putting each other in agony. Ki gets his hand on the bottom rope for a break. Both men get back to a vertical base. Lawlor chops and kicks Ki down again. Ki ducks a clothesline to connect a high elbow off the ropes. Ki nails Lawlor with a kick off the ropes again with a 2.9 near-fall.
Ki keeps the kicks coming before setting Lawlor up in the corner. Lawlor catches Ki and chucks him across the ring. Ki squirms free from a rear-naked chokehold. Ki drops Lawlor on the back of his head with a Ki Krusher. He can't make a pinfall attempt because both men are right underneath the bottom rope. Ki positions himself to charge in with a running low dropkick. The referee checks in with Lawlor. Ki charges in again, but this time with a Rolling Koppu kick. Lawlor rolls Ki up. Ki's shoulders are pinned to the mat. He doesn't break free in time. Tom Lawlor is the winner!
The Winner of the 2020 Opera Cup Tournament: "Filthy" Tom Lawlor
Post-Match: Team Filthy put Tom Lawlor up on their shoulders to celebrate his victory!
That concludes this week's episode.