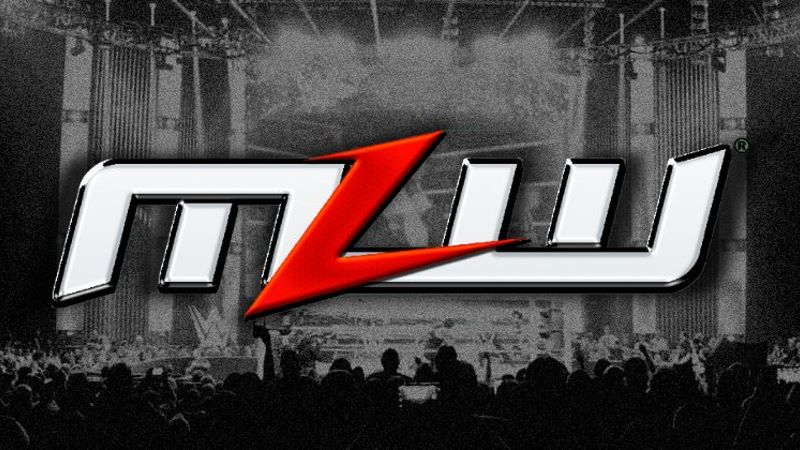 WATCH – MLW: The Restart in the embedded video below.
MLW opens their show by highlighting everything that has happened from last year up until eight months ago before they shut the company down.
Fight analysts (commentators) Jared St. Laurent and Rich Bocchini welcome fans to the restart. We kick things off with the National Openweight Champion Alex Hammerstone in action!
Alex Hammerstone vs. Dugan
Alex Hammerstone makes quicks work of his opponent with his Nightmare Pendulum. He picks up the victory right after.
Winner: Alex Hammerstone
Post-Match: Hammerstone calls out Jacob Fatu for a title opportunity if he retains his championship tonight.
Following that, we take a look back at what led to Myron Reed/Brian Pillman Jr.'s rivalry. Their big title match is up next!
The MLW production crew has to restart Brian Pillman Jr.'s music. He has not made an appearance at the ring yet. Jared St. Laurent and Rich Bocchini are being told that Pillman doesn't want to come out just yet.
They take a quick break. During the break, a vignette for Lio Rush's return is shown.
Back from the break, Brian Pillman Jr. makes his way down to the ring.
World Middleweight Championship: Myron Reed (c) (w/Jordan Oliver) vs. Brian Pillman Jr.
Brian Pillman Jr. wails on Myron Reed as the match begins. Reed heads out of the ring. Pillman meets him out there with a kick to the face. Pillman keeps the lead with a big drop. Reed runs into the ring to land a tope suicida. Reed runs in to go for the same move. Pillman meets up with a solid uppercut. Pillman and Reed roll back into the ring. Pillman gets a near-fall count at 2. Pillman connects a big powerslam for another near-fall of 2. Pillman locks Reed's right arm up. Reed rises to a vertical position. Pillman puts him back in the same position. Reed grabs a rope break.
Both men exchange chops before Pillman locks Reed in the surfboard position. Reed goes for a stunning leg drop off the apron. He launches himself off the top with a cutter. Reed goes for a cover. Pillman kicks out at 2. Reed takes his vest off. This is great for Pillman. Reed sends Pillman on his back with a clothesline and enziguri to the back of the skull. Reed plants Pillman with a slingshot leg drop. Reed goes for another cover. Pillman kicks out at 2. Pillman slaps the chest of Reed's with a chop and a back elbow. Pillman looks for a cover. Reed kicks out again. Pillman flies off the ropes with a crossbody. Another near-fall call is made after.
Reed lands a cutter on Pillman and keeps him locked in with a big slam. Pillman kicks out right away following a pin. Pillman crashes Reed into the mat with a falcon arrow. Reed kicks out to send Pillman down and out with his Cap'n Crunch finisher. Reed goes for the final pin and retains his championship!
Winner: Myron Reed
Post-Match: Myron Reed issues Lio Rush to a title match.
LA Park, Hijo De La Park and La Park Jr. are looking for a shot at the MLW Tag Team Championships.
Following that, Josef Samael warns Davey Boy Smith Jr. of what his fate will be tonight in the main event for Jacob Fatu's World Championship.
Konnan has caught on to Salina de la Renta's game of helping CONTRA Unit gain access to MLW's media accounts. She has now lost her managining license. She will be on Fusion next week to discuss what's next for her.
Rich Bocchini runs through what fans can expect for the 2020 Opera Cup. They reveal the brackets.
Speaking of the Opera Cup, Alicia Atout catches up with Davey Boy Smith Jr. before his big match tonight. He says his title match against Jacob Fatu is the biggest match of his career. He mentions that he's been doing a lot of training with Josh Barnett to prepare for any tricks Fatu may have up his sleeve.
Richard Holliday is extremely upset that he that he cannot be at The Restart tonight. He blames Alicia Atout.
Next, we see Kevin Von Erich and his sons, the MLW Tag Team Champions, Ross and Marshall Von Erich training up for The Restart.
And now, our main event!
World Heavyweight Championship: Jacob Fatu (c) vs. Davey Boy Smith Jr.
Both men stare each other down after the bell rings. You could cut their tension with a knife. Both men lockup. Davey Boy puts Jacob Fatu in a side headlock, taking the World Champion down on the mat. Fatu breaks out with a few midsection strikes. He has a hard time taking DBS down with several clotheslines. DBS comes off the ropes with a big powerslam. DBS looks for a cover. Fatu kicks out at 2. Both men exchange headbutts. DBS goes for another cover. Fatu kicks out. DSB positions Fatu up in a delayed vertical suplex. He goes for another pin. Fatu kicks out again.
Fatu sends DBS halfway across the ring with a powerful Irish Whip. Fatu shows off his tremendous strength with a big powerslam. Fatu has DBS up on his shoulders for a rack hold. DBS finds his way out by hooking his fingers in Fatu's eyes and nose. DBS gets his knees up as Fatu lands a shooting star press. Davey Boy smashes Fatu with a series of forearms and a big boot. Fatu counters a side suplex. Davey Boy finds a way to lock it in again. Fatu plants DBS with a spinning back suplex. Fatu only gets a near-fall of 2. Fatu continues to do more damage to Smith's injured back. He sets him up with a big Samoan Drop followed by a big moonsault off the top rope. Fatu hooks the leg and retains his world championship!
Winner: Jacob Fatu
Post-Match: Jacob Fatu wants to know who is going to be next to step up to him. Alex Hammerstone's music hits and he heads down the ramp. All of a sudden, a big guy with mask charges behind Hammerstone and hits him with a chair. He lays out the Openweight Champion with a chokeslam on the apron. Jacob Fatu and his new ally leave.
That concludes this week's episode.