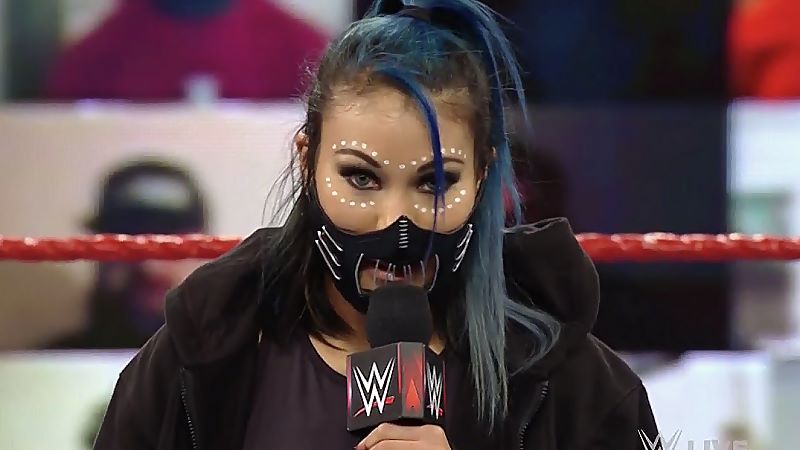 Backstage News on Mia Yim's Bizarre RAW Segment – The odd booking of Retribution continued this week on RAW and that included an odd moment featuring Reckoning (Mia Yim) apparently breaking out into hives to cause a distraction during a match between Retribution and The Hurt Business.
The idea was that Yim would cause enough of a distraction to get MVP eliminated from the 4 vs. 4 match. It worked but it did not sit well with many fans on Twitter who saw it as a way to make light of people who have experienced seizures.
Yim later said on Twitter that she was not having a seizure and it was simply a "possession."
However, Fightful reports that Vince McMahon's original idea was to have Yim mimick having a seizure.
The Fightful report states: "Fightful has learned that initially, Vince McMahon had wanted Reckoning, AKA Mia Yim to mimic a seizure during the spot on Monday Night RAW. We're told that she, among others spoke up that the method originally pitched was not in good taste. Vince McMahon was said to have liked the spot as it played out, outside of Yim being referred to by her real name."
After the commercial break, it was revealed that Yim (who was accidentally referred to by that name) was actually faking her "possession" and it was just a ruse to trick MVP.
There have been many questions about the way Retribution has been booked and it's coming across as if Vince McMahon is behind the faction as he was when they first debuted. They have yet to win a match since their in-ring debut a few weeks ago.
Backstage News on Mia Yim's Bizarre RAW Segment: