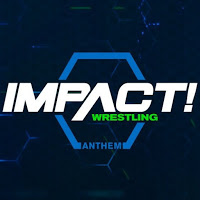 Ethan Carter III (with Tyrus) and Johnny Impact arrive at the arena. They'll face off tonight to determine the #1 contender to the Impact World Title!
We look back at what happened last week, then we head to the ring for our opening match…

World Tag Team Champions LAX vs Trevor Lee & Caleb Konley
LAX hits the Cult of Lee with dives during their entrance, and they start brawling at ringside. Doesn't Santana kind of look like Eddie Kingston on Nutrisystem? The bell rings as Ortiz brings Lee into the ring and dishes out a series of chops and a snap suplex for 2. Santana with a sliding lariat on Caleb for 2, then tags in Santana for an assisted moonsault for 2. LAX works Konley over until Trevor drags Santana out to the floor and rams him into the apron. Now left by himself, Ortiz winds up on the receiving end of a flurry of double teams by the Cult of Lee. Ortiz is in peril as we go to commercial.
We're back and Ortiz is still in peril, but hits a double dropkick that wipes both Lee and Caleb out, and Santana tags in to start cleaning house. Santana snap suplexes Konley off of Lee's shoulders in a cool spot, then hits a running knee to Lee for 2. LAX hits a wheelbarrow cutter for 2, then they set Lee up for the Street Sweeper, but Konley shoves Santana off the top rope, and Lee gets a jackknife rollup with a handful of shorts for the win.
Winners: Trevor Lee & Caleb Konley
Good opener! We run down tonight's card, then go right back to the ring for our next match…
Brian Cage vs Hunter Law
Law tries a dropkick, but Cage no-sells and tosses Law across the ring. Cage picks Law up, curls him a few times, then press slams Law into a powerslam. Cage kind of looks like Eddie Edwards if Eddie turned into the Incredible Hulk. Cage with a roaring clothesline followed by a Steiner Screwdriver for the win.
Winner: Brian Cage
Look out Gary Strydom, Brian Cage is one impressive dude! Another dominant squash.
Speaking of Eddie Edwards, he's backstage telling Bobby Lashley that they don't have to like each other, but they have a common goal, and want to go out there and solve this problem with oVe. Lashley says "let's do this" and head out to the ring.
We go to a match that was recently taped at Destiny World Wrestling in Toronto…
Grand Championship Match: Matt Sydal vs Petey Williams
Feeling out process to start, and…oh, this match is clipped. Bleh. We cut to Sydal working over Petey's knee and getting a modified Muta Lock. Sydal with a standing moonsault for 2. Another clip to Petey hitting a delayed flatliner, then Sydal hits a snap German suplex, then Petey tries the Canadian Destroyer, Sydal blocks, Petey rolls through and gets a Sharpshooter, but Sydal gets the ropes. Petey goes to the second rope, Sydal hits a standing Frankensteiner and goes for the Sydal Press, Petey rolls out of hte way, hits a pop-up powerbomb and goes for the Destroyer, but Sydal reverses to a Jig & Tonic for the win.
Winner: Matt Sydal
Good match, I wish we got the whole thing. Sydal opens a scroll he got from his spiritual advisor and reads it to the crowd, and between the poor audio and content of the scroll, it seems to go over the crowd's head. The gist of it is that Sydal challenges Taiji Ishimori to an X Division Title match at Crossroads.
We look back at last week when Jimmy Jacobs had Kongo Kong destroy the Law Offices of Park, Park and Park, then we go to Jacobs (with Kong), who says he didn't want to do that, but he hopes that Park got the message. Sinister music plays as Jacobs says he wants the Monster, Abyss, to face the New Monster, Kongo Kong.
Jimmy Jacobs comes to the ring with Kongo Kong and says that he knows the fans think he's a bad guy, but he's not. He asked very nicely for Abyss to come back, and he didn't want to destroy Chandler Park or their office, but he's done being nice. Wait a minute, an old lady comes down the ramp, and Jacobs informs us that this is Park's Grandma Jenny, the matriarch of the Park family. She calls JAcobs and Kong a couple of sissies, and has had enough of the way they've been treating her grandsons. She shoves Jacobs and tells him they better stop it or else. She waves to the crowd as they chant for her, and Jacobs says she gives her credit for having more guts than her grandson, but he asked for Abyss, not some old hag. Grandma Jenny slaps Jimmy, who laughs it off and then nods at Kong to take care of her. Joseph Park comes down to the ring with a look of concern on his face. He tells her to stay out of the way and said he asked her not to get involved. He tells Grandma Jenny that Thanksgiving supper was delicious this year, then tells Jacobs that he is egregious. Jacobs says he didn't want Joseph Park, he wanted Abyss. Park says he's told everyone that Abyss is never coming back after the carnage and destruction he caused, because he promised his family that Abyss was going to stay buried forever. Jacobs says that after what they did to Chandler, he'd hate it if something happened to Grandma Jenny. Park says Jenny told him to never put his hands on another man, but in Jimmy's case, he'll make an exception. He grabs Jacobs, and gets promptly beaten to a pulp by Kong. Jenny is horrified, and Kong stares her down as he and Jacobs leave.
Matt Sydal is backstage telling his spiritual advisor that everything went great, then the Global Wrestling Network replay takes us back to the night Moose came to Impact and helped Mike Bennett beat up Bobby Lashley. That leads us right into our next match…
No DQ Match: Alberto El Patron vs Moose
This was taped in Las Vegas at Future Stars of Wrestling. Alberto stalls a bunch, then takes water from a fan at ringside, takes a mouthful, and spews it in Moose's face. Alberto uses the distraction to go to town on Moose, taking him out to the floor and ramming him into the barricades and ring apron. Moose fires back and rams Alberto into the rail a couple of times, but charges Alberto and gets backdropped into the crowd. Another clip to Alberto and Moose brawling through the crowd and Alberto bashing Moose over the head with a trash can. They head back to ringside where Alberto gives Moose another couple of shots from the trash can, then gives Moose a trash can shot off the top rope. Well, that was unique. Alberto covers for 2, then another clip to Moose firing back with right hands. Alberto ducks a roaring clothesline and hits Moose in the ding ding, but takes too long goofing around and runs face first into a bicycle kick from Moose. Another clip as Moose puts Alberto on the top rope, Alberto fights him off with a flurry of headbutts, Moose falls into the Tree of Joey Lawrence, and Alberto comes off the top with a double stomp for the win.
Winner: Alberto El Patron
Good brawl from what I saw, but again, the whole thing was probably better.
PlutoTV takes us back to someone I don't recognize press slamming Johnny Fairplay to the floor.
Ethan Carter III is backstage with McKenzie, and he says that he and Tyrus decided that when a relationship goes bad, the best thing to do is get back together. He's going to beat Johnny Impact and then go on to Crossroads to regain the Impact World Title.
LAX vs Eddie Edwards & Bobby Lashley
We're back, and all four men are already brawling at ringside. Lashley and Dave Crist head into the ring where Lashley no-sells Crist's offense and rips his head off with a clothesline. Eddie tags in and quickly finds himself in peril, getting cut off from Lashley and worked over in the Crist side of the ring. They toss Eddie to the floor where Sami gives Eddie a back suplex onto the apron, but Eddie breaks free back in the ring and tags in Lashley, who snowplows through both Crist brothers, tossing them around like ragdolls and hitting Jake with a powerslam for 2. Eddie tags back in and Lashley spears Dave out on the floor as Eddie hits Jake with the Boston Knee Party for the win.
Winners: Bobby Lashley & Eddie Edwards
Good match, and Eddie and Lashley make a pretty good team. Too bad it won't last.
We see a video package looking back at the recent history between Eli Drake and Austin Aries, and Drake says Aries hasn't seen the last of him.
EC3 and Johnny Impact are backstage, and they're…WARMING UP! They'll face off in tonight's main event…NEXT!
Josh and Sonjay let us know about some matches coming up over the next two weeks, and then…IT'S MAIN EVENT TIME!
#1 Contender Match: Johnny Impact vs Ethan Carter III
EC3 stalls a bunch, then they do some feeling out stuff, then EC3 slams Impact and goes for a second rope elbow, but Impact moves out of the way and gets a floatover armdrag and a Russian legsweep followed by a swinging handstand legdrop for 2. Impact tries a springboard thing, but EC3 punches him mid-leap to knock him to the floor. EC3 with a kneelift on the floor as we go to commercial.
We're back as Tyrus takes a cheap shot at Impact behind the referee's back, and then EC3 unloads with a series of clubbing forearms. EC3 whips Impact hard into the corner, then does it again for kicks. EC3 with a snap suplex for 2, then he hits a DDT that rolls Impact right back to his feet, and Impact lays EC3 out with a superkick. Now Impact mounts a comeback with a series of right hands, then clotheslines, and a leg lariat followed by a running knee and standing shooting star press for 2. EC3 gets a rollup, Impact kicks out, so EC3 powers him up with one arm and drops him with a sitout powerbomb for 2. EC3 charges and Impact counters to a standing Spanish Fly and then goes up to the top rope. Tyrus distracts Impact, allowing EC3 to climb the corner and hit a super TK3 for 2. EC3 goes for the 1%, Impact shoves him off into the corner and goes for a Tidal Krush, but Tyrus shoves him off the ropes and he hits hard. EC3 quickly rolls up with his feet on the ropes, Impact kicks out at 2, but EC3 comes right back in with a leaping flatliner. EC3 hauls Impact back to his feet and tells him that if he wants to be #1, he has to go through him. Impact responds by unloading with a flurry of punches on EC3, a spinning enziguiri, and a sliding German suplex. Impact goes back to the top rope for Starship Pain, Tyrus grabs his ankles to block the move, and EC3 quickly hits the 1%. EC3 with the cover, but Impact is out at 2. EC3 goes to the floor and starts yelling at Tyrus for some reason, he shoves Tyrus and Tyrus shoves him back and knocks him on his ass before walking out. EC3 goes for another 1% back in the ring, but Impact reverses to a rolling neckbreaker. Impact hits Starship Pain, and that's all she wrote.
---
FOLLOW US ON YOUR FAVORITE SOCIAL MEDIA. WE ARE ON FACEBOOK, TWITTER AND G+!
---
LATEST NEWS var numposts = 5;var showpostthumbnails = true;var displaymore = false;var displayseparator = true;var showcommentnum = false;var showpostdate = false;var showpostsummary = true;var numchars = 100;