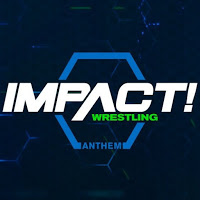 Thanks to SirOwenDisney on Twitter for the following recap from tonight's Impact Wrestling taping:

Bruce Prichard is out selling his ribs from the EC3 attack & he is using Tyrus as backup. Here comes Lashley. He's the most dominant, he can't be beaten. He wants to know who he gets to beat up at Slammiversary. EC3 interrupts. He will become an EC 3 Time World Champion at Slammiversary. Here comes Magnus. He doesn't seem to know Lashley's name. Magnus returned to fight a crusade against the Prichard Regime. Out comes James Storm. If it's anyone to face Lashley, it should be The Cowboy. Says EC3 has a big body & a little head. He gets in the ring for a fight. Tonight is a Triple Threat between EC3-Storm-Magnus tonight to determine the Slammiversary opponent for Lashley.
Allie had to stop Laurel from kissing Shera. This lead to Allie hitting a Crossbody on Laurel & Sienna.
Impact: KM & Kongo Kong(w/ Laurel Van Ness & Sienna) defeated Braxton Sutter & Mahabali Shera. Everyone brawled to the back save the Knockouts. Sienna & Laurel had a 2 on 1 on Allie until Rosemary made the save misting Sienna.
Josh comes out to the ring with a mic, it looks like we are about to find out who his partner is. Josh asks for JB to join him in the ring. He does so. Shut him up chants start up. Josh brings up Mike Tenay & David Penzer & made up with Shark Boy. Talks about Jim Ross & says he's a VP of the company. He says he's truly sorry. He says he's jealous of JB. Josh extends his hand, he wants it to end & them to be friends. Park says JB shouldn't shake his hand. Team JB beat Team Josh. Josh wants both men out of his ring, he should be the face of everything. He's giving everyone else the rub. Scott Steiner chases JB into the fans & allows Josh to low blow Park. This leads to a Steiner Recliner on Park.

It's now time for Davey & Angelina against Eddie & Alisha. David Penzer announced them as David & Angelina Richards. Eddie Edwards & Alisha defeated Davey Richards & Angelina Love when Alisha pinned Angelina with a Rollup. Angelina pulled Davey off Eddie afterwards until Davey got a table from under the ring. Angelina took Alisha out as Davey gets a second table from under the ring. Angelina Powerbombed Alisha through table as Eddie was handcuffed to the ropes being forced to watch.
EC3 defeated James Storm & Magnus to become # 1 contender to Lashley at Slammiversary when Storm hit Last Call & EC3 stole the pin.
These matches are for the next taping.
Scott D'Amore, Bruce Prichard & Dutch Mantel are the judges for the Grand Championship Match. Grand Champion Moose defeated Eli Drake(w/ Chris Adonis) via Judges Decision.
I give you the Orange Blossom Quartet & Friends with the fans now chanting for Nakamura. EC3 says tonight is a night for celebration. The band then performs Trouble for a few minutes. For he's the number one contender why nobody can deny says the band. EC3 is having fun but the fun stops, at Slammiversary he faces Lashley. EC3 has Fight Music. Cue the band. Barbershop style song about Lashley. The fans are hating this segment. Goodbye My Bobby Lashley. Here comes Alberto El Patron. Karen Jarrett comes out immediately with Bruce, Dutch & Tyrus. Patron put the GFW Title up against EC3 but EC3 puts his shot on the line at Slammiversary.
Impact Tag Team Champions LAX(w/ Diamanté, Homicide & Konnan) defeated Veterans of War to win the GFW Tag Team Titles.
It looks like Sonjay Dutt is joining commentary for the next match. He's rocking an eye patch. X Division Champion Low Ki pinned Andrew Everett after a Warrior's Way.
Rockstar Spud dragged Swoggle from the back & now he is clubbing him with a hammer. Spud is wearing the leather jacket again. Spud limps away up the ramp as everyone checks on Swoggle & they carry him to the back.
In a Six Sides of Steel Match, GFW Champion Alberto El Patron pinned EC3 after a Frog Splash. And Officially it's Lashley VS. Patron at Slammiversary for the Impact World Championship.
---
GET EVERY NEWS 24/7 FOLLOWING US ON YOUR FAVORITE SOCIAL MEDIA. WE ARE ON FACEBOOK, TWITTER AND G+!
---