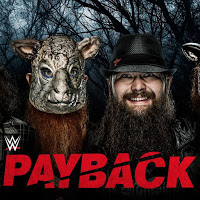 The updated betting odds for tonight's WWE Payback event have been released, and are listed in full below.
Roman Reigns remains the odds-on favorite to retain his World Heavyweight Championship tonight, up over 100 points since Thursday. The rest of the field remains largely untouched, with The Miz, Kalisto and Charlotte all expected to retain, although by much closer margins than the main event.
The one match that has turned around in the last few days appears to be the highly anticipated contest between Kevin Owens and his long-time rival Sami Zayn. Owens, who was considered the underdog just three days ago when initial odds came out, is now expected to win.
For those unaware of how the betting odds for these kinds of things work, the simple run-down is that a positive (+) indicates the underdog, while a negative (-) number represents the wrestler expected to win. Right now, a $100 bet on AJ Styles to win would yield $400 if the "Phenominal One" picked up a surprise victory.
WWE World Heavyweight Championship
-Roman Reigns (-600) vs AJ Styles (+400)
Intercontinental Championship
-The Miz (-270) vs Cesaro (+190)
United States Championship
-Kalisto (-245) vs Ryback (+175)
WWE Women's Championship
-Charlotte (-400) vs Natalya (+280)
-Enzo Amore & Big Cass (-145) vs The Vaudevillains (+105)
-Dean Ambrose (-750) vs Chris Jericho (+450)
-Kevin Owens (-245) vs Sami Zayn (+175)
-Baron Corbin (-150) vs Dolph Ziggler (+110)