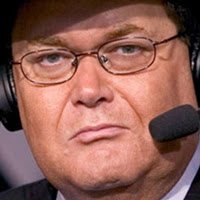 Jim Ross updated his blog on Friday with his predictions for this Sunday's WWE Payback Pay-Per-View.
Ross predicted the main event first, saying he thinks while AJ's first WWE PPV main event will be impressive, Roman Reigns will get the win to retain the World Heavyweight Title. He thinks the co-main event between Charlotte and Natalya will also result in the champion retaining, as he predicts Charlotte will "squeak out a quality win" over Nattie.
Despite Ross wanting to see Cesaro win the IC Title, he thinks The Miz will cheat to win in their match on Sunday. He says Ambrose will go over Jericho in "what should be a really good wrestling match." Ross thinks losing to Lesnar at WrestleMania gave Dean's TV persona a boost.
The former WWE Head of Talent Relations predicts Sami Zayn will be victorious over Kevin Owens in a bout he says he's excited to watch live. Ross thinks Ryback will cheat the smaller underdog Kalisto out of the United Stats title, and says he likes Ryback as a bully heel, but suggests he learns to "occasionally retreat."
You can read Ross' entire blog entry here.