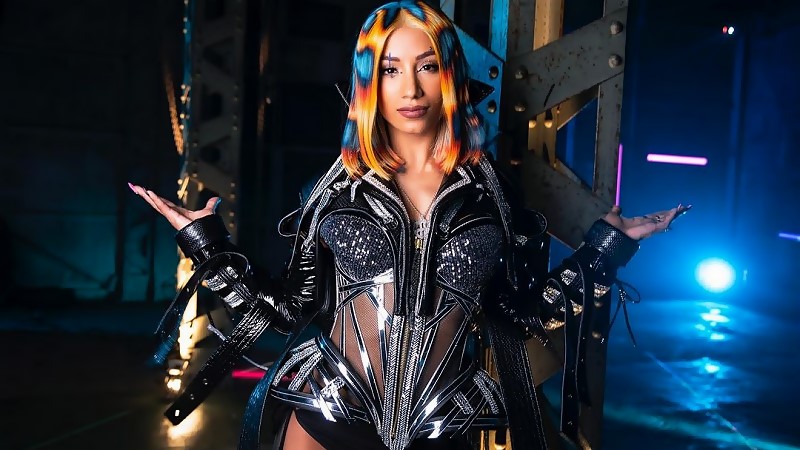 Jim Cornette Talks Mercedes Moné's NJPW Debut – The former Sasha Banks, now known as Mercedes Moné, made her NJPW debut at Wrestle Kingdom 17 last week by turning on IWGP Women's Champion KAIRI, the former Kairi Sane. Moné vs. KAIRI for the title will now take place at NJPW Battle In The Valley on February 18 in San Jose, CA.
The legendary Jim Cornette shared his thoughts on Moné's debut during the latest episode of The Jim Cornette Experience. Cornette began by discussing Banks' new look and entrance at the Tokyo Dome, and the reception from the fans.
"She had dollar signs dyed or bleached or whatever into her hairdo, was that what I saw? It was a good color but there was a plan to it," Cornette said. "Suddenly an entrance takes place and here comes the artist formerly known as Sasha Banks, 'Mercedes Moné' and she got this wild ass outfit made, so obviously they're paying her the big bucks as it has been rumored. She's got a brand-new outfit, she's got the new hairdo and they got the long walk there in the Tokyo Dome, so people have plenty of time to drink this in. The announcers were over the moon about Mercedes Moné being there, were the fans? (Note: They did preface their comments by mentioning the strict covid-19 rules in Japan)
"Was this a case of people not reacting because they were screaming in Kenny and Willy's match, but did the name change, and the completely different outfit, and the different look and the different hair, did it fool people or do the general population there know that is Sasha Banks or what the fuck? This seemed a little, meh, the response. I was hearing the camera clicks of the photographers at ringside taking pictures of this as it transpired, I don't think the sound in the building was a problem. I was just wondering if people were confused because even if they heard that Sasha Banks was going to be there, would they recognize this person with different hair, different name on the screen, different music, different clothing, top to bottom or did they say, oh, here comes somebody we've not ever heard of or seen before?" (Note: The Moné debut happened before Ospreay vs. Omega.)
Cornette then discussed the showdown between Moné and KAIRI, referring to the champion by her WWE moniker, and what was a hot topic on social media among fans – the awkwardness of Moné's attack on KAIRI.
"We would give equal time if anybody out there had a better feed or was there live or whatever has a differing opinion, but she walked in like she was hot shit," Cornette recalled. "She was glorying in the presence, and she did the poses, and she stripped her kimono off like she was about to grab a pole. Kairi Sane, who just won the match, she's the champion, she got the belt, she's still in the ring and instead Mercedes Moné getting in and even doing these things towards Kairi Sane or taunting her or confronting her or acknowledging her. She did it to the people like, I'm here and I'm about to strip maybe because she started taking her clothes off in a proactive way and then she turned around and stared at Kairi Sane. And then Kairi Sane is holding the belt up and everybody was immobile for about 30 seconds. You could almost tell that they in their mind were envisioning that this was the Andre and Hogan stare down from, you know, the fucking Silverdome. So, they stare at each other and then Mercedes offers Kairi Sane her hand, she takes it, they shake hands, and then Mercedes spun her around backwards and got the girl up on her back, their arms hooked in some fashion and then was going to fucking spin the girl around again and I think a DDT was what it was going to be or something. And instead, when she spun her back, she just went to the mat, she lost her completely and then she went down right afterwards.
"And then Kairi Sane realized about a second after she'd hit that she was supposed to have been DDT'd, so she suddenly popped back up like she was selling her face, I don't know what the fuck happened. They just fell in a crumpled fucking heap like a Salvation Army drop box. And then Mercedes Moné gets the microphone and does a, you can't call that a promo, she spoke words on the microphone. Was she drugged? Was she hypnotized? Was she having a medically induced coma? Was she shocked that she had just fumbled everything? Because, I mean, that's the equivalent of a goddamn, you know, a basketball player coming out on the fucking court and the first play grabs the ball, does a dunk and breaks his fucking leg. She came out with the big entrance and the music and the new outfit and everything, and the first thing she does, she jerks this girl up, they fall in a heap, maybe she was rattled. The promo was no emotion and just said some things and then picked up the girls belt and posed and did a stripper dance, kind of, while the girl was laying there still selling nothing except falling off her back."
Cornette also discussed Moné's transition from the WWE system.
"Here's the thing, and we've talked about that some guys just don't fit in the WWE environment, they, you know, they didn't transfer in the 80's from Crockett to WWF or they don't fit in the WWE environment today, they'd fit better in someplace else or whatever. The opposite can be true, also," Cornette observed. "The talent that just exists in the WWE environment tends to; in some cases, it seems like they rely on the producers that are always there to tell them, don't do this or a performance center where you can get with your specific opponent, how long has it been since she's laid her hands on Kairi Sane, maybe they were rusty. The flawless production WWE has to try to hide a lot of their folk's flaws and weaknesses and just the script writers that come, like, say this and drill them on it or whatever the fuck. Some talent can't stand that, it would drive me crazy. Some want to get out of it. Some kind of come to rely on it like that's what the business is supposed to be, and then when they're in a position where they're not only in a foreign country, but they don't have all that same structure that they're used to, so who knows. But it can work both ways. Some talent, especially the ones that are not strong mentally or physically or psychologically in a wrestling a standpoint but more into sports entertainment, they will struggle anywhere but WWE because they get used to that system."
Jim Cornette Talks Mercedes Moné's NJPW Debut