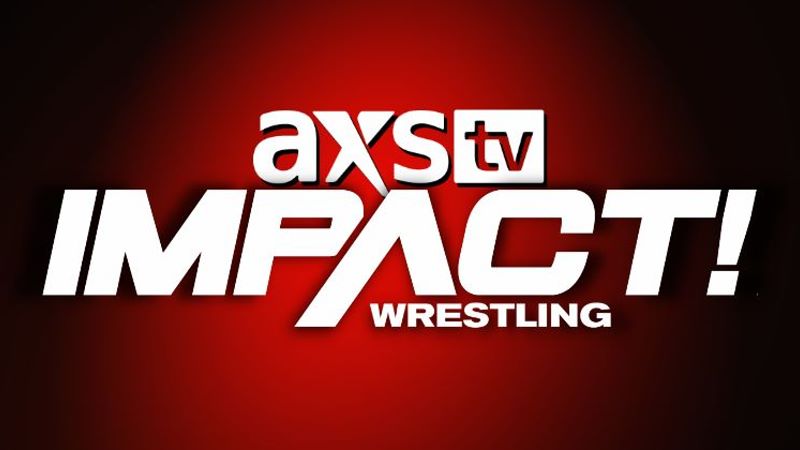 Impact Wrestling Results – March 2, 2021 – As always, Impact on AXS TV kicked off with highlights of last week's episode.
Ace Austin vs. Black Taurus vs. Chris Bey to earn an X-Division Championship Match.
Ace and Bey attacked Taurus at the bell, double teaming him. They took turns using their boots to try and wear him down in the corner. They whip Taurus into the corner but Taurus turned the tide, powerslamming Bey into Austin in the corner. Bey and Austin cut him off and nailed a double dropkick to the head. Taurus went to the floor but they nailed a stereo tope suicida on him. They agreed to face off and entered the ring, squaring off.
They locked up and reversed a series of attempts to take the other one down with standing switches. Austin took him down and locked in a side headlock but Bey reversed it with a head scissors. Austin slipped out but was caught in another side headlock. Bey used another head scissors takedown but Austin landed on his feet and nailed one of his own. They faced off and then went to kick each other at the same time. They agreed to each put the other's foot down but Bey drilled him with a right hand. Bey went for a move in the corner but Austin caught him. Taurus pulled Bey out to the floor. Austin went for a dive but caught him and worked him over, scoring a two count in the ring. He began stalking and kicking Austin.
Taurus nailed a series of elbow combinations and headbutts. He elevated and drill Austin's knee to the mat, scoring a two count. Taurus nailed a series of stiff rights and whipped Austin into the ropes. Bey had gotten back to the apron and pulled the ropes down, sending him to the floor. Bey drilled Taurus and scored several two counts. He went to the top but Austin grabbed him, Bey fought him off. He dove but Taurus caught him and turned it into a suplex attempt. Austin came off the top with a missile dropkick, wiping them out and scoring several two counts.
Taurus speared Austin, who was going for the Fold. He then nailed Bey with a pop-up Samoan Drop. Taurus charged Austin, who nailed a back elbow. Taurus fired back with a headbutt. He set up for a move but Bey sent him over the top to the floor. Bey went for the Art of Finesse but Madman Fulton interfered. Austin nailed the Fold and scored the pin.
Your winner, Ace Austin!
Good, competitive bout.
Backstage, Gia Miller interviewed Jazz and Jordynne Grace backstage. They know it was Deonna Purrazzo who attacked ODB. Tasha Steelz and Kiera Hogan showed up and mocked their worry for ODB and warned them they are never going to be the Knockouts Tag Team Champions. Grace said they are the only team Steelz and Kiera have never beaten. They said they'll sit at ringside and watch Grace in the ring tonight. Grace said she'll go to Scott and make it a three-way.
They announced Kiera is now in the match.
Backstage, Brian Myers approached Matt Cardona. Cardona said he didn't come here to team or fight with Myers, but he's stuck in the middle here and has to call the match with Eddie Edwards down the middle. Myers said that he's known Matt since he was 18 so perhaps he can call it down the middle-ish. Cardona said he wishes he could but that wouldn't be "professional." He walked off and Myers shook her head.
Tenille Dashwood with Kaleb with A K vs. Havok
Dashwood tried to evade Havok early on, but it didn't really work out so well. Havok went for a uranage but Dashwood nailed a series of back elbows. She went for a whip but Havok cut her off. Dashwood then went for a Russian Legsweep but it didn't work. Havok elevated her for a move but Kaleb pulled her off to the apron outside. When Havok went to grab her, Dashwood snapped her on the ropes for a two count.
When they returned from commercial, Dashwood locked Havok in the Tarantula, then hit the bodypress in the corner for a two count. She stomped away at Havok, then choked her against the ropes as Kaleb snapped photos of Havok's misfortune. Dashwood locked on a full nelson but Havok fought to her feet and drove Dashwood backwards into the corner. Dashwood held on but Havok finally snapped her over to the mat. Havok recovered and nailed a big boot. Dashwood was rocked with a knee strike but ducked a roundhouse kick to the head. Havok snatched her for a backbreaker for a two count.
Dashwood went for a sunset flip but couldn't pull her over. Havok elevated her and tossed her into the corner. She charged but was taken down. Dashwood put her feet on the ropes but still couldn't grab a pinfall. Kaleb distracted Havok, allowing Dashwood to nail the Spotlight Kick for the pin.
Your winner, Tenille Dashwood.
Neveah hit the ring and destroyed Kaleb as Tenille ran off. She then checked on Havok.
Sami Callihan hacked in and he was in Toledo, Ohio at Trey Miguel's school. He mocked Miguel and said the rest of The Rascalz kicked him away because he has no passion. Sami found someone who was in the office and attacked him, then attacked some of the students in the school with a steel chair. He confronted Trey's trainer and crapped on him for not having accomplished anything. He was about to smash him with a cane when another student, Sam Beale, came into the room. Callihan backed off and said he was the reason Sami was here. Sami said he wanted to have a talk with him. Sami looked at the camera and told Trey not to worry, Sam was in good hands. It came off as if they were introducing Sam as a character.
At Swinger's Palace, a number of stars were hanging out. TJP wanted to know what the odds were for his match against Ace Austin. Austin showed up and sd it's never good to best against the Ace. Chris Bey showed up and said the only way Austin would win is if Fulton interfered again. They got into each other's face but Swinger said they weren't fighting until he got odds on it and told John E. Bravo to work on that.
The Impact+ flashback was Sting vs. Rob Van Dam.
Backstage, Eric Young was speaking to Deaner. He said Deaner failed and failure leaves you open to the disease. Failure means the disease can come back. Deaner knows that this has to happen. Joe Doering took Deaner into another room and began beating the hell out of him as Young listened. Deaner crawled out of the room. Young lifted him up and said that Deaner knows this happened because Young cares. Deaner said that he knows and collapsed back to the floor.
Tony Schiavone and Tony Khan returned with the latest "paid" AEW ad, pushing Dynamite and The Revolution PPV. They pushed that Paul Wight would speak for the first time on Dynamite.
Impact Tag Team Champions The Good Brothers & FinJuice vs. XXL & Reno Scum
Finlay nailed a dropkick and tagged in Juice. Larry D tagged in and wanted Karl Anderson, who tagged in. Anderson and Gallows double-teamed D. The story was that FinJuice and The Good Brothers were trying to one-up the other. They even had words when they tagged in and out. That lead to Acey drilling Finlay. Finlay was worked over in the wrong corner for a long time until Gallows is tagged in. The Good Brothers went for the Magic Killers but had words with FinJuice, which led to Adam almost rolling up Karl. He kicked up and they nailed the Magic Killer for the pin.
Your winners, The Good Brothers and FinJuice!
After the match, they continued trying to upstage the other and had words in the ring.
They aired a very good video feature on Moose vs. Rich Swann at Sacrifice with Swann voicing it over, commenting that Moose has been walking around with a title that isn't really valid. Now he has a chance to win the real World title.
Backstage, FinJuice and The Good Brothers argued over them almost losing the match. The Champs told FinJuice to go back to being young boys and covering their bags. FinJuice said the only thing they should carry are the Tag Titles. Gallows said if that's what this is about, they can have a shot at the titles at Sacrifice. They walked off, leaving FinJuice alone. They smiled at each other, having played the champs.
Brian Myers vs. Eddie Edwards with Matt Cardona as the guest referee.
Myers controlled Edwards early until being knocked out of the ring. He grabbed a chair but Cardona admonished him. Edwards dove over Cardona onto Myers on the floor as they went to commercial. When they returned, Myers was stomping away at Edwards and cinched in a reverse chinlock. He sent Edwards into the ring but tripped him on the rebound. Myers smothered Edwards in the corner with his boot and went back to the side chinlock on the mat.
Edwards came back to use a Northern Light suplex for a two count. Edwards nailed him with a Blue Thunder Bomb for a close two count. Myers cut him off and nailed The Flatliner for a two count. Myers complained about Cardona's count. Edwards came back with the backpack stunner for a two count as Myers put his foot across the bottom rope. Myers snapped Edwards backwards and nailed a big running lariat but Cardona called for the DQ as he realized Myers had loaded his elbow.
Your winner, by DQ, Eddie Edwards!
Myers stared at Cardona in disbelief and then walked off, pissed.
The match was fine but obviously really just a backdrop for the slow burn for Cardona vs. Myers.
Gia Miller interviewed Deonna Purrazzo, Kimber Lee and Susan. Purrazzo said that her plan tonight had to change because she expected a singles match and now it's a Triple Threat match. She said that as a champion, changing up her game is what she does next. Kimber Lee is going to be there watching as one half of the Knockouts Tag Team Champions lose. She admits that she attacked ODB and said everyone else is going to find what happens when you mess with a Virtuosa.
Impact Wrestling Knockouts Champion Deonna Purrazzo with Kimber Lee & Susan vs. Jordynne Grace with Jazz vs. Impact Wrestling Knockouts Tag Team Champion Kiera Hogan with Tasha Steelz
Hogan and Purrazzo teamed up on Grace early on. Hogan was whipped into her in the corner. Grace staggered out of the corner and was nailed with a suplex. Grace fought back to slam Hogan for a two count. She clubbed Hogan back and forth. Grace rebounded off the ropes but was tripped. Deonna went for a Fujiwara armbar but it was broken up. Hogan and Grace battled back and forth. Grace sent Hogan into Purrazzo in the corner. Hogan was dispatched, Purrazzo went for an armbar submission but Grace fought her way to the ropes to force a break.
Purrazzo tried to whip Grace out of the corner but she was too strong and couldn't be moved. Hogan charged but was sent up and over by Grace. Hogan came off the top with a flying bodypress on Purrazzo. Hogan scored several near falls. Hogan and Grace battled back and forth. Grace nailed a rolling back suplex on Hogan but Purrazzo drilled her and went for the armbar again. Grace fought out but Purrazzo nailed some pump kicks. Grace caught her with a big spinebuster.
All three competitors were down and fought to their feet. They all exchanged forearms and battled back and forth. Purrazzo ducked a clothesline but ate a back elbow from Grace. Hogan leapfrogged Grace and nailed a superkick on the rebound. Before she could capitalized, Deonna snatched her in an exploder for a two count. Grace escaped a double suplex attempt and wiped everyone out with a double clothesline. All outside the ring began arguing and battled. Grace wiped them all out with a big dive to the floor.
Back in the ring, Grace cleaned house on Hogan but Deonna grabbed her and rolled her up for the pin.
Your winner, Deonna Purrazzo!
A fun three-way with everyone working hard.
Grace went to the floor and brawled with Tasha Steelz.
ODB hit the ring and attacked Purrazzo and nailed the Thesz Press and a Samoan Drop, leaving the champ laying.  ODB held up the Knockouts Title to close the show.