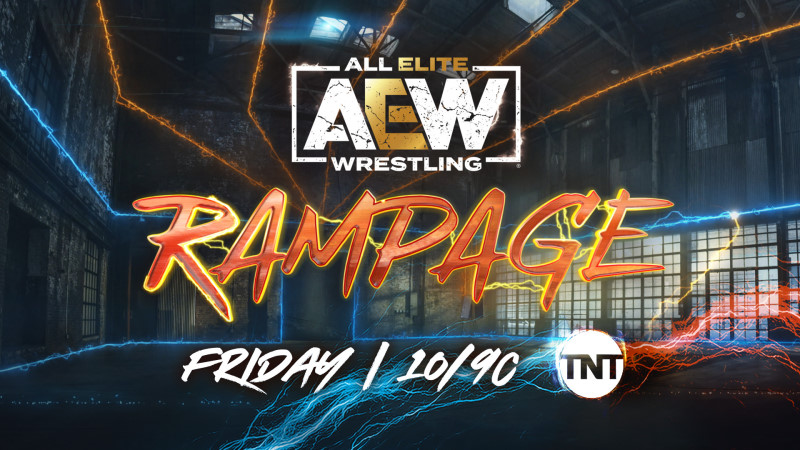 AEW Rampage "Grand Slam" Results (9/23) – (Full spoilers are available here) — Excalibur, Jim Ross, Chris Jericho and Tony Schiavone greet audiences at home as House of Black makes their way to the ring. Darby Allin and Sting jump them and our first match begins.
House of Black vs. Darby Allin and Sting in a No Disqualification Match
King tosses Allin in the ring as Hart jumps onto Sting's back. Matthews hits a right hand on Sting, then sends him into the ring steps.
Meanwhile, King sets up two tables on the outside. King delivers a chop to Allin, followed by another one that sends him out of the ring. King delivers stomps to Sting, followed by a body slam. Sting beats King and Matthews down with right hands before Matthews hits him with a few knees. Sting gets fired up and hits the Stinger Splash. King looks to hit Sting, but hits Matthews by accident. King delivers several shoulders to Sting's midsection, then ascends to the top. Allin meets him there and hits an Avalanche Code Red. he goes for a pin, but King kicks out. Sting delivers a boot to Matthews' midsection, but Sting fires back with several right hands. He manages to get him onto one of the table that was previously set up, but King knocks Sting into the tables as Matthews moves out of the way. King, Matthews and Hart get in the ring as Hart handcuffs Sting.
Back from the break, Matthews hits Allin with a knee before King delivers a chop. The pair look for Dante's Inferno, but Allin sends then colliding into one another. Allin ascends to the top of the entrance tunnel before delivering a Coffin Drop to Matthews. King looks for the Gorilla Slam, but Allin blocks it. King then locks in the Sleeper on Allin, but Allin pulls King off the stage through a table to break it up.
Matthews grabs Sting's bat and heads to the ring with a handcuffed Sting inside. Matthews looks to hit Sting with it, but the lights go out and when they come back on, The Great Muta's music hits and he heads down to the ring. Muta delivers a vicious dragon screw to Matthews, then spits the green mist into the face of Matthews. Sting breaks free of his handcuffs, then hits the Scorpion Death Drop for the win.
Winners: Sting and Darby Allin
After the match, Muta and Sting hug one another. 
Back from the break, Matt Menard and Angelo Parker head to the ring. HOOK and Action Bronson follow as Bronson raps HOOK's music while the two make their way down to the ring. Taz joins commentary.
HOOK and Action Bronson vs. Daddy Magic Matt Menard and Cool Hand Angelo Parker
HOOK and Parker begin the action. The bell rings and Parker delivers a kick to HOOK's head. HOOK delivers a gut wrench before Manard tags in. Menard calls for Bronson and HOOK tags him in. Menard shoves him before Bronson shoves him even harder. Bronson delivers a shoulder tackle to Menard, followed by a splash in the corner. HOOK tags in and delivers a Northern Light Suplex. He locks in a Bow and Arrow, but Parker breaks it up. Parker tags in to become the legal man and hits a running knee. Parker delivers a drop kick before delivering a snapmare. Menard tags back in and hits a drop toe hold. He goes for a pin, but HOOK kicks out. HOOK delivers a suplex, then makes the hot tag to Bronson. Bronson delivers a shoulder tackle. HOOK and Bronson lock in the Redrum on Menard and Parker for the win.
Winners: HOOK and Action Bronson
Back from the break, "Smart" Mark Sterling. Tony Nese and Josh Woods are in the ring. Sterling says that "a crazed maniac" has been trying to powerbomb him over the past several weeks, but it will not happen tonight. Wardlow then heads to the ring, followed by Samoa Joe.
Samoa Joe and Wardlow vs. Tony Nese and Josh Woods
The bell rings as Joe and Wardlow go straight after Woods and Nese. Wardlow delivers several right hands on Woods before Woods fires back with a suplex. Wardlow hits two belly-to-belly suplexes, followed by a spine buster. Woods knocks Wardlow out of the ring as Joe delivers several left hands to Nese. He sends him careening to the mat before hitting a chop to Nese' throat. Joe delivers a uranage, followed by the Muscle Buster for the win.
Winners: Samoa Joe and Wardlow
After the match, Nese and Woods beat down Joe. Wardlow delivers a clothesline to Nese, then looks for the Powerbomb Symphony. Sterling hits him with the TNT Championship, but Wardlow no-sells it and delivers the Powerbomb Symphony.
We then head to a video hyping up Jungle Boy and his match with Rey Fenix.
Rey Fenix vs. Jungle Boy
The bell rings and Fenix charges at Jungle Boy. He follows it up with an uppercut, but Jungle Boy fires back with a teharis and a drop kick. The two men exchange forearms before Fenxi delivers a hook kick to Jungle Boy's head.
Back from the break, Fenix delivers a couple of chops to Jungle Boy. he delivers a flying forearm, followed by a back elbow and a lariat. He delivers a Brain Buster, then goes for a pin but Fenix kicks out. Jungle Boy hits an elbow suicida, followed by a thrust kick and a poisonrana. Fenix fires back with a cutter before the two men exchange forearms and chops. Fenix looks for a double underhook, but Fenix reverses it with a hurricanrana. He hits a thrust kick, then goes after Jungle Boy's arm. Jungle Boy delivers a forearm, but Fenix fires back with a kick to his face. Fenix goes flying, but Jungle Boy catches him with a super kick mid-air.
Back from another break, the two men are exchanging chops with one another. Fenix hits a Glory Cutter, then goes for a pin but Jungle Boy kicks out. Fenix delivers a corkscrew kick, followed by an escalera into a pin. Jungle Boy kicks out before hitting a powerbomb and an elbow to Fenix's head. Fenix hits a thrust kick, followed by the Three Amigos. Fenix delivers a splash, then goes for a pin but Jungle Boy kicks out. Fenix gets Jungle Boy up on his shoulders, but Jungle Boy manages to roll him up for the win.
Winner: Jungle Boy
After the match, the two men shake hands as a sign of respect to one another. Christian Cage's music hits and he heads to the ring, followed by Luchasaurus. Luchasaurus approaches him from behind, but Jungle Boy hears him coming and beats him down. Luchasaurus delivers a shoulder block, followed by a Fireman's Carry. Cage then rags on New York before addressing Jungle Boy. Cage says that he "squashed his ass" and tells him that he will never beat him. H says that if you take away his right arm, then he introduces his "right hand of destruction." He tells him not to come back next week, then tells Luchasaurus to "end his ass." Luchasaurus then sends him careening to the mat.
We then head to a video of the JAS celebrating Jericho's win. Jericho announces next week that he will be holding a championship celebration. Garcia says he has something to tell him before Jericho says to save it for next week.
Eddie Kingston then heads to the ring, followed by Sammy Guevara and Tay Melo. Guevara grabs a mic and apologizes before calling him a "fat piece of s***."
Eddie Kingston vs. Sammy Guevara
Kingston loses it on Guevara and charges at him. He rains down right hands before sending him into the ring steps. He hits a chop, followed by a headbutt. Kingston fires off several right hands, followed by a chop. Guevara delivers a back body drop on the apron, followed by a kick to Kingston's head.
Back from the break, Guevara hits Kingston with a suplex. Kingston delivers several back elbows, then goes off the ropes but Melo grabs his boot. Guevara takes advantage and delivers a running knee. He delivers an enziguri, followed by a running double cutter. He goes for a pin, but Kingston kicks out. Kingston delivers a clothesline, followed by several machine gun chops and a backdrop driver. Kingston looks for a spinning back fist, but Guevara ducks it and hits a kick. Kingston delivers a half and half, followed by the Spinning Back Fist. He delivers two more, then locks in the Stretch Plum for the win after Guevara fades.
Winner: Eddie Kingston
After the match, Kingston keeps the submission locked in as security tries to break up the submission. The referee then tells the ring announcer to reverse the decision and changes the winner to Sammy Guevara.
Winner: Sammy Guevara
Kingston then takes down all of the security guards.
Diamante and Trina head to the ring, followed by Jade Cargill and The Baddies.
Jade Cargill (c) vs. Diamante for the TBS Championship
The bell rings and Diamante delivers several kicks to Cargill's thigh. She delivers a knee to Diamante, then tosses her into the corner and delivers an uppercut. Diamante hits several forearms, followed by a shotgun drop kick. She rains down several right hands, but Cargill fires back with a pump kick. Diamante delivers a drop kick to Cargill's back, followed by a baseball kick through the bottom rope and a diving crossbody. Cargill catches her and sends her careening face first into the ring apron. Cargill hits Jaded for the win.
Winner: Jade Cargill
After the match, Trina slaps Diamante and shakes Cargill's hand.
"Hangman" Adam Page heads to the ring. Rush, The Blade and The Butcher jump him before Dark Order run down and make the save. 
Golden Ticket Battle Royal
Back from the break, the bell rings and the battle royal begins. Everyone begins to beat one another down before Penta eliminates Ari Daivari. Danhausen curses Cole Karter before the Best Friends toss him over the top. Best Friends hug, but QT Marshall knocks them both down. Hangman Page tries eliminating QT Marshall, but he hangs on. Danhausen delivers the final blow before the two men go after one another. Blade then tosses Danhausen out of the ring. Brian Cage eliminates Dante Martin. Best Friends manage to pull over Jake Hager, but Brian Cage then eliminates Chuck Taylor. He tries to take out Dalton Castle, but The Boys catch him and place him in the apron. Castle eliminates Cage as Lance Archer gets Trent Beretta up for Blackout. Beretta escapes, but Archer clotheslines him out of the ring. MAtt Hardy eliminates Lee Moriarty as he poses on the rope while Daniel Garcia is tossed out. Archer chokes out Matt Hardy with a knee while The Butcher goes to work on Page in the corner.
Private Party go to work on Evil Uno before The Butcher and The Blade level them. HArdy delivers a Twist Of Fate to The Blade, then tosses him out of the ring. Private Party and Hardy hug before Butcher, Blade and Rush toss them all out. Butcher then targets Uno, hitting him with several elbows before eliminating him. Page gets Butcher on the apron, then takes him down with a clothesline. Rush and Silver exchange elbows in the center of the ring. Rush hits Silver with a hieadbutt, then throws him out of the ring. Archer charges at Archer, but low bridges him before delivering a clothesline to him. Penta tosses Jay Lethal out of the ring, but Satnam Singh catches him. He hits Lethal Injection on him, then tosses Penta over the top. Page then eliminates Lethal.
We're down to the final two: Page and Rush. The two men exchange forearms before Page delivers a discus lariat. The two men land on the apron while trying to eliminate one another. They exchange chops before Rush delivers a headbutt. Page hits the Dead Eye, eliminating Rush for the win.
Winner: "Hangman" Adam Page
Ricky Starks vs. Powerhouse Hobbs in a Lights Out Match
The bell rings and the two men waste no time, hitting one another with forearms. Starks fires off several right hands before Hobbs delivers a kick to the midsection. Starks comes back with a clothesline, then sends him into the ring steps. Hobbs delivers a neck breaker to Starks, then pulls out a table from under the ring. He tosses it onto Starks, then grabs several chairs from under the ring and tosses them in. Hobbs delivers a sit-out powerbomb, then rams a chair into Starks' midsection. He hits him across the back as he sets up the chair in the corner. He gets Hobbs up on his shoulders and rams him into it. Starks manages to send Hobbs into a chair in the opposite corner, then goes for a pin but Hobbs kicks out.
Hobbs delivers a low blow, then sets up two chairs facing one another. Starks delivers a low blow of his own before re-positioning the chairs back-to-back. He looks for the Roshambo, but Hobbs counters it into a back body drop. Hobbs delivers a running powerslam into the stack of chairs in the center of the ring, then goes for a pin but Starks kicks out. Hobbs delivers a forearm as the two crawl up the ramp. Starks fires back with an elbow before Hobbs sends him face first into the lights on the tunnel. He rips a light fixture off the tunnel and looks to hit Starks with it, but Starks spears him through a table previously set up in the corner. He hits Hobbs with the light fixture, then delivers the Roshambo for the win.
Winner: Ricky Starks
AEW Rampage "Grand Slam" Results (9/23)