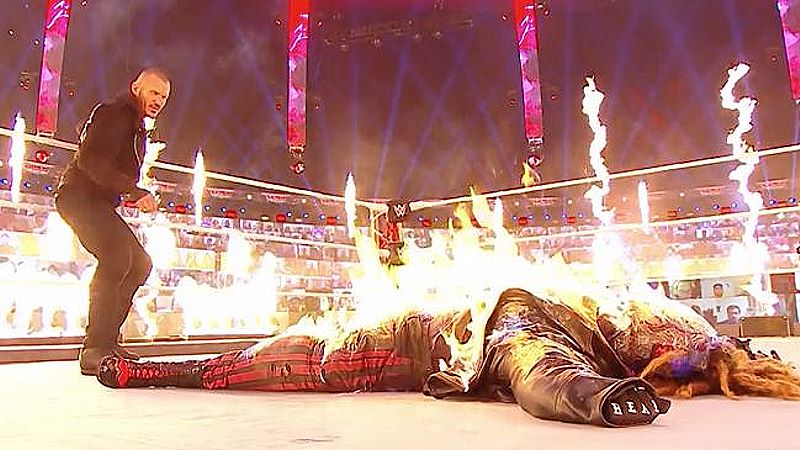 Randy Orton Lights The Fiend On Fire, Wins Firefly Inferno Match – At WWE TLC, Randy Orton and The Fiend clashed in the first-ever Firefly Inferno Match.
The only way to win the bout was to set the other competitor on fire. The Fiend was unaffected by a few early blows from Orton. The monster took control of the match, but Orton countered Sister Abigail. He reversed it again, and he went for an RKO. But The Fiend countered, and he finally hit Sister Abigail. The Fiend raised his arm, and flames suddenly surrounded the ringside area.
The Fiend gouged Orton's eyes and tried to set him on fire, but Orton fought him off. Using his belt, The Fiend whipped Orton. He set the belt on fire and tried to hit Orton with it. But "The Viper" moved. Still, The Fiend kept controlling the match. He took a pickaxe and tried to hit Orton with it, but "The Legend Killer" dodged that, too. The Fiend put Orton in a rocking chair and set it on fire, but Orton moved.
Orton rallied by hitting The Fiend with the steel steps. He wrapped a chain around his fist and punched the monster. The Fiend slammed Orton and regained control. He snapped Orton's neck.
The Fiend locked in a Mandible Claw, but Orton turned The Fiend around, lighting him in fire in the process. The monster ran back into the ring while he was on fire, but Orton dropped him with an RKO.
Orton then poured gasoline on The Fiend and dropped a lit match on him. The Fiend fully caught on fire, and Orton left the ring. Orton posed to close the show.
An absolute COLLISION.#WWETLC #FireflyInferno @WWEBrayWyatt pic.twitter.com/9eWUWOGTpS

— WWE Universe (@WWEUniverse) December 21, 2020
#TheFiend sets the #WWEThunderDome ablaze! 😱 🔥#WWETLC #FireflyInferno @WWEBrayWyatt @RandyOrton pic.twitter.com/MZr5kpp3nD

— WWE (@WWE) December 21, 2020
The definition of a close call.#WWETLC #FireflyInferno @RandyOrton pic.twitter.com/rRFyiC7atB

— WWE (@WWE) December 21, 2020
#TheFiend was just ON FIRE!

It seems @RandyOrton can't even believe what he's just done. #WWETLC pic.twitter.com/En9wRwA8G3

— WWE (@WWE) December 21, 2020
What has @RandyOrton done? #WWETLC #FireflyInferno pic.twitter.com/37Ur6ClyMV

— WWE (@WWE) December 21, 2020
Randy Orton Lights The Fiend On Fire