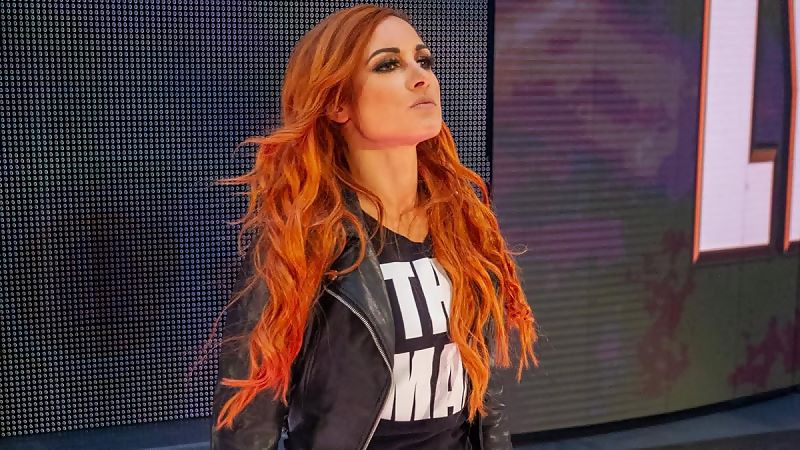 Becky Lynch, real name Rebecca Quin (born 30 January 1987), is an Irish professional wrestler and actress. She is currently signed to WWE and, as of May 2020, is on maternity leave.
Birth Name – Rebecca Quin
Born – January 30, 1987 in Limerick, Republic of Ireland
Height – 5′ 6″ (1.68 m)
Major Titles Held: WWE SmackDown Women's Championship (3), WWE RAW Women's Championship (1),
Becky Lynch, real name Rebecca Quin, is a professional wrestler and actress currently signed to WWE. Initially working in Ireland, she soon expanded her career into the rest of Europe on the independent circuit as Rebecca Knox, wrestling regularly for the France-based Queens of Chaos promotion, where she won the World Queens of Chaos Championship in 2006. In 2006, she debuted for the all-female Shimmer Women Athletes promotion and was involved in a series of matches with Daizee Haze, including an acclaimed two-out-of-three falls match. After suffering a head injury during a match in Germany, she was diagnosed with possible damage to her eighth cranial nerve. Lynch was scheduled to return to wrestling in 2008, but no-showed the event, stating she no longer felt that wrestling was the right option for her at that time. She later returned to Shimmer as a manager in 2011, before signing a contract with WWE in 2013.
Childhood & Early Life
Becky Lynch is graduated with a degree in acting from the Dublin Institute of Technology, and has attended Columbia College Chicago and the Gaiety School of Acting. She also worked as a flight attendant with Aer Lingus for two and a half years. She is close friends with fellow professional wrestler Charlotte Flair. Her brother is also a professional wrestler and performs under the ring name Gonzo de Mondo. In 2016, she began a relationship with MMA fighter Luke Sanders. Rebecca Quin is a vegetarian.
Career
On 29 August, her new ring name was revealed as Becky Lynch on August 2013, and she debuted at an NXT live event in November. Lynch made her televised in-ring debut on the 26 June 2014 episode of NXT, defeating Summer Rae.
Lynch spent few months in non-title matches against Charlotte, losing three in a row. After being told to make herself relevant, Lynch aligned herself with Sasha Banks by attacking Bayley, turning heel. Known as Team B.A.E. (Best at Everything), the alliance started to disintegrate when Sasha cost Lynch a match against Bayley in February 2015.
Becky Lynch then defeated Bayley and Charlotte in a triple threat match to earn a title match against Sasha, which she lost at NXT "TakeOver: Unstoppable". The match received widespread critical acclaim, with praise going to both performers.
Lynch made her official WWE main roster debut the on 13 July episode of Raw, as a fan favorite, along with Charlotte and Sasha Banks, after Stephanie McMahon called for a "revolution" in the Divas division. Becky was able to earn her first singles victory on the 28 July episode of Main Event over Brie Bella.
In 2016, Lynch and Banks were scheduled to compete in a number one contender's match, with the winner facing Charlotte for the Divas Championship at WrestleMania 32, but the match ended in a double pin. A rematch on the following SmackDown ended in a no contest when Charlotte attacked both Lynch and Banks.[ As a result, Charlotte was scheduled to defend her title in a triple threat against both Lynch and Banks on WrestleMania 32.[ At the event, Lynch was unsuccessful in capturing the newly-created WWE Women's Championship.
In July, Becky moved to the SmackDown brand during the 2016 WWE draft. Lynch then won a six-pack elimination challenge by last eliminating Carmella to become the inaugural SmackDown Women's Champion at WWE Backlash.
At TLC, Lynch lost the championship to Alexa Bliss in a tables match. As Alexa kept avoiding Lynch, the former champion masked herself as La Luchadora and defeated Alexa in a non-title match. On the 17 January 2017 episode of SmackDown, Lynch challenged Alexa for the championship in a steel cage match, during which a villainess wearing the La Luchadora costume (later revealed as the returning Mickie James) attacked Lynch and helped Alexa towards victory.
In February, Becky failed to defeat Bliss for the vacant SmackDown Women's Championship, as well as losing a six-pack challenge for the title at WrestleMania 33.
In 2018, Lynch participated in the first women's Royal Rumble match, where she entered at number 2, lasting over 30 minutes before being eliminated by Ruby Riott. Few months later, Lynch also participated in the first WrestleMania Women's Battle Royal at WrestleMania 34, but was eliminated from the match by Mickie James. In May, Lynch defeated Mandy Rose and Sonya Deville to qualify for the women's Money in the Bank ladder match, which was ultimately won by Alexa Bliss.
Right after the Money in the Bank pay-per-view, Lynch began a winning streak, defeating different competitors such as Billie Kay, Sonya Deville, Peyton Royce, Mandy Rose[ and Smackdown Women's Champion Carmella in a non–title match. Because of her wins, Lynch was granted a title match, at SummerSlam, which would later go on to become a triple threat match with Charlotte Flair involved, after she defeated Carmella in a non–title match as well. At the event, after Charlotte pinned Lynch to win the title, Lynch attacked Charlotte, turning heel. Two days later, Lynch berated the crowd, claiming they weren't really pulling for her the whole time, and for being denied opportunities, which she claimed were always handed to Charlotte Flair. Despite this, audiences continued to react with strong support for Lynch, leading WWE to tweak the storyline and portray Lynch and Flair as both having valid points, but neither being outright villainous. On the September 4th edition of SmackDown, Flair officially accepted Lynch's challenge to a one-on-one SmackDown Women's Championship match at Hell In A Cell, where Lynch won the Smackdown Women's Championship for a second time in her career.
As part of a competition between the Raw and Smackdown brands at Survivor Series, Lynch was scheduled for an interbrand champion vs. champion match against Raw Women's Champion Ronda Rousey. Lynch led an invasion on the 12 November episode of Raw and during that angle, she suffered a legit concussion and broken nose following a stiff punch from Nia Jax. Due to the injury, Lynch was pulled from the match with Rousey and named Flair as her replacement on the following night's episode of SmackDown. After her return, Lynch defended her title in a Tables, Ladders and Chairs match against both Flair and Asuka at TLC, where Asuka won the title after Rousey interfered and pushed both Lynch and Flair off a ladder, ending her second reign at 91 days.
At the Royal Rumble event, Lynch was unsuccessful in regaining the title from Asuka. Later that night, she participated in the women's Royal Rumble match as a surprise participant, taking an injured Lana's number 28 entry, which she would go on to win with lastly eliminating Charlotte Flair. The following night on Raw, Lynch once again continued her feud with Ronda Rousey as she announced she chose to face her for the Raw Women's Championship at WrestleMania 35.
As part of a storyline, Vince McMahon suspended Lynch in February for 60 days and replaced her with Charlotte Flair as Rousey's WrestleMania opponent. In March, Lynch was reinstated by Stephanie McMahon, and at the Fastlane event she defeated Flair via disqualification after Rousey purposely attacked Lynch to give her the win, making the title match at WrestleMania officially a triple–threat.
At WrestleMania 35, in what was the first time women main evented a WrestleMania event and changed to Winner takes all for Rousey's Raw and Flair's SmackDown Women's Championships, Lynch controversially pinned Rousey to win both titles. The commentary and production team commented that Rousey said her shoulders weren't down for the three–count and many fans and media were left wondering if this was a legitimate botched finish. Nonetheless, with the win, Lynch gave Rousey her first WWE single loss and became a double champion and the only woman to hold both titles simultaneously. With both titles, she was allowed to appear on both the Raw and SmackDown brands and got another nickname, "Becky Two Belts".
Shortly after WrestleMania, Lynch was placed in a feud with Lacey Evans, who was drafted to Raw during the Superstar Shake-up and who continuously attacked Lynch after her promos. Simultaneously on SmackDown, Lynch continued her feud with Flair over the SmackDown Women's Championship. At Money in the Bank, Lynch retained the Raw Women's Championship over Evans, but lost the SmackDown Women's Championship to Flair in the following match due to an interference by Evans. With the loss of the SmackDown Women's Championship, Lynch became a member of the Raw brand. Lynch again retained the title over Evans at Stomping Grounds and on the same night helped Universal Champion and real-life boyfriend Seth Rollins retain his title over Baron Corbin after Corbin chose Evans as the guest referee for his match. Lynch teamed up with Rollins and defeated Corbin and Evans at Extreme Rules in a winner-takes-all mixed tag-team match. Lynch successfully defended her title at SummerSlam against Natalya in a submission match. At Clash of Champions Lynch defended her title against Sasha Banks where the referee got hit by a chair during the match by Lynch causing a disqulification loss but title retention for Lynch. The feud between the two women eventually led to the second-ever women's hell in a cell match, which was took place on 6 October, at the Hell in a Cell pay-per-view, in which Lynch was once again victorious.
At Survivor Series, Lynch faced SmackDown Women's Champion Bayley and NXT Women's Champion Shayna Baszler in a non-title triple threat match to determine the superior women's champion. Baszler emerged victorious by submitting Bayley while Lynch was downed at ringside. Following the match, Lynch attacked Baszler and put her through an announce table. On 26 November, Lynch surpassed Ronda Rousey as the longest-reigning Raw Women's Champion.
Following Survivor Series, Lynch allied herself with Charlotte in a rivalry with Women's Tag Team Champions The Kabuki Warriors (Asuka and Kairi Sane), leading to a Tables, Ladders and Chairs match for the championship between the two teams being arranged for TLC in December, which The Kabuki Warriors won. She then continued her feud with Asuka, which directed to a match for the Raw Women's Championship at the Royal Rumble on 26 January 2020, where Lynch retained to end the feud.
In February, Lynch feuded with Shayna Baszler, who won an Elimination Chamber match to challenge Lynch for the championship at WrestleMania 36. At the event on 4 April, Lynch defeated Baszler to retain the title, with her title reign surpassing the one-year mark shortly after. Following the event, Lynch ceased participating in physical confrontations, often relying on promos to advance her storylines. On 11 May episode of Raw, Lynch announced that she was relinquishing the Raw Women's Championship due to her real-life pregnancy, and that the previous night's Women's Money in the Bank ladder match – which was won by Asuka – was actually for the championship.
Photos