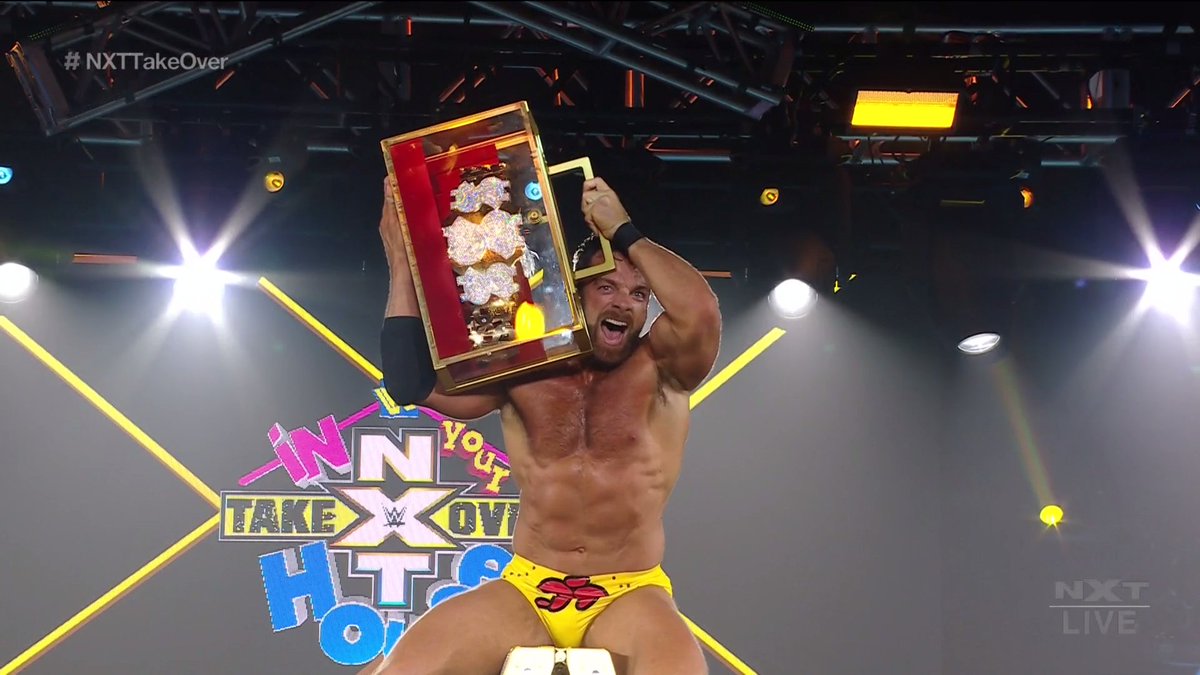 LA Knight is your new Million Dollar Champion.
At NXT "Takeover: In Your House", Knight win a Ladder Match over Cameron Grimes, retrieving the Million Dollar Title belt to get the win. WWE Hall of Famer "The Million Dollar Man" Ted DiBiase Sr. was at ringside for the match, and presented Knight with the strap.
Grimes took control early on by driving a ladder into Knight;s mid-section and dropping him with a kick to the face. With "The Million Dollar Man" watching on at ringside, Knight took the chance to gloat and rub some salt in the wound when he gained the upper hand.
Grimes briefly rallied, but a neckbreaker onto a ladder stopped his momentum in its tracks. But Grimes persevered and floored Knight with a back drop onto a ladder.
Grimes grabbed a golden ladder and climbed up, hoping to get the title. Knight sent him crashing onto the ropes, but Grimes planted him with a standing Spanish fly.
Grimes then dove off a lighting rig to take Knight down in a clear display of his will to win. Knight fired back and sent Grimes crashing to the outside onto a ladder. With Grimes down and out, Knight grabbed the title to win the match.
Knight is the sixth WWE Superstar to hold the Million Dollar Title in history. DiBiase and Virgil held the title before it was deactivated in 1992, then WWE Hall of Famer Steve Austin held the belt as The Ringmaster from December 1995 – May 1996. Ted DiBiase Jr. held the title for a few months in 2010, but it was deactivated again until tonight.
Stay tuned for more on what WWE has planned for the Million Dollar Title in NXT. Below are several shots of tonight's Ladder Match from the Capitol Wrestling Center at the WWE Performance Center in Orlando, Florida:
.@CGrimesWWE's gameplan:

1. Climb the ladder 🧗‍♀️
2. Retrieve the Million Dollar Title 💰
3. Ascend TO THE MOON 🌙 #NXTTakeOver pic.twitter.com/xBuYr7z96L

— WWE (@WWE) June 14, 2021
.@LAKnightWWE looks to go all the way to the TOP in tonight's Million Dollar Title #LadderMatch, streaming LIVE on @peacockTV in the U.S. and @WWENetwork everywhere else! 👆 #NXTTakeOver pic.twitter.com/UVCTMeRV4N

— WWE Network (@WWENetwork) June 14, 2021
CWC: LA SUCKS! LA SUCKS!@LAKnightWWE: 😀

Your anger fuels him. #NXTTakeOver pic.twitter.com/KJT6nm08I3

— WWE Universe (@WWEUniverse) June 14, 2021
The barricade, and @CGrimesWWE, are enduring a 𝙗𝙚𝙖𝙩𝙞𝙣𝙜 tonight. 😬 #NXTTakeOver @LAKnightWWE pic.twitter.com/skw4gg289Y

— WWE NXT (@WWENXT) June 14, 2021
Now is the time. LET'S GET GRIMEY. #NXTTakeOver @CGrimesWWE @LAKnightWWE pic.twitter.com/JEgKJQ2dIr

— WWE Universe (@WWEUniverse) June 14, 2021
NO ONE came out good in that. #NXTTakeOver @CGrimesWWE @LAKnightWWE pic.twitter.com/QMCYoCuSSo

— WWE (@WWE) June 14, 2021
𝑴𝒊𝒍𝒍𝒊𝒐𝒏 𝑫𝒐𝒍𝒍𝒂𝒓 𝑫𝒆𝒗𝒂𝒔𝒕𝒂𝒕𝒊𝒐𝒏. #ThisIsAwesome #WeAreNXT #NXTTakeOver @CGrimesWWE @LAKnightWWE pic.twitter.com/XO1wiUWiqq

— WWE NXT (@WWENXT) June 14, 2021
It's a GOLDEN OPPORTUNITY for @LAKnightWWE & @CGrimesWWE in the Million Dollar Championship #LadderMatch at #NXTTakeOver In Your House! pic.twitter.com/nUCtra3ohd

— WWE (@WWE) June 14, 2021
.@LAKnightWWE said he was going to the top, and he did JUST THAT, as he grabs the MILLION DOLLAR CHAMPIONSHIP! 💲 💲 💲 #NXTTakeOver @MDMTedDiBiase pic.twitter.com/cL32w734Qf

— WWE (@WWE) June 14, 2021
Go big or go to the moon.

OR if you're @CGrimesWWE, DO BOTH. 🤯 🤯 🤯 #NXTTakeOver @LAKnightWWE pic.twitter.com/sHyqU4VMg6

— WWE NXT (@WWENXT) June 14, 2021
The Capitol Wrestling Center may not be happy about it, but @MDMTedDiBiase can't help but smile, and laugh, over the NEW #MillionDollarChampion @LAKnightWWE! #AndNew #NXTTakeOver pic.twitter.com/MLOZGOmXbD

— WWE NXT (@WWENXT) June 14, 2021
You have a legacy to uphold now, @LAKnightWWE. Make @MDMTedDiBiase proud. #NXTTakeOver pic.twitter.com/a090DpuKga

— WWE NXT (@WWENXT) June 14, 2021
LA Knight Is Your Million Dollar Champion