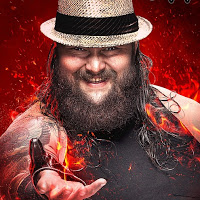 Former WWE announcer Todd Grisham filled in for Jonathan Coachman on this week's ESPN "Off The Top Rope" segment on SportsCenter. Coach is in Las Vegas for the UFC 200 event on Saturday, featuring Brock Lesnar vs. Mark Hunt.

In the videos below, Grisham is joined by The Wyatt Family's Bray Wyatt, Erick Rowan and Braun Strowman. Grisham asked how Bray and The Family came about. Wyatt said they came in with no expectations and at first, no one knew them, cared or understood them but over time it's been rewarding as they take WWE's top competitors on. Wyatt said people now respect them and pay to come be one of their fireflies. Wyatt called it a really beautiful thing. Wyatt went on to say all they ever wanted was respect and he believes they have that now.
Regarding Wyatt's WrestleMania 31 match with The Undertaker, Wyatt said facing Taker at WrestleMania is the greatest thing you can do in WWE. He said Taker is above titles and just being around his aura is fascinating. Grisham asked about the segment with The Rock at WrestleMania 32 this year and how intimidating it was. Wyatt said it wasn't, but it was a moment for him as Rock is a bigger star than Taker. Wyatt said being out with Rock was cool, but he admits they have unfinished business. Wyatt said he would love to finish the feud with Rock at WrestleMania 33.
Wyatt also goes on to reveal that his favorite WWE Superstar of all-time is Jake "The Snake" Roberts because they think the same. Grisham asked the most important attribute for a WWE star to have and Wyatt said it's no fear because you can't be afraid coming into WWE. He said you will be destroyed if you come in with the "deer in headlights" look. Wyatt said everyone in WWE is trying to put fear into their opponents but he's a little better at it than the others. Wyatt was later asked to pick just one – Strowman, Rowan or Luke Harper. Wyatt said he doesn't have favorites as he loves all his brothers the same.