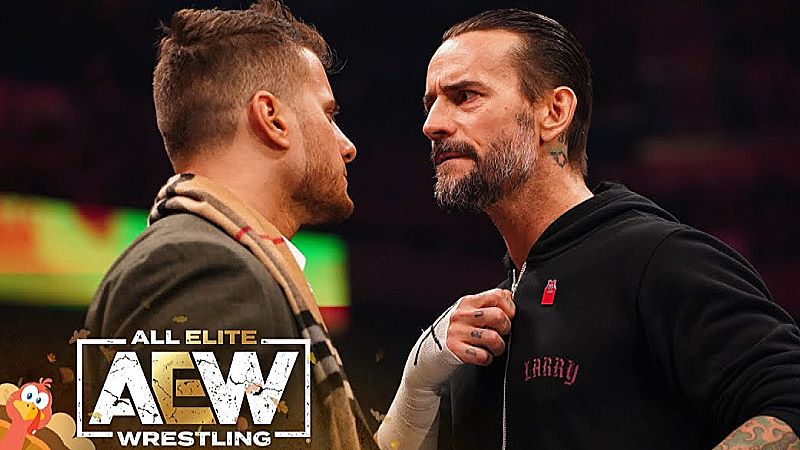 MJF Explains Why He Never Confronted CM Punk Over 'Real' World Title – MJF shed light on why he didn't confront CM Punk during Punk's "Real" World Champion run on AEW Saturday Collision. During this period, Punk asserted himself as the "Real" World Champion, emphasizing that he had never been defeated for the title, which had been won against Jon Moxley at AEW All Out 2022.
Despite Punk's claims and taunts, MJF opted not to engage in a direct confrontation with him during this storyline. In an interview with WrestlePurists, MJF explained that it was important for the Collision brand to have a top prize that other competitors could vie for, and he didn't want to disrupt that dynamic. His decision was motivated by a desire to support the overarching narrative and provide opportunities for other wrestlers within the Collision division.
"I never commented on it. I'll tell you why. I am not exactly a company man. I almost got our company thrown off of Turner after I called Tony a fucking mark. So I won't sit here and tell you I'm a company man," said MJF. "I'm definitely pro-professional wrestlers. "The fact of the matter is that Collision is really important. Collision's success is super important. So, at the time, having a guy of that stature having something that everybody in that show could be fighting for because, realistically, as much as Tony Khan wishes he can clone MJF, I can't be everywhere at once. I didn't have an issue with it. I thought it made all the sense in the world. Yeah, so to me, I wasn't sweating it, frankly."
Max also spoke about his rivalry with CM Punk being one of the best in the industry's history because both men saw it as more than business and a reflection of their lives.
"To me, it wasn't business. It was life. I know it was life to Phil, too, and I think that's why that rivalry is going to go down as one of the best of all time, and I'm proud of it," he said. "Am I proud of some of the shit that I did during that time period? I don't know. I kind of got pushed to the edge, so I'm not going to just fucking sit here and tell you that I didn't mean anything I did because I did. I've grown a lot since then, both as a professional wrestler and a person.
"I think when I'm an old man and, God fucking willing, I find a woman to put up with my bullshit that will let me impregnate them, and I'm sitting there with my kids, I can be like, 'Hey, check out this Dog Collar Match. Check out this moment here,' because I feel like it's a rivalry that will stand the test of time."
MJF Explains Why He Never Confronted CM Punk Over 'Real' World Title
Stay tuned to WrestlingAttitude, WA.Com On Twitter and Google News for more.