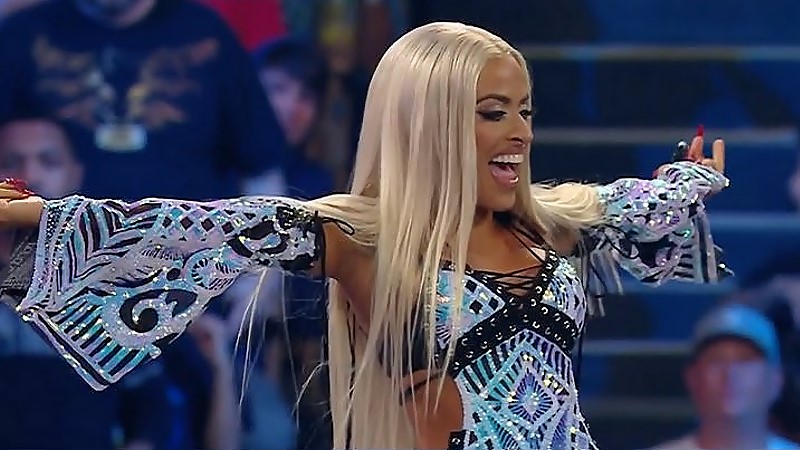 Zelina Vega Explains Why She Needs to Win A Championship For LWO – Zelina Vega will face Rhea Ripley for the SmackDown Women's Championship at Backlash, in her homeland of Puerto Rico. Vega spoke to PopCulture in Puerto Rico, where she explained why it was important to win the title for the LWO.
"It would be an honor to be able to bring a championship, and I think that's what we need right now is again, you're representing not just for Puerto Rico, but for Latinos in general, for WWE, and for all the people that have got to work their asses off and haven't gotten the opportunities that they've worked so hard for.
Vega continued: "And I think even now getting this opportunity against Rhea, I've said this before, win, lose or draw, you're going to get all of me. And I always like to quote Rock Lee when it comes to stuff like this. Like he said, 'A hero's not one who never falls. It's the one who gets up again and again, never losing sight of their dreams.' And that's a hundred percent me when it comes to this. So I'm focused, I'm ready. And I think making sure that LWO stands strong is something that we're all really focused on."
Vega has pointed out she is the only woman on the WWE roster that is of Puerto Rican descent. And while she only stands at 5 feet and 1 inch, Vega has had her share of success in WWE, winning the Women's Tag Team Championship with Carmella and being the inaugural winner of the Queen's Crown Tournament in 2021. Now Vega is focused on winning the SmackDown Women's title on Saturday despite going up against Ripley who is one of the more dominant performers on the roster. But she has beaten Ripley before and is confident she can do it again.
"She's not as quick. She's got a lot of muscle mass on her so she's not as quick, but once she gets her hands on you, it's kind of hard to get it back. It's hard to get that power back," Vega explained. And I think for me, it's just making sure that I can stay on my feet quicker and making sure that I can outsmart her. Because I know once she sees red, when she's angry, she starts making mistakes."
Zelina Vega Explains Why She Needs to Win A Championship For LWO