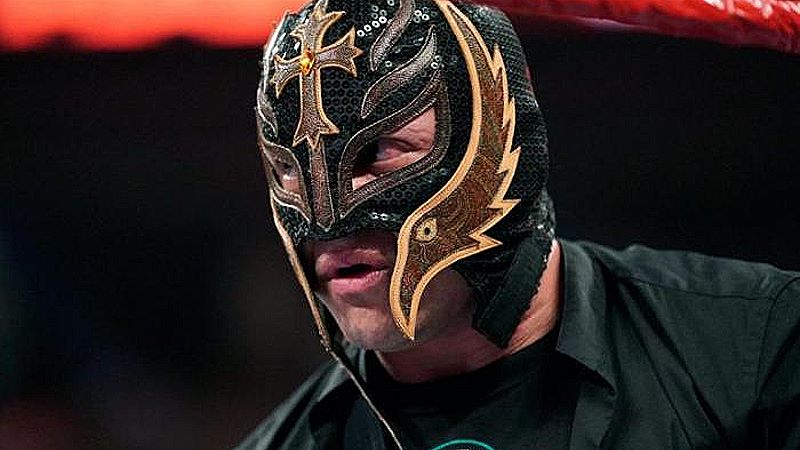 Rey Mysterio On Bad Bunny Joining The LWO – On the May 5 episode of WWE SmackDown, LWO stablemates Rey Mysterio and Zelina Vega defeated the Judgment Day duo of Dominik Mysterio and SmackDown Women's Champion Rhea Ripley. The Judgment Day ganged up on Rey after the bell, but the Puerto Rico crowd was delighted to see Bad Bunny save the legend. The LWO then handed Bad Bunny a shirt, and he put it on.
In a SmackDown Exclusive, the WWE Hall of Famer reflected on his special return to Puerto Rico.
"Oh my god, incredible. Every time I've been to Puerto Rico, I feel like I'm at home. 2001 was my first time visiting this beautiful island, and the crowd was just incredible. I came back maybe three times after that, and now it's been almost two and a half years since I've returned, but it's like I never left. The connection we have here is solid. The fact that, not only is it solid, but what we represent in the LWO, every hard-working Latino around the world, they see that. They feel it, and they're with us 1000%," Mysterio said.
When asked about Bad Bunny putting on an LWO shirt, Mysterio stated that it was an honor and a privilege. He stated that it was incredible to see the music star put on the shirt and represent Latinos. Mysterio described how he didn't think Bad Bunny needed a boost ahead of his match with Damian Priest, but he'd be happy if it gave him some kind of power.
"We feel privileged and honored for Bad Bunny to receive the shirt, put it on gracefully, and represent what we represent, the Latinos. It's incredible. I don't think Bad Bunny needed superpowers for tomorrow because he will take Damian Priest down. I know it, I've seen him train. He works hard and he's dedicated. He's been a fan since he's a kid. But if that LWO shirt brings him some type of superpower, it would be incredible, man. The representation is to the fullest right now for all the Latinos," he said.
Mysterio was also asked about Zelina Vega's match with SmackDown Women's Champion Rhea Ripley at WWE Backlash. Mysterio praised Vega's work ethic and her potential, and he expressed his confidence that she has what it takes to beat Ripley.
"I've seen Zelina work before. I've seen how she grinds. I've seen the dedication and the time she puts into this sport. There's no doubt in my mind that she has the material to become SmackDown Women's Champion. I see that happening tomorrow. I'm not a visionary like Seth [Rollins], but I do see the potential within Zelina to beat Rhea Ripley," Mysterio said.
Rey Mysterio On Bad Bunny Joining The LWO