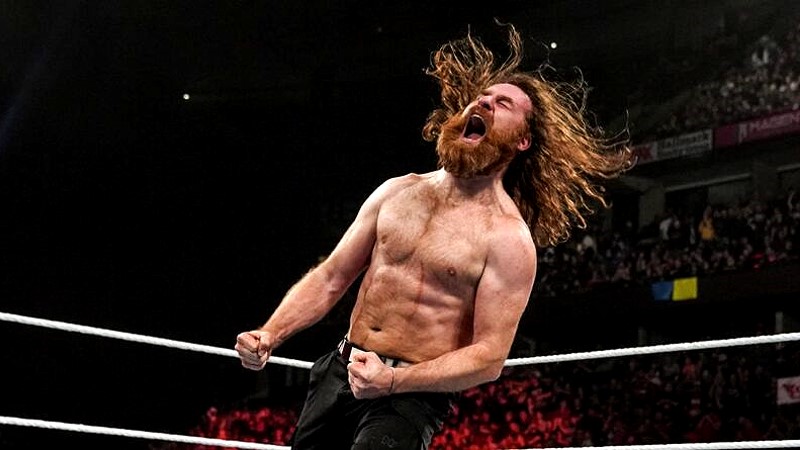 Sami Zayn Reveals He Took A Pay Cut When He First Signed With WWE – Sami Zayn reveals some interesting details about his pay when he first signed with WWE back in 2013.
The current reigning undisputed tag champion was a top name on the independent circuit, whose demand was high all around the world. He tells Whiskey Ginger the moment he realized he could wrestle professionally all the time without having to take another job.
I used to write down all the money I would make. It wasn't like a bookkeeping, for tax purposes type thing. It was just, 'I did this match on this date for this company and I got paid (this much).' I remember then that pay went from $20 to $50. 'Woah.' The first time I got offered $100, I was like, 'I'm getting $100 to go to the States? To wrestle?!?!?' The first year, I think it was 2008, I'm six years into the business, and I'm making $20,000 a year. 'That's it. I don't need another job. This is my living now.' I've been very lucky in a lot of ways. 20, 30, 40 the next year. Over time, it's just gone up, which is great. It continues to go up, thankfully.
As noted, Zayn signed a developmental deal with WWE back in 2013. At this time talents were making roughly $39,000 a year, which he says was a massive cut from what he was making on the indies.
When I signed for WWE, I actually took a pay cut. You're signing for WWE, it's like the opportunity to make money, in a sense. I think my last year on the independents, I'm throwing all these numbers out willy nilly, but whatever. I think it was, at the time, right after I left the independents, the independents kind of blew up where guys are suddenly making six figures who are just starting to make good names for themselves. There was a big Indie Boom right after I left. I think my last year on the independents, I made somewhere around $100,000. I signed my first WWE contract for $39,000. It's developmental now, but eventually, you'll make good money, which is what happened. I wasn't too near-sighted about it, thinking, 'Oh, I'm worth so much more.' You kind of understand when to take it on the chin and when you'll make it up.
Zayn says that his pay scale immediately grew over time, and he knew that signing with WWE was definitely the right decision.
All this to say, I got pretty lucky in wrestling, even when I signed with WWE, even though I had already been working for ten or 11 years, they put me through the developmental program, and I did very well, very quickly. Within about eight months, which was unheard of at the time because they usually take two or three years before they start sending you to do stuff. Within about eight months, they started sending me on the road to do road loops. At that point, maybe it is 50 grand a year. That first check came in for that road loop, it was like six or seven grand. I had this lightbulb moment, 'Oh my God, that's right, I'm here to make money.' I know it sounds cliche, 'when you enjoy what you do, you never work a day in your life.' Money is not why I do it. Don't get me wrong, I enjoy having it versus not having it.
Sami Zayn Reveals He Took A Pay Cut When He First Signed With WWE