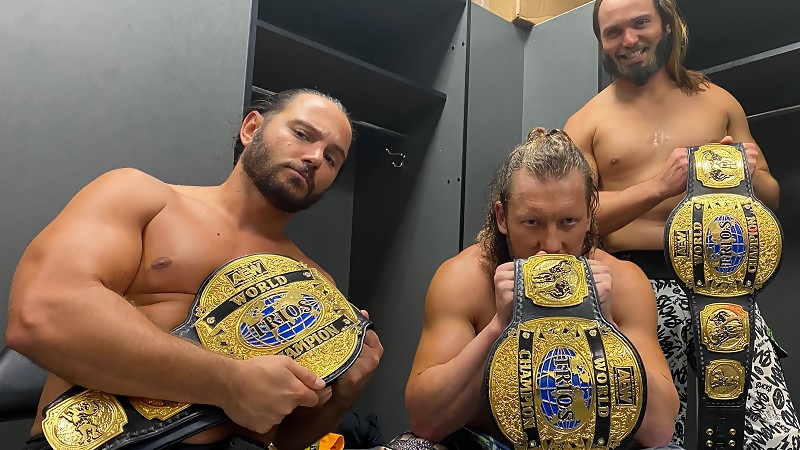 WWE Expected To "Go Hard" After AEW Wrestlers – Cody Rhodes jumping from AEW to WWE was an interesting test as it was the first time a top AEW star went to the rival promotion. Rhodes was pushed as a top star and is now about to headline WrestleMania Goes Hollywood.
As previously reported, the feeling in WWE is that signing Kenny Omega is a top priority for them right now, even more than signing top free agent Jay White. AEW has added time to Omega's deal for the time he missed due to injury although exactly how long it was extended is unknown.
The Young Bucks' AEW deal is also slated to expire and the belief is that the three stars will stick together regarding what they do next with their careers whether that is to stay in AEW or go to WWE.
While speaking on Wrestling Observer Radio, Dave Meltzer was talking about the situation and how the next year will be interesting as plenty of AEW wrestlers will also decide what they want to do when their contracts are up.
"If WWE had buried Cody then they [WWE] would have no shot at Kenny Omega, but they didn't. So they do. At Least you say they have a shot….Tony Khan losing Kenny Omega from a perception point would be really bad. Kenny Omega is in a really good position."
Meltzer later added, "This is going to be a really interesting year for Tony. A lot of key deals are gonna be up this year, and WWE is gonna go hard at everyone good. There's gonna be a lot of WWE deals up and he [Tony Khan] needs to make the product, and the perception of the product, attractive enough where guys on the other side go, 'they're solid, they're financially stable, they have an easier schedule, they're doing good. Right now I don't think the perception of WWE talent is to go there. That's the key thing, is perception for WWE talent is like 'hey, it's a fresh coat of paint for me, and I'm in the middle.' Those are the guys, it's gotta be the right guys for AEW."
Meltzer gave an example of bringing in someone from WWE like Dolph Ziggler who would help their roster due to his talent, but wouldn't be the type of draw someone like Seth Rollins would be for them.
Stay tuned to WrestlingAttitude for more.
WWE Expected To "Go Hard" After AEW Wrestlers