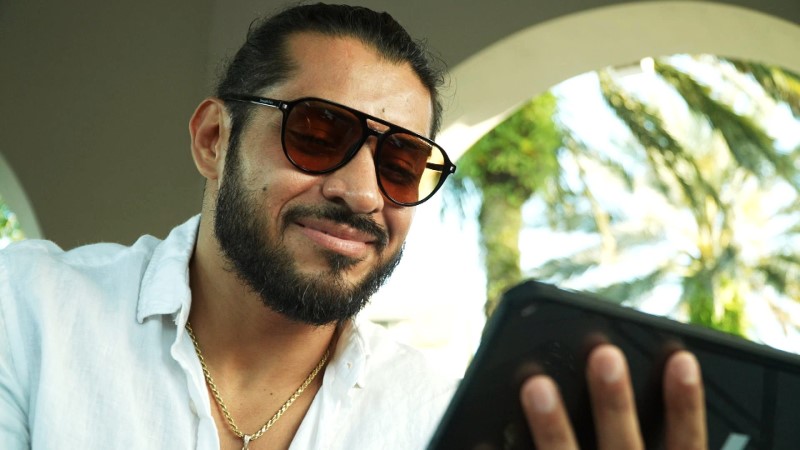 WWE officially turned Santos Escobar into a babyface on this week's episode of SmackDown.
The February 10 edition of the show featured a Fatal Four-Way match with Madcap Moss, Rey Mysterio, Escobar, and Karrion Kross where Moss ended up winning to become the number 1 contender for Gunther's Intercontinental Championship. Moss eventually fell short against HGunther.
After that show, WWE released a video of Escobar and Mysterio in the locker room where Escobar talked about watching Mysterio with his father as a kid and how he wanted to take Mysterio's legacy and make it his. Escobar stated that he has respect for Rey and they exchanged masks to show mutual respect.
On Friday's show, WWE did a backstage segment with Mysterio and Escobar where Santos again talked about how he wanted to show the fans how much respect he has for Rey. Dominik Mysterio and Rhea Ripley showed up to further the Dom-Rey storyline, expected to be leading to a match at WrestleMania Goes Hollywood.
Dom asked Escobar how much longer he was going to kiss up to Rey, to which Santos responded by noting that if Dominik didn't have respect for his father then he would teach him. Dominik said that people who haven't backed up what they said got dealt with.
This segment confirmed WWE's plans for Escobar as a babyface and might be leading to post-WrestleMania plans for Rey as he could feud with Escobar, who would turn on him eventually as he has mostly been portrayed as a heel during his WWE tenure.
Santos Escobar Has Officially Turned Babyface