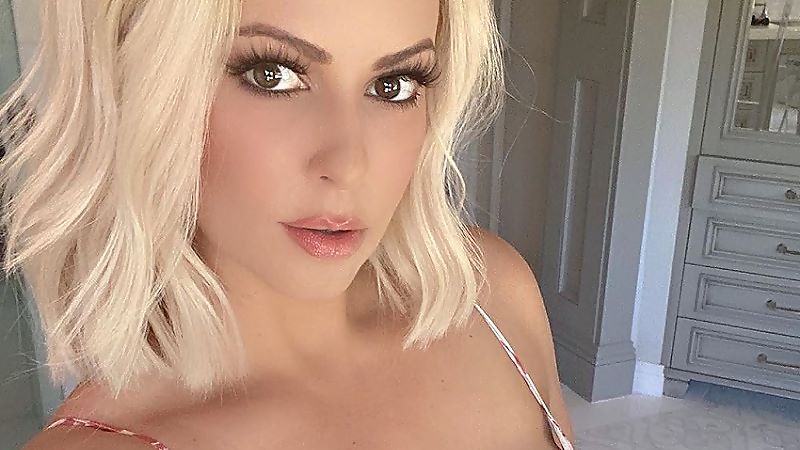 Maryse Trims The Tree In Skimpy Festive Lingerie – Maryse is one of the most stunning women to set foot in a WWE ring. Her looks and amazing body has helped her amass a loyal fanbase for herself despite not being the best in-ring performer.
Maryse is quite active on social media and often posts images of herself and her family almost everyday. With Christmas around the corner, Maryse showed her festive mood by posing in a red Christmas-themed attire next to a ladder.
Maryse and The Miz even likes to treat the audience with peeks inside their luxurious life through social media and their own reality show. The Miz recently posted a photo on Instagram with him and her wife recreating the iconic pose from the film 'The Wolf of The Wall Street' which featured Hollywood actors Leonardo Di Caprio and Margot Robbie.
"I think I might be on the naughty list…."

CLICK TO ENLARGE / DOWNLOAD
The Miz and Maryse got engaged in 2013 and later on got married in 2014. The couple together has two daughters, Monroe Sky Mizanin and Madison Jade Mizanin, and the entire family can be seen on their hit reality show "Miz and Mrs."
The duo has been highly regarded for their on-screen chemistry and partnership in and out of the ring. The couple is also known to try out various looks, post reels, and videos on social media.
The Miz was seen sharing the screen with Maryse during the early beginnings of their respective careers, following which the French Diva left the company in 2011. However, ever since Maryse returned to WWE in 2016, she has been seen accompanying her husband, The Miz as well as teaming up with him inside the ring on a number of occasions.
Stay tuned to WrestlingAttitude for more.
Maryse Trims The Tree In Skimpy Festive Lingerie