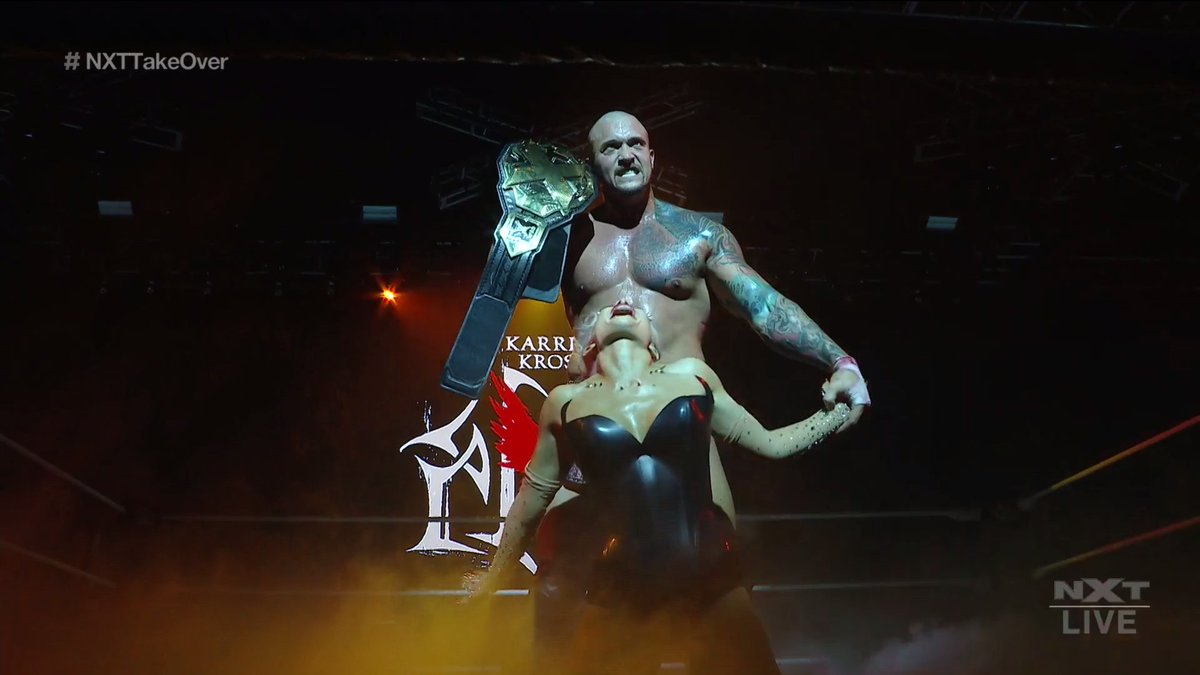 Karrion Kross Wins NXT Title at Takeover – Tonight's NXT "Takeover: Stand & Deliver" Night 2 show saw Karrion Kross capture the title from Finn Balor in the co-main event.
The bout started slowly, as the two competitors felt each other out. But business quickly picked up when Kross threw Balor across the ring. Still, Balor took control when Kross went shoulder-first into the ring post.
Kross used his strength advantage to counter Balor's technical excellence, but "The Prince" continued to target the challenger's arm. "The Herald of Doomsday" floored Balor with a clothesline and a powerbomb.
Balor shifted his focus to Kross' abdomen, and the champion was set to take control until Kross floored him with another clothesline and a suplex. Both men continued to go back and forth, and Balor was on the cusp of victory after two shotgun dropkicks. He hit the Coup de Grâce for a near fall.
"The Prince" locked in a modified abdominal stretch, but Kross escaped and clubbed the back of Balor's head repeatedly. "The Herald of Doomsday" suplexed a helpless Balor twice. He drilled Balor with a final forearm for the win.
This is the second NXT Title reign for Kross, but his first was cut short right after the win due to an injury. Balor won the vacant title back at Super Tuesday II on September 8, by defeating Adam Cole.
Stay tuned for more from Takeover. Below are several shots of tonight's big title change from the Capitol Wrestling Center at the WWE Performance Center in Orlando, Florida:
Time's up. ⌛️ #NXTTakeOver @Lady_Scarlett13 @WWEKarrionKross pic.twitter.com/9nirvJkegw

— WWE (@WWE) April 9, 2021
𝔉𝔞𝔩𝔩 𝔞𝔫𝔡 𝔓𝔯𝔞𝔶.

Right now. #NXTTakeOver @WWEKarrionKross @Lady_Scarlett13 pic.twitter.com/dHSTdJ5Y69

— WWE NXT (@WWENXT) April 9, 2021
.@FinnBalor ❌ @WWEKarrionKross #NXTTakeOver pic.twitter.com/54nTIFe3ph

— WWE NXT (@WWENXT) April 9, 2021
Can anybody make an entrance like @WWEKarrionKross & @Lady_Scarlett13! #NXTTakeOver pic.twitter.com/G3GIJvTKOv

— WWE (@WWE) April 9, 2021
August 22, 2016: The day @FinnBalor relinquished the #UniversalTitle due to a shoulder injury.

Tonight, his former wound is WAR PAINT. ❌#NXTTakeOver #NXTTitle pic.twitter.com/ORMzGGLWS7

— WWE (@WWE) April 9, 2021
.@FinnBalor is… smiling? #NXTTitle #NXTTakeOver pic.twitter.com/kszhNB85Rg

— WWE NXT (@WWENXT) April 9, 2021
The cackle of @Lady_Scarlett13 speaks volumes. She likes what she sees. #NXTTakeOver #NXTTitle @WWEKarrionKross @FinnBalor pic.twitter.com/9DjIR405Tu

— WWE Universe (@WWEUniverse) April 9, 2021
Is @FinnBalor afraid of @WWEKarrionKross? What does it look like. #NXTTakeOver #NXTTitle @Lady_Scarlett13 pic.twitter.com/u470zhPttz

— WWE NXT (@WWENXT) April 9, 2021
Can @FinnBalor do enough against @WWEKarrionKross to retain the #NXT Championship? #NXTTakeOver pic.twitter.com/ypwmZKItVl

— WWE (@WWE) April 9, 2021
Locked and l̶o̶a̶d̶e̶d̶ BLOCKED. ❌#NXTTakeOver #NXTTitle @WWEKarrionKross @FinnBalor pic.twitter.com/nUSXIWs5LQ

— WWE Network (@WWENetwork) April 9, 2021
The Prin❌e has been dethroned. All hail your new leader and NEW #NXTChampion, @WWEKarrionKross!!! #AndNew #NXTTakeOver #NXTTitle @Lady_Scarlett13 pic.twitter.com/R2K0zstsDu

— WWE (@WWE) April 9, 2021
𝑻𝒊𝒄𝒌 𝑻𝒐𝒄𝒌. It's his 𝒕𝒊𝒎𝒆 now. ❌ 💀 #NXTTakeOver #AndNew #NXTTitle @WWEKarrionKross @Lady_Scarlett13 pic.twitter.com/TLkchhQSF7

— WWE (@WWE) April 9, 2021
There's no use in fighting it. You 𝖒𝖚𝖘𝖙 fall and pray. ⌛#NXTTakeOver #AndNew #NXTTitle @WWEKarrionKross @Lady_Scarlett13 pic.twitter.com/sPfhuDEcM4

— WWE NXT (@WWENXT) April 9, 2021
Karrion Kross Wins NXT Title at Takeover