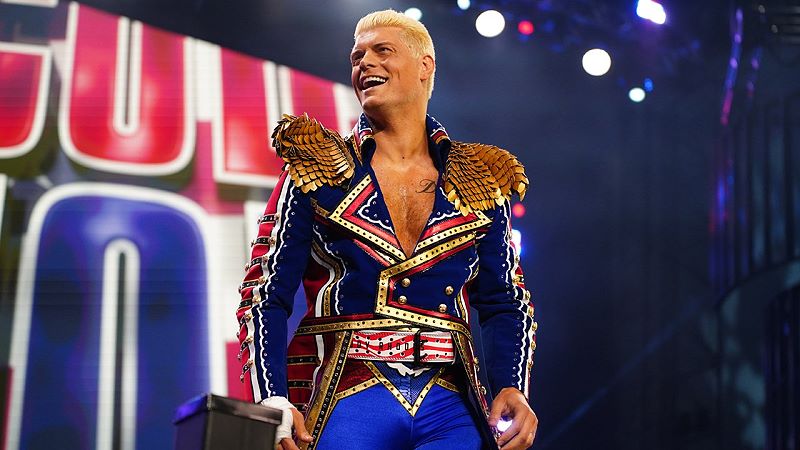 Cody Rhodes Wins WWE Royal Rumble 2023 – In what was possibly the worst, predictable, Royal Rumble ever, Cody Rhodes made his hotly anticipated return to WWE after having suffered a torn pectoral muscle in advance of WrestleMania Backlash.
Rhodes entered as number 30 in tonight's Royal Rumble Match and outlasted 29 other WWE stars, earning a championship match at WrestleMania 39 in April. This match opened the show.
Here is a short recap of the match:
GUNTHER and Sheamus started off the bout before The Miz came out as the third entrant only to be double teamed by GUNTHER and Sheamus. Kofi Kingston was the fourth entrant where he took out GUNTHER and Sheamus with a crossbody off the top rope. He hit the boom drop on Miz and GUNTHER at the same time. Johnny Gargano was the fifth entrant, where he hit a spear through the middle rope to Kofi. Miz was eliminated by Sheamus with the Brogue Kick. Xavier Woods was out at #6 and then Karrion Kross. Chad Gable was #8 and then Drew McIntyre at #9. Kross was eliminated by McIntyre. Santos Escobar was out at #10. Angelo Dawkins was out next. Brock Lesnar was the #12 entrant while Kingston tossed to the floor. Lesnar was tossing people around, including Escobar out of the ring then clotheslined Dawkins for an elimination. He press slammed Gable to the ring. Lesnar with a nasty german suplex that dumped Sheamus on his head.
Bobby Lashley was out at #13 as GUNTHER and Lesnar had a showdown. Lesnar went for an F5, but Lashley blocked and clotheslined Lesnar to the floor. Lesnar took out his frustration on Corbin before he got into the ring and was escorted away from ringside before he clotheslined a referee over the barricade. Seth Rollins was #15, marking the halfway point. Otis was the next man out and then Rey Mysterio, who didn't come out. Rollins eliminated Lashley.
Dominik Mysterio walked out with Rey's mask on. Otis was eliminated by McIntyre and Sheamus. Elias was next out and did a guitar spot before being eliminated by Sheamus and Drew. Gargano was eliminated after being double teamed by Mysterio and Balor. Booker T came out at #21 and hit some signature moves such as the back kicks and even the spinaroonie. GUNTHER eliminated Booker T. Damian Priest made the next entry then Montez Ford. Edge came out at #24 and speared all three Judgment Day members. He eliminated Priest and Balor. As Edge was trying to eliminate Mysterio, Balor pulled out Edge to eliminate him.
Austin Theory was next out. Rhea Ripley was going to attack Edge, but a returning Beth Phoenix took her out. Omos was #26 then Braun Strowman, who eliminated Omos. Ricochet was #28. Gunther eliminated McIntyre and Sheamus. Logan Paul came out at #29 before Cody Rhodes was the final entrant. Paul hit a buckshot lariat to Ricochet. Rhodes eliminated Mysterio.
Cody with a cutter off the second rope to Theory before being laid out by Strowman. Paul and Ricochet hit a spring board double clothesline spot. Cody eliminated Braun. Theory dumped out Ricochet. Theory was eliminated after being stomped by Rollins and clotheslined by Rhodes. Rhodes and Rollins hit a pair of pedigrees to GUNTHER.
Paul eliminated Rollins. Rhodes tossed out Paul. Final two were Rhodes and GUNTHER. They brawled back and forth with GUNTHER targeting the repaired pec. Rhodes eliminated GUNTHER when he hit Cross Rhodes then a clothesline.
Below are the orders from tonight's Men's Royal Rumble Match, along with photos and videos:
ENTRANTS:
1. WWE Intercontinental Champion GUNTHER
2. Sheamus
3. The Miz
4. WWE NXT Tag Team Champion Kofi Kingston
5. Johnny Gargano
6. NXT Tag Team Champion Xavier Woods
7. Karrion Kross
8. Chad Gable
9. Drew McIntyre
10. Santos Escobar
11. Angelo Dawkins
12. Brock Lesnar
13. Bobby Lashley
14. Baron Corbin
15. Seth Rollins
16. Otis
17. Rey Mysterio
18. Dominik Mysterio
19. Elias
20. Finn Balor
21. WWE Hall of Famer Booker T
22. Damian Priest
23. Montez Ford
24. WWE Hall of Famer Edge
25. WWE United States Champion Austin Theory
26. Omos
27. Braun Strowman
28. Ricochet
29. Logan Paul
30. Cody Rhodes
ELIMINATIONS:
1. The Miz, by Sheamus
2. Karrion Kross, by Drew McIntyre
3. Xavier Woods, by GUNTHER
4. Santos Escobar, by Brock Lesnar
5. Angelo Dawkins, by Brock Lesnar
6. Chad Gable, by Brock Lesnar
7. Brock Lesnar, by Bobby Lashley
8. Baron Corbin, by Seth Rollins
9. Bobby Lashley, by Seth Rollins
10. Otis, by Sheamus and Drew McIntyre
11. Elias, by Sheamus and Drew McIntyre
12. Johnny Gargano, by Finn Balor and Dominik Mysterio
13. Booker T, by GUNTHER
14. Montez Ford, by Damian Priest
15. Damian Priest, by Edge
16. Finn Balor, by Edge
17. Edge, by Finn Balor and Damian Priest
18. Omos, by Braun Strowman
19. Sheamus, by GUNTHER
20. Drew McIntyre, by GUNTHER
21. Dominik Mysterio, by Cody Rhodes
22. Braun Strowman, by Cody Rhodes
23. Ricochet, by Austin Theory
24. Austin Theory, by Cody Rhodes
25. Seth Rollins, by Logan Paul
26. Logan Paul, by Cody Rhodes
27. GUNTHER, by Cody Rhodes
NOTE: Kofi Kingston and Rey Mysterio were technically never eliminated
Winner: Cody Rhodes
Cody Rhodes Wins WWE Royal Rumble 2023